CD Review :: Koda Kumi - AND

CD
CD + DVD
CD + Blu-ray
1) PARTY
2) SWEETEST TABOO
3) GOT ME GOING'
4) WHO
5) OUTTA MY HEAD
6) NEVER ENOUGH
7) ALL RIGHT
8) LIT
9) BRAIN
10) IT'S MY LIFE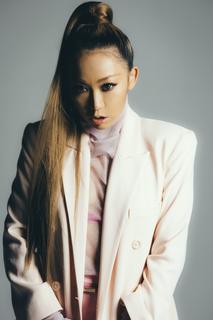 AND is Koda Kumi's 15th album & it was released on 28th Feb .
Koda's 2 joint 13th & 14th albums W FACE ~inside~ & W FACE ~outside~ were released together on the same day last March .
AND is the 1st of 2 albums that was released in 2018 & 10 songs are included in the new album .
Limited single songs LIT & NEVER ENOUGH are included in AND but not HUSH .
The concept of AND follows the same concept for Koda's upcoming Koda Kumi Fanclub Tour ~AND~ (originally named Koda Kumi Fanclub Live Tour ~Let's Party Vol.3~) that will begin this month on 29th April .
Kicking things off in AND is PARTY which's also the only album track that gets a video made .
PARTY was chosen to be used as the opening song for Music B.B. music show .
As the song title suggests , PARTY is a very fun catchy song which sets the tone on what to expect in the later parts of AND .
The next 4 songs are a series of back to back upbeat tracks which's packed with non stop energy . SWEETEST TABOO is aggressive sounding while GOT ME GOING' is a cool mid tempo track .
WHO & OUTTA MY HEAD are 2 of my favourite album tracks in AND and before hearing the album , there was actually a snippet of WHO being featured/played in the 2nd 1/2 of the video for PARTY .
At that time , I didn't know what was the song featured in the video but now that I know , it's easy to see why WHO was featured as it's a great no. & in a way it's unfortunate a video wasn't made for WHO .
Same thing with OUTTA MY HEAD as the way Koda sings in this song , it's quite different in the way she delivered but she nailed it .
NEVER ENOUGH was released as Koda's 62nd single & this's the only ballad sounding no. in AND .
The next album track ALL RIGHT is also another pretty good song . Promo wise , this smooth sounding no. was used in the ads of Jutaku Johokan housing company & Hyogo's Minamiawaji City .
LIT was released as Koda's 60th single & this was released last year as part of 3 back to back limited single releases , alongside with HUSH & NEVER ENOUGH .
BRAIN & IT'S MY LIFE are the last 2 album tracks in AND . BRAIN is probably my least favourite album track & it doesn't help that the way Koda pronounced brain as 'blain' made me a bit cringe over it .
Concluding things in AND is IT'S MY LIFE & it's a strong sounding in your face track which wrapped things up quite fittingly in the album .
Koda Kumi released 2 studio albums on the same day last year which I thought it was quite daring of her to do something like this . Even though I don't like all the songs in both W FACE ~inside~ & W FACE ~outside~ , overall it's a commanding effort .
So for Koda to decide to release yet 2 more albums this year , I'm surprised & the same thing goes with AND .
Koda mentioned that her objective for AND is that she wanted to make a fun filled party theme driven album & she was able to accomplish that to a certain extent . I like most of the new material as it's non stop fun with some mid tempo tracks thrown in for good measure .
AND does has some flaws in that for starters , I'm a bit disappointed Koda didn't include HUSH as I like it a lot & also for the album to be under 35 minutes , it's somewhat underwhelming but now that she decided to do away with interludes in her albums , I shouldn't be complaining about it so much .
That said , AND has some great album gems such as WHO , OUTTA MY HEAD & IT'S MY LIFE , it would have been great if Koda made videos for them instead of just PARTY only but since this's an album that was made for partying , quite a few songs are something that probably could have been included in W FACE ~outside~ .
The 2nd album that Koda will release later on in 2018 is titled DNA & 1 of the new songs that will be included in the upcoming new album is HAIRCUT .
Hopefully HUSH will be included in DNA as it would be a shame if it's excluded .