CD Review :: Saito Kazuyoshi - ARE YOU READY ?

Cover For CD Only Regular & Limited Editions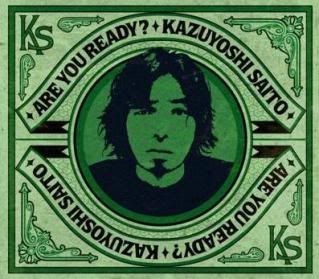 1) Are you ready ?
2) Tsumi na Yathu (He Is A Crime)
3) Zutto Suki Datta
4) Stick to fun ! Tonight !
5) Small Stone
6) Omotesandou (Main Shrine Ave)
7) Namae wo Yonde (Call On)
8) Itaike na Aki (Innocent Fall) featuring Bose
9) Kuronuri no Sedan (Sedan Of Black Coating) (Album version)
10) Don't cry baby

ARE YOU READY ? is Saito Kazuyoshi's 14th album . It was released last month on 27th Oct .
Saito's new album is released almost close to a year & a month since his previous album Tsuki ga Noboreba .
ARE YOU READY ? contains only 1 single in the 10 songs tracklist .
Starting things off with a song sharing the same title as the album except the title being in lower caps is Are you ready ? .
Saito is always known for making great catchy rock tracks which're being layered with various instruments used in his songs & Are you ready ? is no exception & the song sets the bar on what to expect in his new record .
Tsumi na Yathu (He Is A Crime) is the next song & this's such a random no. . It reminded me of Tsuki ga Noboreba's Bitch ! which's actually amusing & comical . Tsumi na Yathu is very orthodox & definitely something you shouldn't listen if you don't take things seriously .
Zutto Suki Datta (I Have Always Like You) is Saito's 38th single & it's the only single included in ARE YOU READY ? & it was used in the ads of Shiseido IN & ON .
I said before that even if you're not familiar with Saito's music , you definitely will find something distinct familiar sounding when comes to Zutto Suki Datta as it has that old fashioned guitar vibes which the song gives out .
It's a bit cheesy but there's no deny that Zutto Suki Datta is catchy & memorable .
Stick to fun ! Tonight ! is the only album track which gets a music video in ARE YOU READY ? .
The song's fun & definitely stamps out Saito's trademark sounds in here . I love how relatively fast paced the no.'s with the various layerings of guitar riffs which're combined with drum beats .
With a weird song title like Small Stone , I wasn't expecting that much but I was pleasantly surprised when it's actually a really cool ballad .
Small Stone has a much harder rock sound as compared to other album tracks but Small Stone is really something that I don't mind to sit & listen to all 6 mins + worth of the song .
Omotesandou (Main Shrine Ave) is also another unusual album track . Same like Small Stone , I didn't know what to look out for when comes to Omotesandou .
The song is actually a light hearted cheery no. which's mainly acoustic guitar which's definitely a 360 degree difference in terms of mood/sound .
Namae wo Yonde (Call On) doesn't sound very exciting on 1st listen as its introduction has a rather soft acoustic guitar no. but much later on , the song began to transform into something that's quite attention grabbing/neat .
Itaike na Aki (Innocent Fall) is the only album track which features a collaboration which features Bose . It's also the longest song in ARE YOU READY ? , clocking in at 7:48 mins .
This's the 1st song I've heard of Saito collaborating with another artiste . Itaike na Aki is something I don't mind but I myself find it weird to hear Bose rapping in this rather orthodox/unusual no. which places quite a heavy emphasis on keyboard synths .
Originally found as the B-side in Saito's 36th single Don't Worry Be Happy , it's Kuronuri no Sedan (Sedan Of Black Coating) & in here , it has been given an album version mix .
I love the original version of Kuronuri no Sedan which was found in Don't Worry Be Happy but I have to say the album version presents a totally new melody which really rocks .
The original take of Kuronuri no Sedan has a lot more guitar riffs but the album version of the song utilises instruments such as bongo drums , trumpets while keeping its fast paced momentum which's fantastic .
Wrapping ARE YOU READY ? up is Don't cry baby which's the shortest track in the album at 2:51 mins .
Just like Zutto Suki Datta , Don't cry baby has that very familiar sounds which're quite old fashioned & not dated to a certain extent .
The song's basically a feel good fuss free no. which has Saito's trademark sounds being stamped all over . Even though it's under 3 mins , Don't cry baby managed to maximise its time limit space .
After releasing Tsuki ga Noboreba last year on 16th Sept , Saito Kazuyoshi returned with this follow up album ARE YOU READY ? .
Truth be told , I was frankly surprised when I found out he was going to release another new album quite so soon , especially since there's only 1 single included in his latest record .
Also on 1st look , I was a bit disappointed that there're only 10 songs in the tracklist but I suppose for Saito's case , he believes in the whole quality over quantity saying which I think it applies for most of the songs in ARE YOU READY ? .
Most tracks in ARE YOU READY ? are really solid seeing that Saito does everything hands on & I think in this aspect , he's a genius as I enjoyed Tsuki ga Noboreba tremendously even up to this point in time .
The only thing I feel ARE YOU READY ? was being let down is that on 1st listen , not a lot of album tracks stood out to me & I could do with less random weird no.s like Tsumi na Yathu too .
With that said , ARE YOU READY ? is still an album for me to enjoy & if you haven't sit up & take notice of this really extremely talented singer/songwriter , now probably will be a good time to start .