CD Review :: Matsushita Yuya - I AM ME

CD Only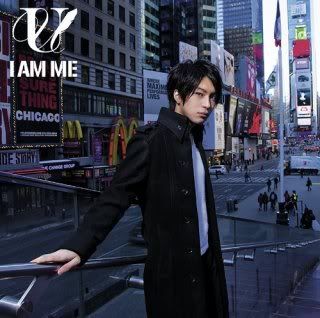 CD + DVD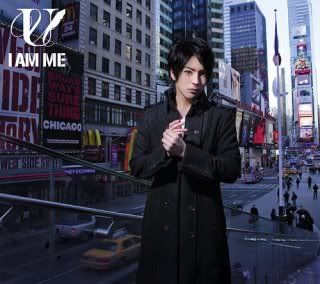 1) Prologue ~I AM ME~
2) YOU
3) foolish foolish 
4) Interlude I   
5) Mr. "Broken Heart"  
6) LAST SNOW 
7) Koe ni Naranakute (It Doesn't Become A Voice) Feat Sista  
8) Agitation   
9) Interlude II   
10) Futari (2 Of Us)  
11) Negai ga Kanau Nara ... (If My Dream/Wish Comes True) ... -Album Version- 
12) Trust Me  
13) first snow Feat Sista  
14) Sono Toki Made no Sayonara (Until Then Goodbye)
15) Interlude III  
16) Hallucination  
17) Kiss me 
18) Honesty 


I AM ME is the long awaited debut album released by Matsushita Yuya (I will be using MY in my post from here onwards as I'm too lazy to spell Matsushita & let alone his name in full lol) . It was released last Wed on 2nd June & its original release date was 17th March .
5 singles , 4 B-sides , 2 digital singles made the cut in I AM ME . Throw in an introduction & 3 interludes , you're only left with 3 new songs which serve as album tracks . (That's if you have been following MY pretty much since his debut til now)
I AM ME debuted at #15 with 1st week sales of 5,437 & MY's debut album is produced by Jin Nakamura whose has composed/produced for other artistes's works , most recently for NEWS's leader Yamashita Tomohisa's 2nd single Loveless .
Before I go onto reviewing I AM ME , I would like to make a short summary towards Prologue ~I AM ME~ & the 3 interludes you can find being dotted all over the album . All 4 interludes basically flow very nicely to the next song(s) despite the somewhat plain ordinary song titles .
Prologue ~I AM ME~ flows very well/nicely & you dive straight into YOU which's MY's 5th single & the final/latest single to be included before I AM ME was released .
Supposedly cowrote by MY himself under the pen-name U according to what I found in the CD sleeves of I AM ME , this's 1 song that I'm still am never sick of . It's a darker version of MY's 4th single Trust Me & it's still a great catchy no. even up to now .
foolish foolish is MY's debut single . So you basically have MY's debut & latest singles being slotted back to back together .
Frankly there's nothing terribly exciting with regards to foolish foolish . I honestly find it to be a standard R&B no. but this's no doubt a music stepping stone for MY that's for sure .
After Interlude I , it's the 1st B-side you can find in the album which's Mr. "Broken Heart" .
The song was originally found as a B-side in foolish foolish & this's 1 song I'm glad to see in I AM ME because it's a really solid no. & I personally like it a lot more than the A-side .
Also the fact that MY had a hand in cowriting the song , it's nice I say .
LAST SNOW is MY's 2nd single & this song brings back a lot of memories for me because it's the very 1st song I heard from him while I was watching MTV China on cable last year .
This's so far the only ballad that MY has released as a single & it's definitely a keeper . You get to hear just how emotional driven MY is in LAST SNOW too .
Koe ni Naranakute (It Doesn't Become A Voice) is MY's 1st digital single & both digital singles feature the vocals of duo Sista .
I still remember last year when I reviewed Koe ni Naranakute on my blog , I was realy impressed with this song & up to now , it's something that I have not been bored with .
MY's vocals flow very well & in consistent with Sista . In Koe ni Naranakute's case , MY himself does a fair bit of rapping other than singing which's really cool & he cowrote both digital singles in I AM ME with the 2nd one that will be review shortly .
Agitation is the 1st new album track & this's some really hot stuff to groove along to ! MY cowrote this smooth R&B jammer & it has quite a heavy Pop flair attached .
I somehow knew that Agitation was going to be something hot to look out after I was impressed with the preview of the song which you can hear on MY's official site & the full version definitely did not disappoint .
The next 2 songs are B-sides .
The melody of Interlude II flows straight into the 2nd B-side of I AM ME aka Futari (2 Of Us) .
The song was originally found as the B-side no. of MY's 4th single Trust Me . It was used as the theme song for the movie Toki wo Kakeru Shoujo .
Similarly like Mr."Broken Heart" , Futari is another B-side that I'm real pleased is included in I AM ME as it's such a beautiful emotional driven ballad .
Not to mention , it plays a great contrast towards Trust Me too .
Negai ga Kanau Nara ... (If My Dream/Wish Comes True) ... was originally found as the B-side of MY's 3rd single Honesty . The song so far's the only B-side of MY to receive a music video .
Despite quite a lot of online sites crediting this as Honesty / Negai ga Kanau Nara ... as MY's 3rd single , I will only accept Honesty as an A-side as it's stated as so on MY's website .
Negai ga Kanau Nara ... is also the only song in I AM ME being given an album version/twist .
Compare with the single & album versions of the song , the album take of Negai ga Kanau Nara ... I feel is a lot more stronger vocally . There's frankly not much musical difference between the single & album take of Negai ga Kanau Nara ... but no matter , it's still a solid song .
Trust Me is MY's 4th single & it was used as the ending theme song for the anime Durarara !! .
MY cowrote Trust Me & this's generally considered to be the song which made more people sit up & take notice of him as this's after all MY's 1st single to crack the top 10 on Oricon .
Well there're no further words for me to describe just how awesome Trust Me is even up to now . It's definitely hard not to like Trust Me with it being such a great catchy R&B no. & it's 1 of his more stronger prominent singles that MY has released to date .
first snow is MY's 2nd digital single & just like Koe ni Naranakute , the song also features Sista & it's an answer call song to MY's 2nd single LAST SNOW as both songs's melody are pretty much almost identical .
This's the 6th song that MY has a hand in cowriting in I AM ME . Unlike Koe ni Naranakute , first snow did not receive a music video even though I saw some footages of first snow's video being played on MY's website way back in Jan this year .
As to why first snow did not get a music video , I will probably never know why but I really like both digital singles & like what I said before for Koe ni Naranakute , Sista's vocals compliment MY's voice very well .
MY does a lot more rapping in first snow which's nice & the chorus you can hear both artistes belting together is the same as LAST SNOW .
Sono Toki Made no Sayonara (Until Then Goodbye) is the 2nd new album track & this's the only song that MY wrote solely which I'm impressed .
Despite the somewhat gloomy song title , Sono Toki Made no Sayonara is actually somewhat positive sounding . Unlike the other songs you can find in I AM ME , Sono Toki Made no Sayonara utilised quite a strong guitar pop flair & I like the electric guitar riffs being thrown in for good measures .
The melody of Interlude III flows real well into the final B-side of I AM ME aka Hallucination .
Hallucination was originally found as a B-side in MY's 5th single YOU . It serves as the theme song for the musical Kuroshitsuji -The Most Beautiful DEATH in The World- Sen no Tamashii to Ochita Shinigami in which MY plays the main character Sebastian Michaelis .
I do admit that Hallucination is something that doesn't sit well with me even up to now . Maybe because of the length seeing that it's the longest track in I AM ME at 5:51 mins but there's no deny that MY brings a lot of emotions & character into Hallucination .
In fact if you realised by now or not , no B-sides are included/taken from MY's 2nd single LAST SNOW .
Kiss me is the last album track . To me , I do not find anything special about Kiss me . It's nice/catchy but there's just something about it that I feel is lacking .
I'm not sure why but it's probably because of the lyrics that are a bit too cheesy for me to handle .
Honesty is MY's 3rd single & it's the final track in wrapping things up in I AM ME .
There's no deny that Honesty is very catchy on 1st listen just like Trust Me & this single can be considered as the start of MY's change in apperance (if you compare & contrast the covers/music videos of his 1st 2 singles with Honesty lol) .
For it to be slotted as the last track in MY's debut album , it's more or less perfect . I actually wish that the acoustic of Honesty was included as a bonus track as I find that very solid as a B-side no. in the single but ah well .
After making his presence felt with foolish foolish in the JPop/R&B music scene some 2 years back , Matsushita Yuya has finally released his long awaited debut album I AM ME despite a slight delay in the release date .
If you're someone who have followed MY's music journey pretty much since his debut til now like myself , then for I AM ME's case , you're definitely am happy for MY as he has come a long way , be it musically & then some .
Naturally if you have his 1st 5 singles then you might feel a bit cheated/cheesed off considering that you can find 4 B-sides in I AM ME & like what I said before , after deducting the interludes , digital singles & singles , you only get 3 album tracks at the end of the day .
For me , I do not have a problem since I do not have any physical copies of his singles but the whole album in general I feel is very solid/well produced due to the touches that MY's producer/composer Jin Nakamura put into .
The sound consistency's there from the start to the beginning & in I AM ME , MY proves that he's versatile when comes to belting out smooth R&B tunes & heartfelt ballads , something that's not easy to tackle when comes to both genres of music .
A debut album that's frankly worth waiting for & hopefully this release pattern for I AM ME's case will not repeat in his subsequent albums .
I look forward to see what else MY & Jin Nakamura has in stores . Hopefully I wouldn't have to wait that long for MY to release something new again but until then , I will be plugging I AM ME on repeat mode for a while now .