CD Review :: ayumi hamasaki - Love songs

CD




CD + DVD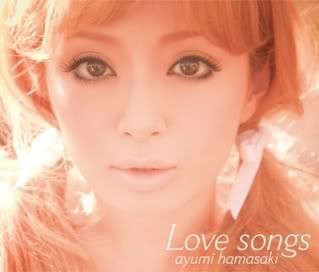 USB thumbdrive + microSD card + DVD + photobook




1) Love song
2) crossroad
3) MOON
4) sending mail
5) Last angel
6) insomnia
7) Like a doll
8) Aria
9) blossom
10) Thank U
11) Sweet Season
12) overture
13) do it again
14) November
15) Virgin Road
16) SEVEN DAYS WAR (Live at Yoyogi on Oct.11.2010) (CD+DVD/SD+USB first press track)


Love songs is ayumi hamasaki's 12th album . It was released on 22nd Dec & this comes about 8 months since her previous album release Rock'n'Roll Circus .
ayumi's new album was released on the same day as Dream ON , which's ayumi's 1st collaboration single with AAA's leader URATA NAOYA & also Dream ON is the 1st single to be produced by ayumi herself .
3 singles & a B-side are included in Love songs . 2 album tracks Love song & do it again received music videos of their own .
Before I start things any further , here's a list of songs which were not composed by Tetsuya Komuro (with all songs written by ayumi)
- MOON
- insomnia
- Aria
- blossom
- Sweet Season
- overture
There's a reason on why I have done this in the beginning which I review my reason(s) at the end of the album review for Love songs .
Love song is the 1st album track in Love songs to kick things off . It's 1 of 2 album tracks that received a music video of its own & it's currently being used as this month's theme song for Japan TV's Sukkiri !! .
I reviewed Love song as a standalone track a while back ago & up to now , I still think it's a great opening for an album since the last time ayumi opened an album with a song & not an introduction instrumental piece was in her 7th album (miss)understood with Bold & Delicious .
The fact that Tetsuya Komuro is the 1 that composed Love song , it's awesome I have to say , given his midas touch with what he did for the rest of the album tracks & let alone for what he did for Love song .
The next 2 songs are ballads & also singles that ayumi released prior to Love songs .
crossroad is ayumi's 49th single & this's also the 1st song that Tetsuya Komuro composed for her which's found in her discography .
I think out of all the singles that made the cut in Love songs , crossroad is probably my fave out of the lot simply because of Tetsuya's magic touch to the song .
Even though he composed Virgin Road which's found in L , I love what crossroad sounds like on 1st listen & it still never fail to blow me away even up to now .
MOON is the 1st A-side of ayumi's 48th single MOON / blossom .
I still think this's a great emotional ballad & it does play a great contrast against blossom well . I don't really have that old school vibes when comes to MOON even though people have said that it sounds a bit like You were ... which I do agree to a certain extent .
Still , MOON is 1 of those songs that stuck a chord in me & I still like to listen to it .
sending mail is the 2nd album track in Love songs .
Well honestly I wouldn't lie & went ??? when I saw this found in the album & I frankly thought it might be an interlude piece but I was surprised it's not & it's actually a full no. .
Despite the name , it's a mean gritty no. & just like Love song & crossroad , it's also another song composed by Tetsuya Komuro .
Strangely enough , I have vibes of ayumi's 43rd single Mirrorcle World when I was listening to sending mail , as evident when the choruses for both songs sound quite similar to each other .
Not that it's a bad thing since I like both songs but I can't help but wonder about this slightly & I guess my fave part of the song is when prior to the conclusion of sending mail , it has this really cool sounding mix mash of sounds .
Last angel is found in ayumi's 50th single L . Unlike in both CD + DVD's editions of L which a video wasn't made for Last angel , it gets a music video this time round which's found in the DVD tracklist for Love songs .
I know at 1st I have a bit of a hard time to describe on how I feel towards Last angel as it's unlike any of her recent works but I suppose the song's taking a note or 2 from ayumi's older works , especially in her 4th album I am ... .
Then again , you have to admit Tetsuya Komuro's midas touch in composing Last angel & he did it really well .
insomnia is the 1st album interlude . It's quite an interesting instrumental piece that's quite creepy & also piano driven at the same time but it's not my fave interlude in Love songs .
Just like Last angel , Like a doll is also composed by Tetsuya Komuro & I guess for Like a doll , it can be counted as the 1st album ballad .
Like a doll is really pretty . It has some really soft piano beats which're being mixed up with some interesting synth & slight orchestra sounds .
It might sound like a music recipe for disaster but it works well for Like a doll .
Aria is the 2nd album interlude & I think out of the 3 interludes found in Love songs , this has to be my fave simply because it's so beautiful .
I just like how magical & enchanting Aria is & it sounds as though it's something straight from a magical Disney movie which's not necessary a bad thing given how strings driven this's & you can hear traces of blossom in certain parts of Aria too .
And speaking of blossom , the song follows right after Aria concludes .
blossom is the 2nd A-side of ayumi's 48th single MOON / blossom & it was used in the ads of Zespri in which ayumi's 40th single BLUE BIRD was also used to promote Zespri's line of kiwi fruits during the time when the single was released .
Even though blossom is dubbed as a summer song when it was released alongside with MOON in July , I frankly can't link it with the summer season .
Rather , blossom sounds more like a warm autumn no. to me & I said this before & I will say it again in that I do have vibes of fairyland when I heard blossom .
fairyland is not really my fave ayumi single but I like blossom a bit more than the former so it's ok I guess .
Thank U is the 4th album track & oh wow , I have vibes of HONEY when I 1st heard the song & it brings such rather fond memories for me since MY STORY was 1 of the 1st few jpop albums I listened to (let alone from ayumi) .
As a result , Thank U has that nostalgic feeling for me even though I must admit initally I was a bit scared of the opening found in Thank U but it's 1 of those happy go lucky songs which will definitely put you in a good mood .
Just like Last Angel , Sweet Season is also found in ayumi's 50th single L .
Sweet Season still reminds 1 of my recent fave songs of ayumi in that it sounds very heartwarming while having somewhat of an Americanised pop/rock flair attached to it .
I probably say this because the video for Sweet Season was shot in Los Angeles , just like for the videos for Virgin Road , Love song , do it again & also Dream ON as well .
overture is the final interlude found in Love songs . I think this interlude's equally grand sounding as Aria , except for overture's case , it has a much more stronger Orchestra feeling attached which I adore & it's basically very lovely at the end of the day .
do it again is the 2nd album track which gets a music video , just like what happened for Love song .
This's a really unusual song . I had no idea what to expect when I 1st heard do it again except the chorus which ayumi belts out do stuck in my head sooner or later .
I thought it was going to be something straightforward , sound wise but I was impressed when do it again began to have this awesome grand sweeping sounding orchestra tune which really blows me away & no surprises , it's Tetsuya Komuro who composed this unique track .
Speaking of which , the last 3 no.s found in Love songs are also composed by Tetsuya himself .
November is the final album track & same as do it again , it's also composed by Tetsuya .
I thought using the words unique & unusual were fitting for do it again but I guess you can use the same words on November as well . It's nothing like what I've heard in past albums of ayumi & it's very intriguing .
Virgin Road is found in ayumi's 50th single L , the same thing which goes for Sweet Season & Last angel .
This's also the last single track in Love songs as well .
Both Virgin Road & Sweet Season are good ballads in their own respective right but the difference for both songs are evident in the sense that they're not composed by the same person which gives each song a distinct identity of their own .
SEVEN DAYS WAR is found as the B-side track in ayumi's 49th single crossroad .
If you purchased a 1st press CD + DVD or the USB thumbdrive + microSD card + DVD + photobook edition(s) of Love songs , instead the last track in Love songs will have a live take of SEVEN DAYS WAR which was recorded from Yoyogi on Oct 11th .
If not , the CD-only & regular press CD + DVD pressings of the album will have the studio version of the song which's the same one that's found in the crossroad single .
SEVEN DAYS WAR is a cover by TM Network which was released on July 1988 & Tetsuya Komuro's a member of the group .
I'm fine with SEVEN DAYS WAR since it's not often that ayumi cover songs on a regular basis even though there were people who wish that she didn't include in Love songs but considering that I don't have a habit of buying her singles , I'm pretty neutral in this sense .
ayumi hamasaki wraps things up with a pretty darn good note with Love songs , which's her 2nd album release for 2010 , after releasing Rock'n'Roll Circus some 8 months back .
Truth be told , I was surprised when this happened because I wouldn't lie that I thought her new album title's un-inspiring if not boring & I was afraid would it sound like a rushed out record but my fears were unfounded when I gave Love songs a listen .
And yes , the main reason on why I namedropped Tetsuya Komuro a great deal is because I think he plays a big part in making Love songs sound a lot more better than Rock'n'Roll Circus a significant great deal , since he composed 10 out of 16 songs on the album .
It's not that I don't enjoy Rock'n'Roll Circus but 1 flaw I found in ayumi's last album is that there were quite a lot of album tracks which were ballads , which I don't think it doesn't fit the whole album title as so .
Still , both albums are solid in their own respective right & I think it's awesome & heartening to note that ayumi hamasaki is still able to deliver in anyway she possibly can , in the last 12 years of her music career & may there be many more awesome years for her in keeping the music fire spark within her .
Love songs is an album that I enjoyed listening to from the start til the end & it's a must album to buy before 2010 concludes .