CD Review :: ON/OFF - DICE EP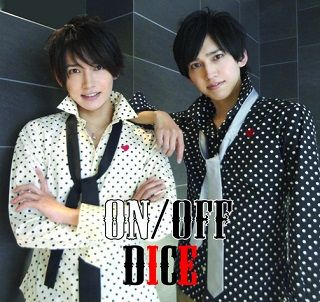 1) CALLING ...
2) Tsunagari (Connection)
3) DICE o Korogase ~ROLL THE DICE~
4) Ai no Wana ~Manatsu no VENUS~ (~Midsummer VENUS~)
5) Lonely・Lonely
6) Utsukushi (Beautiful)
DICE EP is ON/OFF's 1st mini album & it was released last month on 17th July .
No singles are included in DICE EP & the twin brothers' last release was 2011's Legend Of Twins II -Zoku Futago Densetsu- which was their 2nd album .
DICE EP includes a total of 6 songs which's perhaps a nod to an actual dice as it has 6 faces .
The mini album kicks off with a rather angsty driven no. in the form of CALLING ... . Upon listening to this song , it reminds me quite a lot of ON/OFF's older if not most prominent hits such as Futatsu no Kodou to Akai Tsumi & Rinne -Rondo- .
The next 2 songs Tsunagari (Connection) & DICE o Korogase ~ROLL THE DICE~ are 2 back to back really peppy songs in which Tsunagari is a straight up upbeat pop no. which on the other hand , DICE o Korogase ~ROLL THE DICE~ is heavily guitar driven but it's still good .
Ai no Wana ~Manatsu no VENUS~ (~Midsummer VENUS~) follows after DICE o Korogase ~ROLL THE DICE~ in which to me , Ai no Wana ~Manatsu no VENUS~ is 1 of mini album highlights .
With Summer still around , it doesn't get anymore Summery in the form of Ai no Wana ~Manatsu no VENUS~ & this song even has quite a strong Latin influence thrown in for good measure which makes things even more fun if not enjoyable .
Lonely・Lonely is the 2nd last song . It's a mid tempo no. . Not exactly a fave song of mine in DICE EP but it's still ok for me even though it borderlines on the album filler side .
Utsukushi (Beautiful) is the final no. in DICE EP . The only ballad in the mini album , Utsukushi brings a really good closure to things & this song proves just how well both the brothers are in synch with together , vocals wise .
After a rather long absence , the twin brothers in the form of ON/OFF are finally back with their latest release , in the form of their 1st mini album DICE EP !
I definitely missed having new material from ON/OFF as I still think they're great even up to now & I suppose after the lacklustre performance of Legend Of Twins II -Zoku Futago Densetsu- , they decided to only release DICE EP now seeing that this's released under a different record label & not via DefSTAR Records any longer .
That said , I enjoy what DICE EP has to offer . Despite it being a mini album , I feel the songs are good & it's quite versatile sounding as well .
I sure hope this will not be the last release coming from ON/OFF & that I wouldn't have to wait so long for them to come back with something new again as they're 1 of the really under-rated artistes around & it would be a pity should they disband which I hope it will not happen to them .