CD Review :: flumpool - EGG

Cover for both CD & CD + DVD editions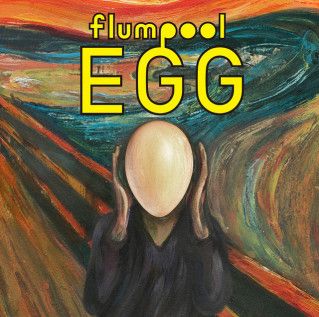 1) Kaihouku
2) Yoru wa Nemureru kai ?
3) World beats
4) Kyou no Chikai
5) DILEMMA
6) Zettai Zetsumei!!!
7) LINE
8) Dear my friend
9) Ubugoe
10) Toaru Hajimari no Joukei ~Bookstore on the hill~
11) Natsu yo Tomenaide ~You're Romantic~
12) Rinne
13) Blue Apple & Red Banana
14) Ashita Kimi ga Nakanai You ni
EGG is flumpool's 4th album & it was released last month in 16th March .
The original release date for EGG was 9th March & the group's last studio album release was 2012's experience .
3 singles are included in EGG . However Taisetsu na Mono wa Kimi Igai ni Miataranakute / Binetsu Refrain & Tsuyoku Hakanaku / Belief ~Haru wo Matsu Kimi e~ are excluded . But the single songs are included in the group's 1st best album The Best 2008-2014 "MONUMENT" .
The jacket cover for EGG was inspired by Norwegian painter Edvard Munch's famous work The Scream . Its theme is "an egg's scream" and it's a design full of impact .
flumpool hopes that with the release of EGG , it will encourage everyone to "hatch and leave their shells" & not be restricted by their environment of the opinion of others .
Kicking things off in EGG is Kaihouku & it's the only new album track to get a video .
Kaihouku has the theme , "to release various emotions" & as such , the video portrays the members releasing their emotions . Promo wise , the song was picked to be used as the ending theme for NTV's Sukkiri ! news programme .
Yoru wa Nemureru kai ? is flumpool's 15th single & it's the latest single put out before the release of EGG .
Described as an edgy rock tune , Yoru wa Nemureru kai ? was picked to be used as the theme song for the anime film Ajin Part 1: Shoudou as well as the Ajin TV anime series .
Out of the 3 single songs included in EGG , Yoru wa Nemureru kai ? is still no doubt my favourite & hopefully flumpool can release a similar sounding dark aggressive single song in the near future once again .
World beats is the 2nd album track & this fast paced song has a catchy melody that has auto tune to boot . It's 1 of my personal favourite tracks in EGG .
The next 2 songs Kyou no Chikai & DILEMMA were used in the ads of Bourbon Alfort mini chocolate .
Both tracks sounds different from each other . Kyou no Chikai is an uplifting mid tempo no. while DILEMMA has that Christmas vibe seeing that the Bourbon ad featuring the song was aired last December .
Zettai Zetsumei!!! is another favourite album track of mine as it's an aggressive in your face song and given the title , it's not really surprising but it's a standout no. in EGG .
LINE is 1 of the few new material that's a ballad in EGG . It's a welcome change seeing that the 1st 1/2 of the album is quite upbeat so having something like LINE is good in slowing things down considerably .
Dear my friend & Ubugoe are the next 2 album tracks . Both are equally good with Dear my friend being a good empowering no. while Ubugoe has traces of harmonica in the melody which makes it stand out .
The next 2 songs are single songs prior to the release of EGG .
Toaru Hajimari no Joukei ~Bookstore on the hill~ is the 1st song in flumpool's 13th single FOUR ROOMS while Natsu yo Tomenaide ~You're Romantic~ is flumpool's 14th single .
Rinne + Blue Apple & Red Banana are the last 2 upbeat songs with Rinne having an edgy angsty melody .
Also despite the funny title , Blue Apple & Red Banana is actually pretty good & catchy . I love the 'woah woah' going on in the melody & it probably might be a crowd favourite during concerts .
Ashita Kimi ga Nakanai You ni is the final song in EGG & this song was 1st performed during flumpool COUNTDOWN LIVE 2015→2016 .
Clocking in at almost 7 minutes long , Ashita Kimi ga Nakanai You ni is the longest track in EGG & I guess flumpool saves the best for last seeing that it's a ballad , alongside with LINE .
Oddly , when I 1st heard Ashita Kimi ga Nakanai You ni , it sounds a bit like their 7th single Akashi which's not a bad thing seeing that it's 1 of their more acclaimed songs .
After a 4 years wait , flumpool finally released their 4th studio album EGG and considering that they've been releasing material since 2008 , for EGG being only their 4th album , it's quite a surreal feeling .
Nonetheless despite the funny title chosen for their latest album , EGG is actually a surprisingly enjoyable solid album which exceeded my expectations .
Considering there're 11 new songs in EGG , for flumpool to make the new material stack up to be on par if not exceed the singles songs is not an easy thing to do but somehow or another they've outdone themselves .
flumpool's previous album experience was good but EGG takes things up to a notch or 2 & for most of the new songs to sound memorably strong individually , it's great .
If there's 1 thing I don't like about EGG is that Toaru Hajimari no Joukei ~Bookstore on the hill~ & Natsu yo Tomenaide ~You're Romantic~ being sandwiched together as I prefer if both songs get spread out but aside from that , EGG is an enjoyable record & I have fun listening to it .
It may took 4 years for flumpool to release a new studio album but it's worth the wait and EGG is a record highly recommended to check out .