CD Review :: Mika Nakashima - VOICE

Both CD Only & CD + DVD Covers :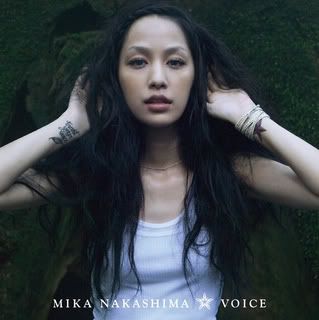 Tracklist for both editions :

1) LIFE
2) SAKURA (Cherry Blossoms) ~Hanagasumi~ [~Flower Haze~] (DAISHI DANCE) [Album Version]
3) FOCUS (Album Version)
4) Eien no Uta (Endless Song)
5) ORION
6) Anata ga Iru Kara (Because You Are Here)
7) MY GENTLEMAN
8) TRUST YOUR VOICE
9) IT'S TOO LATE
10) I DON'T KNOW (MICA 3 CHU)
11) SHUT UP (MICA 3 CHU)
12) conFusiOn
13) FLOWER OF TIME
14) Koe (Voice)




VOICE is Mika Nakashima's 6th studio album (inclusive of her NANA inspired album THE END) . Her new album was released on 26th last month in Japan & it's her 1st album to reach #1 on the Oricon album chart since THE END & her previous studio album YES which both albums charted at #2 & #3 respectively .

5 singles , 4 B-sides & Mika's 1st digital download single Anata ga Iru Kara make the cut in VOICE which just leaves only 4 brand new songs in Mika's brand new album .

This's the most no. of B-sides I have seen on an album's tracklist too I must add .

The 1st song to kick start VOICE is Mika's 23rd single LIFE in which it's her best selling single outta the singles that made the cut in the album . I haven't listened to LIFE for a while now & it was so nice to hear it once again & I think it's quite fitting to start things off with such a mid tempo ballad .

Likewise , the next song is another single track which's her 25th single . However instead of the original , the SAKURA (Cherry Blossoms) ~Hanagasumi~ [~Flower Haze~] (DAISHI DANCE) is included & it's an album version in that the music arrangement differs slightly from what you might find in the single .

Still I'm glad that Mika included the DAISHI DANCE remix of SAKURA ~Hanagasumi~ instead of the original as I wasn't too fond of the original mix of SAKURA (Cherry Blossoms) ~Hanagasumi~ as it was somewhat boring for my liking & the DAISHI DANCE remix managed to transform the original SAKURA ~Hanagasumi~ to a really upbeat & catchy song .
I'm usually not fond of remixes but in this case , it's an exception .

From an A-side to a B-side , in comes FOCUS which's the B-side of Mika's latest/27th single ORION & just like SAKURA ~Hanagasumi~ (DAISHI DANCE) , you also got an album version of FOCUS .

For me I'm thrilled that FOCUS is included as this's 1 B-side which I feel is 1 of the best ones that Mika has delivered in recen times & I really like the midtempo jazz influenced no. , be it the single or the album version . FOCUS has a lot of love , so much so that it's the only B-side in VOICE to receive a music video of its own .

The next 2 songs are singles back to back in which 1st up in line is the reggae inspired tune Eien no Uta (Endless Song) which's Mika's 25th single . I just like how different & fresh Eien no Uta sounds as it's something that Mika doesn't usually do as her music forte lies in jazz influenced no.s .

Eien no Uta still sounds great no matter how many times I listened to although I make do without the rapping of the guy's voice in the beginning of the song .

ORION is her latest/27th single which was released a mere week before VOICE was released . The song is used as an insert song for the dodrama Ryūsei no Kizuna in which Mika had a minor role & the music video of ORION featured actress Toda Erika in which she also starred in the drama .

Honestly I was pleasantly surprised when ORION did even better than I expected it to be especially since SAKURA ~Hanagasumi~ & I DON'T KNOW weren't able to crack the top10 so naturally I thought the same fate will befall on ORION but boy was I wrong . ORION managed to crack the top10 , peaking at #6 , making this her 1st top10 position since Eien no Uta .

Song wise , I must admit I didn't like it when I 1st heard it as it sounded like another typical ballad that Mika would do but I like the song now especially since now I know the significance of the song .

Anata ga Iru Kara (Because You Are Here) is Mika's 1st digital download single & obviously I was so glad to see this being included in VOICE as I remembered way back in June when I 1st heard Anata ga Iru Kara , I was really blown away on the simplicity & sincerity of the ballad & that it's what Mika does best in delivering such heartwarming ballads .

The next 2 songs are album tracks . MY GENTLEMAN boosts of a simple guitar driven tune which's accompanied by Mika's powerful pipes . It's quite cool for her to reach the high notes without straining herself in any single bit .

In the case of TRUST YOUR VOICE , this's 1 really jazzy peppy no. . I find this to be a really upbeat cheery song & it's definitely 1 of the stronger album tracks in VOICE , seeing that prior to the release of VOICE , I have already heard 10 songs out of 14 so TRUST YOUR VOICE's a really good song .

The 2nd last B-side on VOICE , it's IT'S TOO LATE which's the B-side of LIFE . The song was used in the Kanebo Kate advertisement in which Mika endorsed . Now this's another great B-side that I'm very happy to see on VOICE simply because I just like how jazzy & extremely catchy/infectious it sounds & that it's a perfect contrast to the A-side that's of LIFE .

Mika's 26th single takes the 9th & 10th spot in VOICE . I DON'T KNOW is a collaboration with owarai group Morisanchuu & the single was released under the name MICA 3 CHU (Mikasanchuu) & it was marketed as girl angry rock .

I DON'T KNOW is the 1st time Mika has sung a commercially released song entirely in English (not counting her NANA works as MY MEDICINE & MY WAY weren't released as singles) .

I remembered when I 1st heard I DON'T KNOW , I was amused with the song & also the video too . I can understand Mika's Eng dictation although it somehow got lost in the way but at least I know what she's singing about . She's basically fed up in changing everyone's opinions about herself & decided that enough's enough & she just said the 3 magic words - I DON'T KNOW !

Likewise for SHUT UP which's the B-side of I DON'T KNOW , lyrically , it's more or less than the same as what you will hear in the A-side although I find it a bit funny that you can string together a sentence with the title of both songs - I DON'T KNOW , SHUT UP . LOL

I should point out that these 2 songs are the only rock influenced no.s in VOICE so you might somehow find them to be the sore thumbs in the album .

& speaking of sore thumb , the final B-side in VOICE takes place in the form of conFusiOn which's the B-side of SAKURA ~Hanagasumi~ . Out of the 4 B-sides which made the cut in VOICE , conFusiOn is the one that I disliked the most simply because it sounds well confusing & that there's neither a head or a tail in this no. .

I rather You'd Be So Nice To Come Home To feat Katteni-Shiyagare to have replaced conFusiOn instead as the former's 1 seriously addictive B-side that I enjoyed tremendously in Mika's Eien no Uta single .

The final 2 songs in VOICE are incidentally the last 2 album tracks . FLOWER OF TIME is the longest song in the album , clocking in at a whopping 6:30 mins ! Despite the duration of FLOWER OF TIME , this's 1 song that I enjoyed as it brings back to Mika's jazz roots . I find FLOWER OF TIME sounded a bit the same as HELPLESS RAIN though but it's ok as I enjoyed both songs .

The very last song to close off VOICE , is Koe (Voice) & I think it's quite fitting that the final track on the album's titled as such . Koe boosts of some fantastic great violin strings & also an orchestra of sorts backing Mika up . It's a bit different from what she does but this's such a great way to end things off nicely .

At 1st I thought I was going to dislike VOICE as I practically heard 10 outta 14 songs which made the cut in Mika's new album but surprisingly , I actually like it & that the sound consistency of the album is there .

Except for the sore thumb that's of conFusiOn , the rest of the songs found in VOICE are great & considering that most of the material are singles releases , it's surprising to know that they managed to sound unique in their own right & not to mention the 4 new songs that I heard are real gems as well .

It's great to see Mika claming back the top spot with VOICE after THE END & YES & this goes to show that if at 1st you don't succeed , try again & she has done so in claming back the top with this neat album in the form of VOICE .