CD Review :: Aoyama Thelma - WILL

CD Regular




CD Limited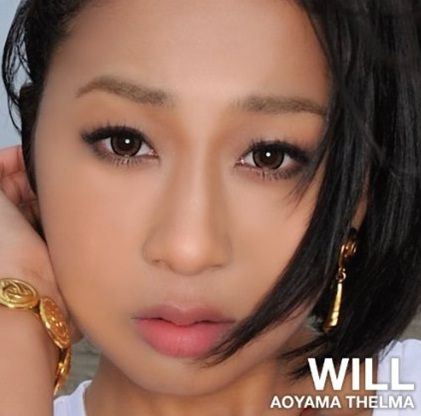 1) Fighting Soldier
2) Zutto. (Much.)
3) WITHOUT U Feat 4Minute
4) LET'S PARTY !
5) Hitori ni Shinaide (Do Not Be Alone)
6) GOODBYE
7) CRAZY CRAZY LOVE
8) STRONGER THAN EVER
9) I'm All Yours
10) 23
11) Fallen Angel
12) ONE LOVE , ONE HEART , ONE DESTINY Feat SUPER CRISS's FIRE BALL
13) Uso Demo Ii Kara (I Wish I Could Lie)
14) WILL
15) Zutto. (Much.) (Wedding Acoustic Ver) (Limited Edition Track)
16) WITHOUT U Feat 4Minute (English Ver.) (Limited Edition Track)

WILL is Aoyama Thelma's 3rd album & it was released on 15th June & this comes about
about 2 years since the release of previous album Emotions .
3 singles & 1 B-side are included in WILL . Aoyama's 9th single Kaeru Basho (The Place We'll Return To) is excluded from the tracklist .
Inclusive of 2 bonus tracks which're only available in the CD limited pressing of WILL , Aoyama presents 9 new album tracks in her latest album offering .
Fighting Soldier is the 1st track that kick things off & I like this no. which's packed full of punch .
It's not full blown upbeat but this's something good to start WILL in the right music direction .
The next 3 songs are singles that Aoyama has already before she released WILL .
Zutto. (Much.) is Aoyama's 12th single & this's her 1st wedding song that she released . Aoyama wrote Zutto. for her close friend Kinoshita Yukina's wedding .
The lyrics for Zutto. were rewritten 5 times & Aoyama worked on the song for three months in order to give Kinoshita the perfect wedding gift on her wedding .
I still feel Zutto. is 1 of her most sincere songs to date since something like this , is priceless & it was very thoughtful of Aoyama to decide to give such an intangible gift to her close friend .
Aoyama could have given a physically gift but making a song like Zutto. & dedicating to Kinoshita , now that's something $ cannot buy at all .
WITHOUT U Feat 4Minute is Aoyama's 13th single & this's the most recent release prior to the release of WILL while LET'S PARTY ! is the 1st A-side of her 11th single LET'S PARTY ! / 23 .
I think it's quite fitting to slot both WITHOUT U & LET'S PARTY ! together side by side & they play a good contrast , since WITHOUT U is a slow mid tempo ballad while LET'S PARTY is upbeat .
The next 5 songs are album tracks , starting with Hitori ni Shinaide (Do Not Be Alone) which's actually a pretty nice mid tempo R&B track that flows well after LET's PARTY .
With a song title like GOODBYE , I frankly was expecting another ballad but I was surprised when I found out it's actually quite an upbeat no. that has some pretty nice guitar riffs that complimented things .
Likewise for CRAZY CRAZY LOVE , Aoyama takes on a more guitar pop feeling with this song & I wouldn't deny that I find this really catchy & a bit different from what Aoyama usually does .
Let alone the song's catchy & it does stuck in my head after a few listens with regards to CRAZY CRAZY LOVE .
I also like the next album track STRONGER THAN EVER as well & I find STRONGER THAN EVER very inspiring & enpowering & I consider this as 1 of my fave tracks in WILL .
After STRONGER THAN EVER , in comes another new song titled I'm All Yours . Just like the previous album tracks , it has quite a heavy guitar backing attached to the song .
I would prefer I'm All Yours to be a bit longer as I feel it's somewhat a bit short & for it to end adruptly , I didn't see that coming but I wouldn't deny that I'm All Yours is another good track that Aoyama delivered .
23 is the 2nd A-side of Aoyama's 11th single LET'S PARTY ! / 23 & I remembered when this single was released , I wrote that I preferred 23 a lot more than LET'S PARTY ! & up to now , my opinions towards 23 has not changed .
Fallen Angel is found as the 1st B-side track in Aoyama's 13th single WITHOUT U in which the other B-side my sweetest sin is not included in WILL .
I really like both B-sides that're found in WITHOUT U but nonetheless , I was happy to see Fallen Angel making the cut in WILL because I actually like this song slightly a bit more than my sweetest sin .
Also , Fallen Angel plays such a good contast against the ballad WITHOUT U which's nice .
The next 3 songs are the last few album tracks in WILL .
ONE LOVE , ONE HEART , ONE DESTINY is the only collaboration song found in the album & for this , it features the vocals of SUPER CRISS's FIRE BALL .
I really enjoy listening to ONE LOVE , ONE HEART , ONE DESTINY & I feel FIRE BALL & Aoyama's vocals go very well together hand in hand . Also I realised that ONE LOVE , ONE HEART , ONE DESTINY has quite a very distinct sound as compared to the other albums tracks found in WILL .
In general , I like Aoyama's collaborations that she has done with other artistes & ONE LOVE , ONE HEART , ONE DESTINY is no exception & lyrically , it has a very positive feeling attached to it which I like .
Uso Demo Ii Kara (I Wish I Could Lie) is a ballad & for this , it's a very simple & under-stated no. that has the backing of a piano .
What I like about Uso Demo Ii Kara is that the song allows Aoyama's vocals to do most of the work here & she doesn't need any fanciful autotune or other special music effects to make a song good in her favour .
The last album track concidentally shares the same title as the album , WILL . Just like the other album tracks , WILL has this very positive great sounding vibes & lyrically , it's very encouraging & inspirational .
WILL is quite similiar to GOODBYE & I'm All Yours since all the songs employ a much heavier acoustic guitar backing & the R&B emphasis is not as strong as the other album tracks found in the album .
The last 2 songs are found as bonus tracks which're included in the CD only limited pressing of WILL .
The Wedding Acoustic Ver of Aoyama's Zutto. is as suggested , a very pretty acoustic version of the original take of Zutto. . I don't really have issues with acoustic songs because I really like them as it showcase a different music side of an artiste .
In this case , be it whether it's the original or wedding acoustic versions of Zutto. , I like both of them equally since in recent times , Zutto. has become 1 of my fave Aoyama's singles .
The English Ver. of Aoyama's 13th single WITHOUT U was originally found as the 1st track in LOVE STORY EP , which was released on 6th May as a special Asian Album release .
Aoyama's fluent in English so it's not surprising that she did a good job singing WITHOUT U in full English which's the only difference between this version & the original take , language wise .
Korean girlgroup 4Minute is featured in both takes of the song & they also sang/rap in English in here as well .
After close to 21 months since the release of her 2nd album Emotions , Aoyama Thelma bounced back with this really enjoyable solid follow up in the form of WILL .
Frankly , I was surprised at the quality of the album tracks found in her latest album because I thought she wasn't able to top things up after what she did with Emotions which was fantastic to boot but she managed to pull a few surprises here & there in WILL .
It's unfortunate that in recent times , her selling power has diminished a great deal especially since she was at the top of her music selling peak when she 1st debuted in the scene some 4 years ago but regardless of which , this's something secondary & I'm still glad that despite what has happened to her , she still solidered on & continues to make great music .
WILL is evident in this case and Aoyama has come of age & maturity in releasing such an enjoyable R&B album to listen to .
Definitely an album worth checking out for in 2011 .