CD Review :: The Click Five - Modern Minds And Pastimes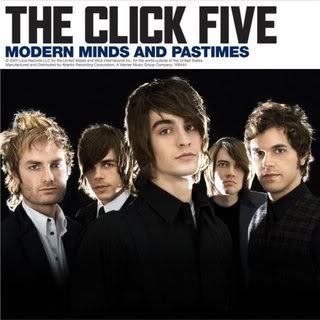 Tracklist :

1) Flipside
2) Jenny
3) Happy Birthday
4) Addicted To Me
5) I'm Getting Over You
6) When I'm Gone
7) Headlight Disco
8) The Reason Why
9) All I Need Is You
10) Long Way To Go
11) Mary Jane
12) Empty


MTV Asia Buzzworthy Artiste for Sept takes centrestage in the form of The Click Five & what better way to review their 2nd album Modern Minds And Pastimes today .

This time they're back with a new hot frontman called Kyle Patrick after the surprise departure of Eric Dill who has left to pursue a solo career & they came back with a superb 2nd album which I love a lot big time & I finally managed to get my copy when it was finally released in S'pore last week which surprised me cos I called Warner Music up & they said that it wouldn't be released til early Sept . Even my friend thinks that I'm crazy for doing that but I don't care !

Honestly as compared to their debut album Greetings From Imrie House & their new record , I definitely prefer the 2nd album . Initally I was skeptical whether can Kyle carries things well & nicely cos he really had some serious big shoes to fill in after Eric left but I'm glad to say that he has passed in my books !

From the 1st single Jenny to the catchy melodies of I'm Getting Over You , When I'm Gone , the tear jerker Mary Jane , The Reason Why , there's something for everyone . Kyle even cowrote the last track Empty with keyboardist Ben Romans which's a nice slow No. which slower builds up in due time .

I also like Addicted To Me with Ben playing & kicking the synth notes to a notch higher . Damn sexy but I find Headlight Disco a bit cheesy .

It's a pity that the album has bombed in US in that its 1st week sales was a mere 5,800 copies but sometimes you don't judge a good record with just sales alone . To me I always feel that if an album sounds good & better than previous records any artistes has released , it's good enough for me . I don't care about sales figures & the works cos no point buying an album which shifted a lot of copies but yet the material sucks hands down .

With that said , The Click Five's about to stop by S'pore again real soon . YES I know with a showcase & autograph session being planned at the moment . Just purchase you copy of Modern Minds And Pastimes now & inside you will get a special invite which you should definitely keep it .

Hopefully I can go for the showcase cum autograph session ! It will be awesome to finally meet the 5 cute , talented & very good looking guys in person !