CD Review :: Kuroki Meisa - MAGAZINE

CD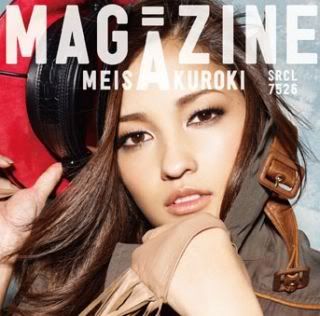 CD + DVD A (DVD contents - contains all of Kuroki's music videos from Like This to LOL !)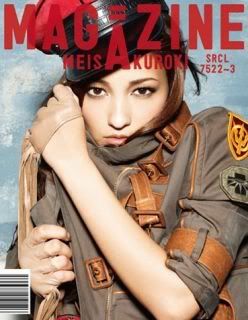 CD + DVD B (DVD contents - contains features footages of Kuroki's 1st concert ATTITUDE 2010)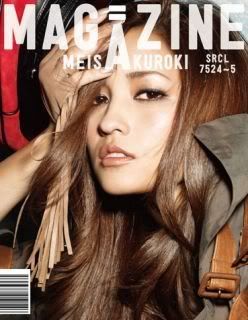 1) Intro -MAGAZINE-
2) LOL !
3) SWITCH⇔
4) BYE BYE MY FRIEND
5) CELEBRATE
6) SHOCK -Unmei- (-Fate-)
7) Say Good Night☆
8) As I Am
9) Why ??
10) Loneliness
11) LOVEHOLIC
12) Wasted
13) 5 -FIVE-
14) Somewhere ...


MAGAZINE is Kuroki Meisa's 1st full length debut album & it will be released this coming Wed on 26th Jan .
Kuroki's 1st 3 singles & a B-side made the cut in MAGAZINE . Even though her official site stated that hellcat is her debut album , for me I will count it as a mini album & MAGAZINE as Kuroki's 1st proper full length album , given the duration for both records .
After Intro -MAGAZINE- , the album dives straight to LOL ! which's Kuroki's 3rd single & most recent release .
LOL ! was used in the ads of Kit Kat which Kuroki can be seen in the ads herself , with her promoting both the red & black Kit Kat of the brand respectively .
I remembered that I had a lot of dislike towards LOL ! for whatever reason(s) I can't think of but now the song has grown on me a great deal & if you listen to the lyrics of the song , there's some subtle linkage with LOL ! & Kit Kat .
But at the end of the day , this's still 1 fun catchy song to dance along to .
SWITCH⇔ is the 1st album track on MAGAZINE & wow , what a no. this's . The usage of autotune in SWITCH⇔ thankfully didn't overkill the song & Kuroki sounded really good here , alongside with the various layering of synths thrown in for good measures without spoiling everything else .
BYE BYE MY FRIEND follows after SWITCH⇔ & I remember I reviewed BYE BYE MY FRIEND as a standalone track before anything else happens .
I still feel that BYE BYE MY FRIEND is really solid . Even though there're 9 new songs in MAGAZINE , somehow or another BYE BYE MY FRIEND is able to carve an unique identity of its own & it's still enjoyable to listen to this mid tempo R&B track .
CELEBRATE is the 3rd album track & just like the 1st 2 album no.s in MAGAZINE , CELEBRATE is another solid track that I really like .
I frankly thought that CELEBRATE was going to be a ballad , given the opening that's piano driven but I was surprised when it breaks away from all that & it launched into another R&B mid tempo song , without sounding similiar like BYE BYE MY FRIEND which's neat .
SHOCK -Unmei- (-Fate-) is Kuroki's debut single . The song was used in the ads of KIRIN's COLA SHOCK which Kuroki can be seen in the ads herself .
Even though it has been close to 2 years since SHOCK -Unmei- was released , I'm still not bored of the song . I still remember that I was really annoyed that this didn't made the cut in Kuroki's 2nd mini album ATTITUDE .
But when I saw SHOCK -Unmei- on the tracklist for MAGAZINE , I was really happy because there was 1 time/stage where there was uncertainty on whether will Kuroki release a full length album prior to MAGAZINE but after this , all's fair game now .
Say Good Night☆ follows after SHOCK -Unmei- & for this , I probably can consider this as MAGAZINE's 1st proper album track for a ballad .
Even though Say Good Night☆ is not a full blown emotional driven ballad , the energy/mood it gives off in here , it's somehow a bit bittersweet & definitely more reserved , as compared to the other album tracks found in MAGAZINE .
As I Am is track #8 & out of the 9 album no.s , I feel that As I Am is the weak link out of the lot because it took me quite a while to catch hold on how it sounds like .
But after a few listens , I managed to get a grasp on As I Am but if you stack up the song against the rest , As I Am is probably slightly weaker but it's still an enjoyable track which's very synths driven .
Just like CELEBRATE & Say Good Night☆ , Why ?? has the same piano opening as an introduction , except in this case , Why ?? is a lot more angsty & full force .
I like Why ?? though because it showcase a different side of Kuroki that I normally don't get to hear so I'm all good with it .
Loneliness is another mid tempo R&B track but unlike the other mid tempo songs that I mentioned before , Loneliness bring back to basics when comes to a good R&B track .
There's nothing fanciful going on in Loneliness but I like the song for being pretty much fuss free .
LOVEHOLIC is the 2nd last album track & oh wow , this's quite a bad ass track . The song reminded me of Bad Girl to a certain extent , given the vibes that both songs give me .
Still , LOVEHOLIC is unique in the sense that Kuroki's vocals sounded more distorted than ever than usual which I guess that's done on purpose .
Wasted is found as the B-side of SHOCK -Unmei- & in here , it's track #12 in MAGAZINE .
I was very happy to see Wasted included in MAGAZINE's tracklist because I think the song's enough to rival the A-side just as well as each other . For that , I don't really have that much complaints on this .
5 -FIVE- is Kuroki's 2nd single & it's the last single included in MAGAZINE .
Frankly , all of her singles are real solid but what makes 5 -FIVE- stands out from SHOCK -Unmei- & LOL ! is that 5 -FIVE- has a strong summer vibe attached to the song , something that's not showcase that much in her discography but in here , Kuroki does it really well .
Also , it's 1 of those tracks that wouldn't hesistate people to get their groove on when the song is being played in a party as well .
Somewhere ... is the final album track & let alone last song before MAGAZINE concludes .
For this , Somewhere ... borderlines on the ballad & mid tempo sections but I think it's a nice way to wrap up the album with a somewhat chilled out / quietened mood .
After making a stunning musical debut with her 1st mini album hellcat , model/actress/pop star Kuroki Meisa finally released her full length debut album MAGAZINE .
Despite juggling a successful acting career while being a model full time , Kuroki is also able to set aside time & effort to create fun R&B-dance songs for fans which gives rise to MAGAZINE .
Truth be told , I was really surprised on how solid/top notch the album tracks are & each of them are able to distinguish each other from the rest .
Singing's obviously not Kuroki's niche area since she's by right a model/actress to begin with . But the songs that she picked to choose to sing in MAGAZINE , allows her to showcase her somewhat limited vocals while concealing the weakness portions of her voice .
Then again , at the end of the day , MAGAZINE is really solid & I like the sound consistency which flows very nicely from the start to the end .
Hopefully MAGAZINE wouldn't be the 1st & last of many great things to come from Kuroki Meisa & for this , I'm going to be plugging on MAGAZINE for the time being .