CD Review :: NEWS - LIVE

CD Only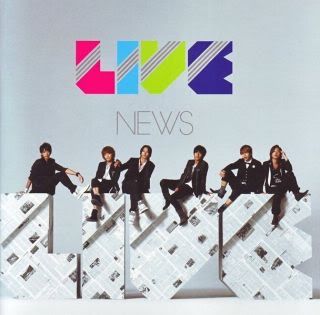 CD + DVD




1) Koi no (Love) ABO
2) LIVE
3) Umareshi Kimi e (Who Was Born To You)
4) Supernatural
5) Aki no Sora (Autumn Sky)
6) Futari (2 Of Us) / 130000000 no Kiseki (Million Miracles)
7) Dancin' in the Secret
8) Wonderland
9) Sakura Girl
10) BE FUNKY !
11) D.T.F
12) Naiyou no Nai Tegami (Letter With No Content)
13) Endless Summer
14) Share (CD Only Track)
15) Forever (Unplugged Ver.) (CD Only Track)


LIVE is NEWS's 4th album . It was released last Wed on 15th Sept & the album debuted at #1 with 1st week sales of 156,391 .
The last album NEWS released was 2 years ago on 19th Nov aka color .
2 singles & a B-side are included in LIVE .
Before I dived straight in proper , LIVE marks quite a few 1st's for NEWS in the sense that it's the group's 1st album in which its title is released in full upper caps & that it has a song title which's the same as the album .
Also , it's NEWS's 1st album not to include any duo/trio pairings when comes to album tracks , so all the album tracks are sung together as a group in whole & that goes for including a B-side in an album too .
Koi no (Love) ABO is NEWS's 11th single & it was released last year on 29th April .
It's hard to believe that it has been almost close to 1 1/2 years since Koi no ABO was released .
I know at that time when Koi no ABO was released (NEWS's only single release for 2009 somemore) , I had a shock or 2 as the style for Koi no ABO sounded really cheesy & yet dated .
But now , I actually find the song fun & rather amusing , seeing that they don't have many other songs in their discography which falls under this category . As such , it shows a different side of the group .
LIVE (the song) is the 1st album track . For this , it was written & composed by JIN , who's the older brother of HIDE in which HIDE's the lead singer of the group GReeeeN .
I did reviewed LIVE on its own prior to the release of LIVE (the album) . It's no weeeek & I did find the song catchy .
However , LIVE (the song) wouldn't be something that I will consider as a fave album track of mine , as there're other more solid/memorable songs in LIVE which I will talk about them later .
Umareshi Kimi e (Who Was Born To You) is really nice but the eerie thing about the song is that I find the melody very similar to certain song(s) that I can't put my foot on .
But anyway , Umareshi Kimi e is very enjoyable . It's quite fast paced , upbeat but it's something that's pleasant to listen .
Supernatural follows after Umareshi Kimi e & this's 1 really smooth groovy no. .
It's something that I feel you can hear being played in lounge clubs & since the DVD for LIVE contains footages of NEWS UNPLUGGED , Supernatural would have been a song that NEWS should have sang during the unplugged session but unfortunately they didn't .
Supernatural is definitely 1 of those songs where it's perfect for you to listen to if you're chilling/lazing around at home .
Aki no Sora (Autumn Sky) follows suit & I feel this's 1 of my fave album tracks in LIVE simply because it has an autumn feeling (with autumn looming around Japan currently) .
Also , it has that really laidback feeling . Not to mention , I think it's lovely that it's piano driven & it's very calmed & somewhat relaxed which's great .
Futari (2 Of Us) / 130000000 no Kiseki (Million Miracles) is the 5th album track & despite having 2 song titles to make it feel as though it's a double A-side single , it's actually 1 song , stand alone on its own .
Honestly , I do not find Futari / 130000000 no Kiseki special if not memorable . It sounded as a standard pop/rock song that I usually can find in Johnny's albums . It doesn't have that X factor/spunk as compared to the 1st few album tracks in LIVE .
Also , it took me quite a while to get used to the way Futari / 130000000 no Kiseki sounds like too .
Dancin' in the Secret follows after Futari / 130000000 no Kiseki .
No doubt it has a really weird song title but thankfully , it sounds good . It follows almost in the same music vein as Koi no ABO since both songs are dancey upbeat tunes .
Except for Dancin' in the Secret's case , I feel it's less cheesy & more enjoyable to listen .
From Dancin' in the Secret , in comes another fun album track Wonderland . I feel that Wonderland sounds like a sequel to color's Smile Maker but only a lot more stronger & distinct .
After 7 album tracks , Sakura Girl steps in as track #9 & this's also NEWS's 12th single & also the final single you can find in LIVE .
Sakura Girl is 1 of those songs that has a nostalgic feeling , especially if you know what the song's all about , lyrical .
Nevertheless , I think the song is 1 of the most memorable NEWS singles they have released in recent times & it's something that I'm not bored of even up to now .
BE FUNKY ! was used as the theme song for the drama TROUBLEMAN which starred Kato Shigeaki .
This's the 1st song that I reviewed as a stand alone track , way before it was announced that BE FUNKY ! made the cut in LIVE which I'm glad it happened as it has that pow wow factor going on & it's very catchy on 1st listen .
I still said that it would have been better if NEWS released BE FUNKY ! as a single , as it had a lot of potential to be one but unfortunately it didn't happen but I suppose it's not that bad as you can find the track included in LIVE .
D.T.F is a strange song title . If you listen to the song carefully , it actually means Do The Funk but unfortunately despite this , I find D.T.F to be really random if not more cheesier than Koi no ABO .
I was quite turned off the moment the introduction of D.T.F hit & it doesn't help that the melody being used for the song , it sounded really dated & for that , the song gets a thumbs down .
Naiyou no Nai Tegami (Letter With No Content) is a fantastic album track simply because hip hop/rap duo Hilchryme had a hand in writing & composing this no. .
The lyrics for Naiyou no Nai Tegami were written by vocalist/rapper TOC while the music's composed by DJ KATSU .
People who have followed my blog would have known in recent times , I have become a rather big fan of this really talented duo so I wasn't surprised that they did such a great job in line in 'giving' Naiyou no Nai Tegami for NEWS to sing .
Song wise , even if you don't listen to Hilchryme , it's something that's well recommended to listen .
With Naiyou no Nai Tegami being such an emotional driven ballad , it's hard not to like something like that .
I'm real curious as to whether Hilchryme be covering Naiyou no Nai Tegami in their future releases but I leave this as it's for now .
Endless Summer is the last album track in LIVE (ie. if you get the CD + DVD edition) & I think it conclude things very well .
It's 1 of those songs that you listen to , around the time when Summer is going to conclude but whatever you have experienced during that particular time frame/season , you want those memories to continue/live on in your memory .
Endless Summer is a song that I really enjoyed on 1st listen & I also like the harmonisation of vocals going on for NEWS as everything's well put together .
The last 2 songs are only found in the CD only edition of LIVE .
Originally found as a B-side / live version in the CD only edition of Koi no ABO , it's Share .
This's so far the only song that's written & composed by NEWS together .
I'm real happy that a studio treatment has been given for Share as I really liked the live version which was recorded from Tokyo Dome .
Between the live & studio takes of Share , there's not much significant difference . The only prominent changes is that for the studio version of Share , the vocals for NEWS have been twerk a bit slightly , especially at the end where you can hear subtle backing vocals .
Other than that , Share is still something that's definitely worth checking & the fact that the whole group wrote & composed it together , makes Share a keeper in its own right .
Originally found as track #5 in NEWS's last album color , it's Forever & in LIVE , it has been titled as Forever (Unplugged Ver.) .
This's the final track prior to wrapping things up in LIVE & NEWS did a good job in giving Forever an updated/unplugged version .
I already have liked the orignal take of Forever when color was released so it didn't surprise me that I like the unplugged version pertaining to the song .
The unplugged version of Forever sees a more stripped down / unplugged feeling . I always have a weakness if songs are being done in this manner . For that , Forever (Unplugged Ver.) gets my stamp of approval .
Like what I mentioned in the beginning prior to my proper review of NEWS's LIVE , it's NEWS's 1st album not to include any duo/trio pairings when comes to album tracks , so all the album tracks are sung together as a group in whole .
Frankly , it's a move that I welcome , seeing that in general , I do enjoy listening to LIVE from the start to the beginning .
For me , I was happy in this case , they have ditched the whole duo/trio pairings tactic which worked well in color & also in pacific , as I feel it's not fair for just Yamapi & Ryo to be given solo songs & then the other 4 members being delegated to duo/trio pairings when comes to delivering the album tracks .
That's not to say the album doesn't have any flaws . For LIVE , I'm not able to find songs that're sequels to past standout album tracks like SNOW EXPRESS , FLY AGAIN , Ai no Matador & etc .
But aside from this minor flaw , NEWS has proven once again that when comes to delivering songs together as a group , they nailed this aspect downpat & I still feel that vocally , they're 1 of the better ones in Johnny's as all of them are able to carry a tune or 2 well .
NEWS will be releasing their 13th single Fighting Man on 3rd Nov & concidentally or not , 3rd Nov is member Ryo Nishikido's 26th birthday .