Monday, October 29, 2012
Koda Kumi - Go to the top

CD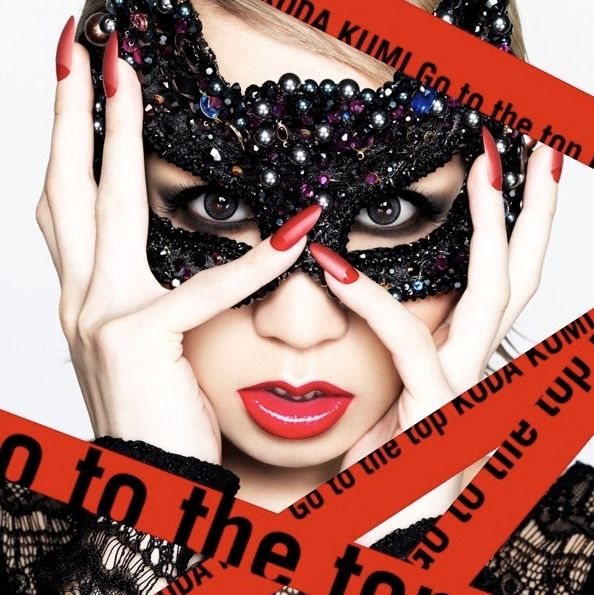 CD + DVD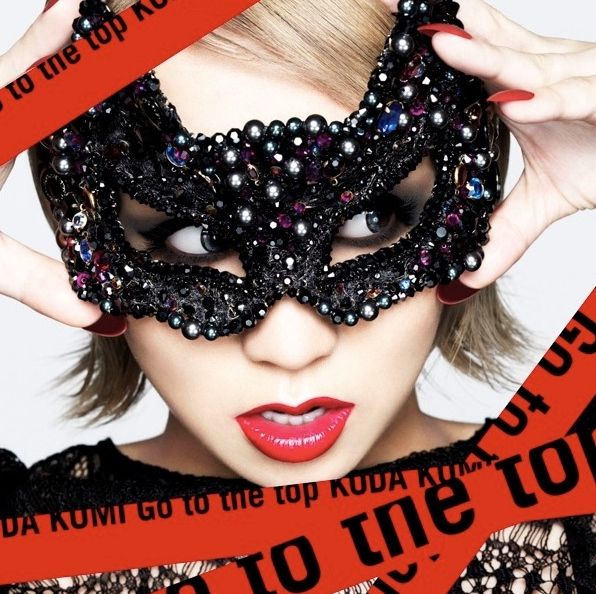 CD + DVD (Total Eclipse Edition)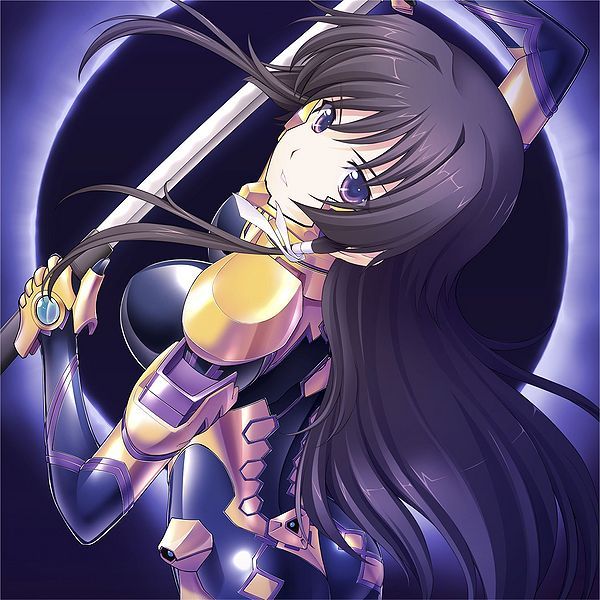 1) Go to the top
2) darling
3) Go to the top [DJ AKi ASY Remix]
Go to the top is Koda Kumi's 53rd single & it was released on 24th Oct .
This's Koda's 1st single release of 2012 after she released her 10th album JAPONESQUE this year on 25th Jan . Subsequently , she also released 2 remix albums KODA KUMI DRIVING HIT'S 4 & Beach Mix which both of them were released on 14th March & 1st Aug respectively .
The A-side was selected to be used as the opening theme song for the anime Total Eclipse . Described as a dance tune , the song tells a message for people living in conflict & that it's being directed at people who do live with constant conflicts within themselves .
There're 2 B-sides in the single , the 1st 1 is something titled darling .
darling is a straight forward love song portraying Koda's feelings as a wife & mother which contrasts the A-side a great deal . The result of darling showcases a raw warm side of Koda .
The DJ AKi ASY Remix of Go to the top serves as the 2nd B-side in the single . Unlike the main A-side , Go to the top [DJ AKi ASY Remix] has a sleek futuristic sound despite it being shorter than the original .
Koda seldom include remixes of the main A-side in her singles but I have to say be it both the original or the remix of Go to the top , both are equally solid .
Just three months after giving birth to a healthy baby boy , Koda Kumi has already making her comeback to the J-pop world with Go to the top . The pop diva's 53rd single is a pulsating electronica dance tune that also serves as the opening theme song for the anime series Total Eclipse . Welcome the return of a true pop diva with Go to the top !
Her 54th single Koishikute (Darling) will be released on 5th Dec .
Saturday, October 27, 2012
YUI - CHE.R.RY ~Bossa Live Version~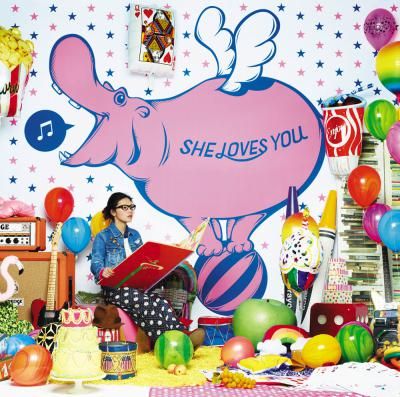 CHE.R.RY ~Bossa Live Version~ is found as track #13 in YUI's 1st self cover / tribute album SHE LOVES YOU that was released on 24th Oct .
An updated version of YUI's 8th single CHE.R.RY , the production of SHE LOVES YOU is supervised by YUI herself , with artistes such as miwa , SCANDAL , NEGOTO , Kylee , STEREOPONY , Ayaka Ide , Aoi Eir , joy , Goose house & Miku Sawai covering one YUI song each . Also, YUI also participates in the album with her self-cover live bossa nova version of CHE.R.RY .
YUI brings together the best girls pop artist in J-pop today for the cover album SHE LOVES YOU & for her own self cover of CHE.R.RY , as the updated version suggests , it has a bossa nova touch to it .
All this while , CHE.R.RY has always been 1 of my fave songs from YUI & hearing the ~Bossa Live Version~ of it , it's very cool in which YUI gave it a 360 music degree makeover that's completely different from what the original had to offer .
Listening to CHE.R.RY ~Bossa Live Version~ on a lazy day couldn't have been more better than this .
Wednesday, October 24, 2012
Hilcrhyme - Jigsaw Puzzle

Cover for both CD & CD + DVD's editions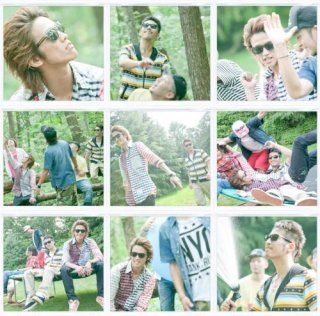 1) Jigsaw Puzzle
2) Technical
3) Jigsaw Puzzle -KARAOKE ver.-

Jigsaw Puzzle is Hilcrhyme's 11th single & it was released last month on 12th Sept .
This single was released about 3 months + since their previous single Hotaru (Firefly) .
While Hotaru is a charming touching ballad , Jigsaw Puzzle presents a more cheery carefree side which's something that I enjoy on listening to on 1st listen .
Technical serves as the B-side in the single & I don't know why but I kind of find this song a bit irritating .
Perhaps it's the way that rapper/singer TOC delivers the song or the fact that the melody utilises quite a lot of over the top synth which both factors contribute in making Technical slightly turn off for my liking .
Showing no signs of slowing down despite releasing their 1st best album Best of Hilcrhyme earlier this year , Hilcrhyme returned back with their 2nd single of 2012 in the form of Jigsaw Puzzle .
The duo's 12th single Kaleidoscope will be out on 7th Nov , followed by their 4th album LIKE A NOVEL that will drop on 28th Nov .
Monday, October 22, 2012
CD Review :: Domoto Koichi - Gravity

CD
CD + DVD A
CD + DVD B
1) Danger Zone ~to the unknown world~
2) Slave Maker
3) Fallen Angel
4) Deepness
5) Come closer
6) Bluff××
7) invisible
8) JAM ~Freaky Night~
9) Lost World
10) SUPERSONIC
11) LOVE CRIES
12) A Silent Night (CD Only Track)

Gravity is Domoto Koichi's 3rd solo album & it was released on 3rd Oct .
Koichi's latest album offering is released 2 years & a month since his previous album BPM & unlike his 1st 2 solo album offerings , Gravity is his 1st album not to include any singles .
2 songs in Gravity are composed by Koichi himself who's 1/2 of the duo KinKi Kids alongside with Domoto Tsuyoshi .
Kicking things off in the album is Danger Zone ~to the unknown world~ which's the only song in Gravity that received a music video .
Serves as the lead album promo track for Gravity , Danger Zone ~to the unknown world~ is insanely addictive if not downright catchy on 1st listen . I wasn't surprised that a music video was made for this song as it's a great opening album track .
Slave Maker follows after Danger Zone ~to the unknown world~ & just like the latter , Slave Maker is also another catchy entertaining dance no. with it being just as aggressive sounding as the next song which's Fallen Angel .
Fallen Angel is 1 of 2 tracks that's composed by Koichi & Koichi's composing skills is something that I really admire/respect & no exception goes for Fallen Angel which showcases what Koichi does best .
The mood is somewhat slow down a bit in the form of the next track ie. Deepness . It's not as upbeat as the 1st 3 songs but it still has plenty of attitude attached to it .
Likewise , the same thing goes for Come closer & Bluff×× with both tracks sounding quite lush sounding . I don't think they're the strongest tracks in Gravity but these 2 songs are something I don't mind listening to if I have the album on loop .
invisible is the only slow no. in Gravity & this almost can be considered as a ballad & it's a refreshing change to see a switch in music direction after a series of back to back upbeat club driven songs .
JAM ~Freaky Night~ takes centre stage after invisible & for this track , I think it's ok as it's neither good or bad since there're much more memorable stronger tracks in Gravity .
Lost World is 1 of my fave album tracks as it's a really strong entertaining track on 1st listen . The melody is what makes Lost World stands out as it has plenty of catchy hooks going on & even autotune is present in it which makes things even better .
From an awesome track to the next , in comes SUPERSONIC which really caught on me at 1st listen , in that the song is very polarizing & I was straightaway drawn into it .
Lost World & SUPERSONIC are definitely 2 great tracks back to back which're on par if not enough to rival Danger Zone ~to the unknown world~ .
LOVE CRIES is the 2nd song that Koichi composes besides Fallen Angel & in LOVE CRIES , it does sound like something left behind from his debut solo album mirror .
I frankly have no issues with Koichi's composing as it's this aspect of him that I like/respect which I still feel that mirror is awesome even up to now , despite it being released close to 6 years ago .
A Silent Night is only available in the CD only pressing of Gravity & should this edition be purchased , it serves as the bonus track , something both CD + DVD's of the album doesn't have .
Oddly , I feel that A Silent Night is something KinKi Kids might personally sing themselves & not Koichi alone . As such I didn't find it very memorable on 1st listen & it only sunk into me after a few listens .
I don't think A Silent Night will be a fave track of mine . It's a pleasant no. but that's that .
While Domoto Tsuyoshi continues to explore the experimental side of rock music , his KinKi Kids group-mate Koichi shows off his dance skills in his latest album Gravity .
Truth be told , when it was announced that Koichi be releasing a new solo album , I was surprised especially since there're no singles included in Gravity . At 1st I didn't want to listen to his latest album offering but I'm glad I didn't undertake that decision because after listening to Gravity , I think it's a solid effort .
Unlike his previous album BPM which I think is quite weak sounding , Gravity is much stronger overall as there're plenty of great dance tracks which're good enough to be potential singles themselves & surprisingly , I find myself listening to Gravity a lot more than expected .
I don't think Gravity will be able to match up to just how Koichi's debut solo album mirror is as I still feel mirror is top notch but it's definitely a big music step up for Koichi from what he did in BPM & what he did now for Gravity .
Hopefully in his next solo offering he will compose the whole album as that's something I really miss from him but for now , I will be plugging into Gravity on repeat mode .
Friday, October 19, 2012
HALLOWEEN JUNKY ORCHESTRA - HALLOWEEN PARTY

CD + DVD Regular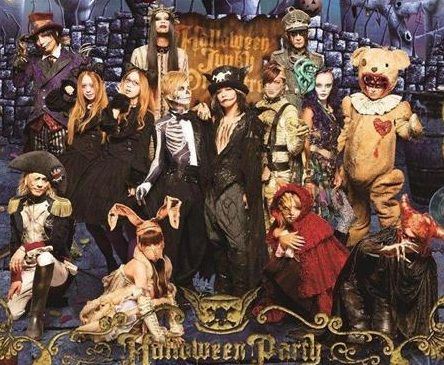 CD + DVD Limited
1) HALLOWEEN PARTY
2) Penalty Waltz
HALLOWEEN PARTY is a special collaboration single that was released on 17th Oct under the name HALLOWEEN JUNKY ORCHESTRA .
This collaboration single features the following artistes :
- HYDE (L'Arc~en~Ciel/VAMPS)
- Acid Black Cherry
- DAIGO (BREAKERZ)
- kyo (D'ERLANGER)
- Tommy february6
- Tommy heavenly6
- Tatsurō (MUCC)
- Anna Tsuchiya
- Aoki Ryuji
- K.A.Z (VAMPS)
- Hitsugi (Nightmare)
- Aki (SID)
- RINA (SCANDAL)
- Kanon Wakeshima

Written & composed by L'Arc~en~Ciel/VAMPS's HYDE , HALLOWEEN PARTY features an all stars cast lineup with HYDE inviting his famous friends to participate in this wickedly fun song & seriously what's there not to like about the A-side ?
With HALLOWEEN PARTY sounding a little bit like L'Arc~en~Ciel's Hurry Xmas , HALLOWEEN PARTY is basically fun fun fun & it definitely fits the whole Halloween theme extremely well .
Penalty Waltz serves as the B-side track of the single & this's actually an instrumental no. that's composed by HYDE .
To sum up what Penalty Waltz is all about , think of the instrumental of HALLOWEEN PARTY that has the addition of numerous weird/creepy/amusing sound effects that're all Halloween associated .
Before VAMPS's annual organised Halloween Party concerts kick off this weekend & next weekend , the release of HALLOWEEN JUNKY ORCHESTRA's HALLOWEEN PARTY couldn't have come at a more precise/better timing than this !
Also the very fact that the whole gang will be taking centre stage performing at all 5 concert dates for Halloween Party 2012 , you know nothing but crazy good 'ol Halloween fun will definitely be expected from the guys & girls . Just don't be too scared by them ... or not .
Thursday, October 18, 2012
BREAKERZ - DESTROY CRASHER 2012 & FAKE LOVE 2012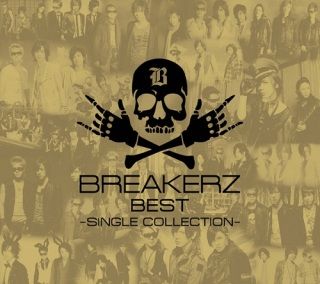 DESTROY CRASHER 2012 & FAKE LOVE 2012 are 2 newly re-recorded songs taken from BREAKERZ's 1st best album BREAKERZ BEST ~SINGLE COLLECTION~ which was released last week 10th Oct .
Both DESTROY CRASHER 2012 & FAKE LOVE 2012 are only included in the 2 CDs + bonus disc limited edition type B , in which the bonus disc is titled MEMBER'S SELECTION .
MEMBER'S SELECTION consists of 16 tracks in which all 3 members in the group selected the best tracks & cherry pick them to be included in this bonus disc .
DESTROY CRASHER was originally found as track #7 in the guys's 1st mini album Ao no Mirai EP . A video was made for DESTROY CRASHER 2012 but is not included in the DVD tracklist pertaining to BREAKERZ BEST ~SINGLE COLLECTION~ .
Written by vocalist DAIGO & composed by guitarist SHINPEI for both the original & updated versions , I'll be frank to say that DESTROY CRASHER is actually 1 of my least fave tracks in the guys's discography & coincidentally with it being the last track in Ao no Mirai EP , it's always the song I skipped if I listen to the mini album .
However surprisingly I kind of enjoy DESTROY CRASHER 2012 . I'm not sure why but somehow , the updated version of the song has a lot more bite to it & it's somewhat more aggressive/meaner sounding as compared to the original .
FAKE LOVE was originally found as track #6 in Ao no Mirai with both the original & updated versions being written by DAIGO & composed by guitarist AKIHIDE .
Unlike DESTROY CRASHER , FAKE LOVE is actually 1 of my most fave tracks , be it in Ao no Mirai EP &/or in the guys's discography so I was really surprised when they chose to record an updated version as this would make the 2nd time FAKE LOVE gotten a music makeover , with the 1st one being an acoustic take that they included in their 9th single BUNNY LOVE / REAL LOVE 2010 as a B-side track .
FAKE LOVE ~Acoustic Version~ was done really well but in the case of FAKE LOVE 2012 , it's much more punchier & the guitar riffs are a lot more stronger . Also , the updated version score brownie points in that AKIHIDE's vocals could be heard very distinctly in the background prior to the conclusion of the song which made me really stoked .
It was unexpected but it turned out to be a really great surprise .
Celebrating their 5th anniversary this year since their debut formation in 2007 , BREAKERZ has come of age with the release of BREAKERZ BEST ~SINGLE COLLECTION~ .
BREAKERZ BEST ~SINGLE COLLECTION~ already stand out on its own for being a solid must get best album , with this being their very 1st best album but BREAKERZ did 1 step further & include 2 updated songs which the ending results turn out to be quite top notch if I say so myself .
SEAMO x SPYAIR - ROCK THIS WAY

CD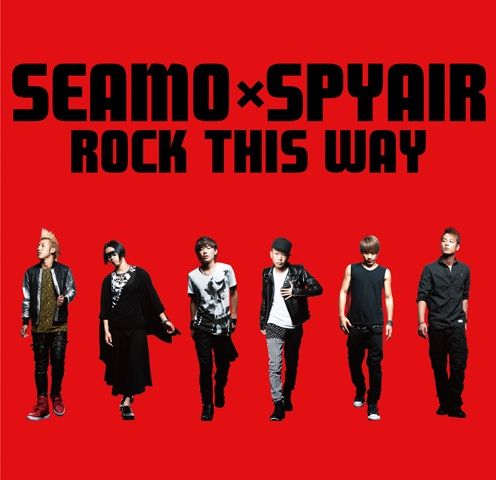 CD + DVD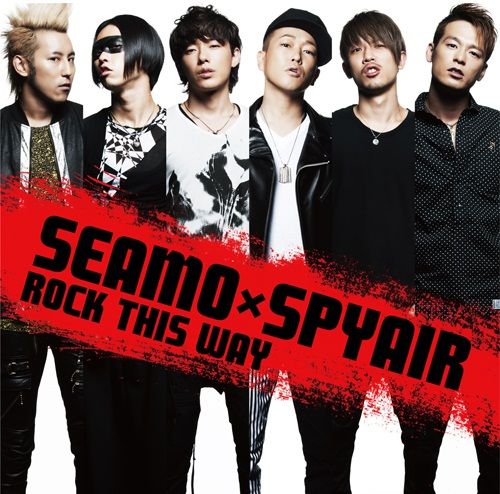 1) ROCK THIS WAY SEAMO x SPYAIR
2) It's a Gloomy Monday (SEAMO)
ROCK THIS WAY is a special collaboration single released together by rapper SEAMO & SPYAIR on 17th Oct .
Released under the billing SEAMO x SPYAIR , this collaboration was planned after SEAMO participated in a live event hosted by SPYAIR back in August & the A-side is described as a rock tune that's a message song in sending a yell to those who face themselves & keep chasing after their dreams .
This's something kind of unexpected but the ending result is actually really good if not so cool & this's what you get when you combine rap & rock together .
As for ROCK THIS WAY , I couldn't help but detect traces of SPYAIR's Rockin' the World (the introduction song from their self titled debut album) & that really pleased me as that opening track is really rocking & I suppose ROCK THIS WAY can be considered as an extension from where Rockin' the World left which's fantastic .
It's a Gloomy Monday serves as the B-side in the single & unlike ROCK THIS WAY , the song has a much more heavier rap hip hop vibe going on , with SEAMO being the only 1 featured in it , vocals wise .
I feel that It's a Gloomy Monday is interesting as it contrasts the A-side a lot with SEAMO being featured in it solely & the fact that he's a rapper , it's saying a lot with what's going on in It's a Gloomy Monday .
Rapper SEAMO & rock band SPYAIR band together in releasing this special collaboration single in the form of ROCK THIS WAY & if you ask me , this collaboration is something I really enjoy when both artistes come together in doing this .
Combining rock & rap can be something tricky but the good thing's that SEAMO & SPYAIR were able to fused each of their music niche which led to the enjoyable if not catchy ROCK THIS WAY being born .
I'm not sure if this's a 1 off thing but should both artistes release another collaboration in future , it will be something I wouldn't say no to & never say never as what I would put it .
Saturday, October 13, 2012
Himuro Kyosuke - WARRIORS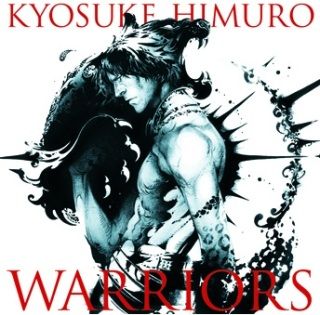 1) WARRIORS
2) Play Within A Play (GOSPELS OF JUDAS)


WARRIORS is Himuro Kyosuke's 28th single & it was released last month on 26th Sept .
Released about 6 months + since previous single IF YOU WANT , WARRIORS is an exciting rock tune which has two promo tie in's in the form of being used in the ads of HAL TV CM song & also in the WOWOW TV network for its broadcast of their football programmes .
The single's B-side track is something that's titled Play Within A Play & this's the 1st song from that's released under a new unit that Himuro coined up with , which's GOSPELS OF JUDAS .
Play Within A Play on its own is quite unusual sounding & definitely something not Himuro's style . I guess I can understand why instead of him , the song's credited under GOSPELS OF JUDAS .
The B-side is very different from WARRIORS , with Play Within A Play sounding almost on the borderline of being creepy but this showcases a different side of Himuro , something that he chose to step out of his music comfort zone that I don't mind at all .
After the release of the previous single , the heartwarming no. IF YOU WANT , legend Himuro Kyosuke is back with this back to basics rock no. in the form of his latest single offering WARRIORS .
I think both songs are solid , with the added emphasis that Play Within A Play is a must recommended track to hear if you want to hear something unusual that's not the usual style that Himuro embarks on .
If not , there's always WARRIORS to satisfy any old school rock fans out there .
Thursday, October 11, 2012
Fukuyama Masaharu - Beautiful life / GAME

CD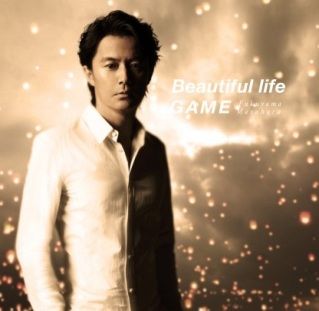 CD + DVD A ; DVD contents includes the Beautiful life video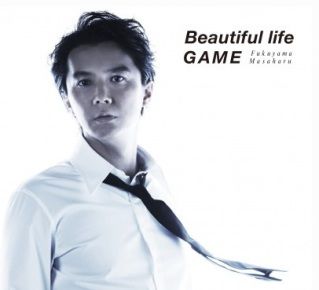 CD + DVD B ; DVD contents includes the GAME video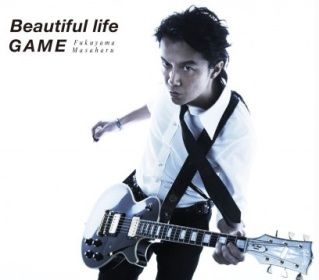 1) Beautiful life
2) GAME
3) Girl 2012
4) Beautiful life (Original Karaoke)
5) GAME (Original Karaoke)
6) Girl 2012 (Original Karaoke)


Beautiful life / GAME is Fukuyama Masaharu's 29th single & it was released yesterday on 10th Oct .
Originally supposed to be released on 26th Sept , Beautiful life / GAME is released about 7 months + since Fukuyama's previous single Ikiteru Ikiteku .
Both A-sides will be reviewed with the exception of Girl 2012 . But with that said , Girl 2012 is actually a re-recorded version of Fukuyama's 1992 song Girl in which it was used as TV Asahi's London Olympic theme song for this year .
The 1st A-side Beautiful life is used to promote in the ads of P&G SK-II & it's described as a heartwarming ballad .
On the other hand , the 2nd A-side GAME is theme song for 2012's London Olympic coverage that was broadcasted by TV Asahi is a hot-blooded rock tune that served as the theme song for TV Tokyo's London Olympics coverage .
After almost 7 months , Fukuyama Masaharu is finally back with a new single in the form of a double A-side no. , Beautiful life / GAME & honestly I really dig his latest release offering .
I think both A-sides are equally solid with each track showcasing a different side of Fukuyama . On 1 hand , Beautiful life displays a soft & touching side of him while for GAME , it's a no nonsense rock driven no. which proves that Fukuyama still does know how to rock out & have a great time .
I hope that the next music move Fukuyama will undertake is to release a new studio album as his last album that he released was 2009's Zankyou . As such , I really hope that will be the case . If not , the next best move is to release his next single before doing so .
After all , his next single release will be his 30th in his career & that's considered as a form of a milestone .