CD Review :: McFly - Motion In The Ocean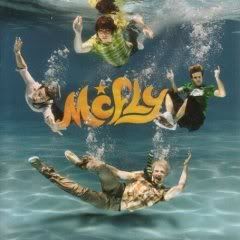 Tracklist :

1) We Are The Young
2) Star Girl
3) Please , Please
4) Sorry's Not Good Enough
5) Bubblewrap
6) Transylvania
7) Lonely
8) Little Joanna
9) Friday Night
10) Walk In The Sun
11) Home Is Where the Heart Is
12) Don't Stop Me Now
13) Silence Is A Scary Sound
Motion In The Ocean's the 3rd album released by UK band McFly . So far , they have released 2 albums prior to this latest release namely Room On The 3rd Floor & Wonderland .
I gave everything a listen & I really like it & I can possibly say that it's their best record they released to date & I personally think that it's a notch better than their previous 2nd CD Wonderland which was fab as well.
McFly kick things off with We Are The Young which's awesome , a very uptempo & kicking track which was followed by their UK #1 singles of Star Girl & Please Please.
Funny enough , Hui Li likes Please Please the moment she 1st listened to it . For me , erm.. I'm still trying to get over the lyrics which was quite porn-y in that sense.
Followed by possibly my personal fave on the album Sorry's Not Good Enough & then the strangely titled Bubble Wrap . I was -_-"' when I saw the title cos I was thinking what the... but luckily the song's really good aside from the title.
Track 6's Transylvania & it's another fab track , I hope it will be released as the 3rd single in which the chorus parts are sung by Dougie ! Usually Dougie does backing vocals but in this song you can specifically hear him sing & his voice's not bad.
Transylvania was written by him so he has a rather big say in the song & he also sings on Nothing which's a track that can be found in their previous CD Wonderland.
Lonely reminds me of Obviously but even better . In fact the moment the guitar intro started for Lonely , it really sounded like Obviously initally but yeah it's a nice song , the lyrics are so aww .
Ballads are in the mix as well , in the form of Little Joanna , Home Is Where The Heart Is . Little Joanna's so cute in fact Tom wrote it for his girlfriend who's Italian dammit
Initally when I saw Friday Night , I thought please don't tell me it's a cover of The Click Five's song but nah it's not .
The 1 track that didn't grab me immediately was Walk In The Sun . I realised that the more you listen to it , the more better it sounds .
The last track on Motion In The Ocean's a really good rendition of Queen's Don't Stop Me Now in which that song & Please Please were a double A side single when it was released & yes both of them went to no1 in the UK single chart.
That so called secret hidden track's nothing merely a track called Slient's A Scary Sound . I don't have it in CD form but only the live rendition & it's not too bad.
Overall , McFly are great , they have matured since their 2003 debut Room On The 3rd Floor & wouldn't be surprised if Motion In The Ocean will give them their 3rd UK #1 album & yes they deserved it .
Hopefully this album will start making waves in Asia soon cos I mean it's about time people find out that there're more to life than just Obviously , All About You & I've Got You .