CD Review :: B'z - C'mon

Cover for both CD & CD + DVD's editions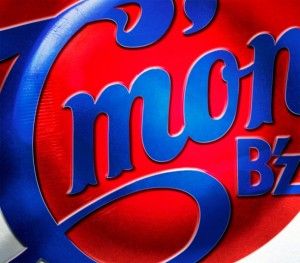 1) C'mon
2) Sayonara Kizu Darake no Hibi yo (Goodbye , The Days Of Wounds)
3) Hitoshizuku no Anata (Only A Tiny Bit Of You)
4) Homebound
5) Don't Wanna Lie
6) DAREKA
7) Boss
8) Too Young
9) Pilgrim
10) The Meister
11) Dead End
12) Meimei
13) ultra soul 2011

C'mon is B'z's 18th album & it was released on July 27th .
The duo's last album release was 2009's MAGIC & in C'mon , the album contains 2 singles & 1 B-side .
Sharing the same title as the album , it's C'mon which's concidentally the very 1st (album) track .
Just like the duo's 48th single Sayonara Kizu Darake no Hibi yo (Goodbye , The Days Of Wounds) , C'mon was selected to be used in the ads of Pepsi's NEX (which the duo appear in the ad) & it's the only album track that gets a music video .
I can understand why C'mon is the only song in the album that received a video because it's such a simple under-stated no. . I haven't heard that many songs of B'z that presents a somewhat more raw feeling which I really like .
From another Pepsi's NEX ad promotion song to the next , in comes Sayonara Kizu Darake no Hibi yo which's B'z's 48th single .
Before C'mon , Sayonara Kizu Darake no Hibi yo was 1st used to promote in the ads of Pepsi's NEX , which B'z appears in the ad alongside with model Kagami Reina .
It was fairly recent Sayonara Kizu Darake no Hibi yo was released this year but still , this's 1 song that I really like as it's basically a downright bad ass & angsty driven song which's more or less classic B'z at its best .
Hitoshizuku no Anata (Only A Tiny Bit Of You) is the 2nd album track & I wasn't sure what to expect when comes to this but it more or less pick up from where Sayonara Kizu Darake no Hibi yo left behind .
The mood is still set in a rather upbeat & heart thumping tone with 2 of such songs that're similiar sounding back to back with each other .
Homebound was 1st found as the B-side track of B'z's 49th single Don't Wanna Lie . This was served as the ending theme song for TBS's nationwide television series NEWS 23X .
Described as a grand ballad number , I was really pleased to see Homebound make the cut in C'mon because this's 1 B-side that I enjoy & it does contrast Don't Wanna Lie really well .
From a B-side to an A-side , in comes B'z's 49th single Don't Wanna Lie which's also the last single to be included in C'mon .
Don't Wanna Lie was used as the theme song for the Detective Conan movie Detective Conan : Quarter of Silence .
Unlike Homebound , Don't Wanna Lie is an upbeat medium-tempo tune & this's still something that I like as it somehow has a more happier sound attached unlike Sayonara Kizu Darake no Hibi yo .
After Don't Wanna Lie , the reminding tracks found in C'mon are all new material .
DAREKA is track #6 & this's an interesting song because it has a bit of an American flair which I detected when I heard this . With that said , DAREKA is quite fun to listen to .
Boss & Too Young are the next two songs & I believe both no.s are connected with each other to a certain extent because after the mid tempo Boss finished , the melody for Too Young continues on where Boss left .
Out of all the album tracks in C'mon , Boss & Too Young are probably the 2 slower sounding no. but luckily , there's a bit of experimentation going on , especially for Too Young which had quite a Bossanova flair which I thought it's quite refreshing to boot .
From 2 mid tempo tracks , in comes Pilgrim which's basically a no nonsense uptempo track .
Unlike the standard rock no. , I'm able to detect a faint bit of Orchestra influences in the melody which's more than enough to give Pilgrim an edge it deserves to have .
In addition , I can't help but feel that Pilgrim sounds a bit similar to the duo's 47th single MY LONELY TOWN . It's not as prominent as somewhere in Pilgrim , I'm able to draw comparision with both songs , so there .
Following after Pilgrim , The Meister is yet another uptempo track . Honestly , I don't find anything special about The Meister . It's a standard rock fare that B'z does but that's that .
Also , it took me quite a while to recall how The Meister sounds like as well but I noticed that The Meister has some music resemblances to MAGIC's long time no see .
Dead End fares much better than The Meister because for Dead End , it's almost like an identical cousin of the song that shares the same title as MAGIC .
I'm not sure if this's a good or bad thing but considering that I like MAGIC (the song) , I don't really have any issues with regards to Dead End .
Meimei is the 2nd last album track & despite the rather strange name , this's 1 song that I really enjoy listening to as it's probably the only album ballad available in C'mon .
Immediately when the song started , I was drawn into just how emotional Meimei is & the melody is very beautiful .
Coupled with shades of Orchestra & acoustic guitar strings , it makes Meimei a winning combination
ultra soul 2011 is the conclusion track for C'mon & this's actually a remake of the duo's 31st single ultra soul .
For the updated version , ultra soul 2011 was selected to be used as the theme no. for the 2011 World Aquatics Championships which was held in Shanghai .
I never heard the original take for ultra soul but I have to say , the updated version for ultra soul 2011 is very cool & unique .
Out of the many album tracks in C'mon , I thought it was great for B'z to wrap up their album with an updated version of 1 of their earlier single releases & after listening to this , it makes me feel complied to give the original take of ultra soul a listen .
After being in the music business for close to 23 years , the best selling Japanese act of all time , B'z , shows no signs of slowing down & it's evident in the release of their latest album offering C'mon .
Artistes come & go but I feel B'z is 1 of the rarity few that is able to display a really long standing power in line with the impact , numerous accomplishments & records they have attained since making their presence felt for the past 23 years .
With the release of C'mon , they have once again set a significant number of new records & C'mon definitely will not be the last this legendary rock duo has to offer , that's for sure .