CD Review :: NEWS - WORLDISTA

CD
CD + DVD
1) Log In Sequence -INTER-
2) WORLDISTA
3) Orientation -INTER-
4) DEAD END
5) CASINO DRIVE
6) Invisible Dungeon
7) Dai Ichi Checkpoint -INTER-
8) SPIRIT
9) BLUE
10) FIGHTERS.COM
11) Happyoukai -INTER-
12) Digital Love
13) Ribbon
14) Quiz -INTER-
15) Santa no Inai Christmas
16) Strawberry
17) [Ikiro]
18) Ending -INTER-
CD only bonus tracks
- Symphony of Dissonance (Koyama Keiichiro)
- DoLLs (Tegoshi Yuya)
- Going that way (Masuda Takahashi)
- Sekai (Kato Shigeaki)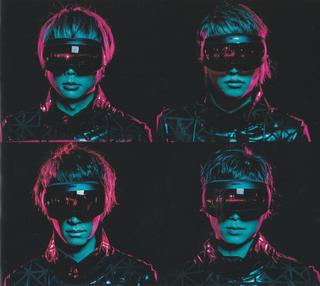 WORLDISTA is NEWS's 10th album & it was released on 20th Feb .
Just like NEWS's last 2 albums , WORLDISTA is a sequel to last year's EPCOTIA & 2017's NEVER LAND and this time round it has a virtual experience theme .
NEWS commented that WORLDISTA explores the virtual experience , taking listeners on a journey of magical virtual space .
Same with NEVER LAND & EPCOTIA , WORLDISTA also utilises a series of opening , middle & ending interludes .
Excluding the interludes , WORLDISTA includes 2 singles , 1 B-side & 9 new album tracks while the CD only version include solo songs .
The 1st new album track on the list shares the same title as the new album & frankly out of the new material available , WORLDISTA (the song) to me is the best out of the lot .
WORLDISTA (the song) name drops NEWS's last 2 albums & I actually didn't know the group's decision to name these 3 back to back albums are based on their initials so it wouldn't surprise me if their next studio album's title will start with a S .
The next 3 new album tracks are different from each other sound wise . Between the 3 , I think CASINO DRIVE is pretty good while DEAD END & Invisible Dungeon are only ok for my liking .
SPIRIT was used to promote NTV's coverage on FIFA Club World Cup UAE 2018 which member Tegoshi Yuya served as the newscaster for the event .
My impression towards SPIRIT wasn't good initially but after NEWS performed it at the last Shounen Club Premium episode they hosted , that has since changed for the better .
BLUE is NEWS's 23rd single & it was used as NTV's theme song coverage for 2018 FIFA World Cup .
For a song title , FIGHTERS.COM is 1 of the most interesting I've seen but unfortunately as much as I was hoping to like the song , it's actually 1 of my least favourite tracks in WORLDISTA .
Rock is not NEWS's main core music genre but they did it quite well with regards to NEVER LAND's BLACK FIRE . However it sounded as though they tried too hard with FIGHTERS.COM .
The next 3 album tracks Digital Love & Ribbon are also different from each other . Aside from WORLDISTA (the song) , Digital Love is the closest that NEWS associate real well with what WORLDISTA was aiming for , sound wise .
On the other hand , Ribbon is a ballad & it gets a bit boring after a while . I thought the song's a bit out of place maybe that's why NEWS decided to include it towards the tail end of WORLDISTA .
The same thing goes for Santa no Inai Christmas as well . I don't understand why NEWS didn't chose to release Santa no Inai Christmas as a Christmas single .
By itself , Santa no Inai Christmas is nice & very festive sounding but same with Ribbon , it's also out of place in WORLDISTA as well .
Strawberry was an exclusive track originally made available in the [Ikiro] 15th anniversary box set . Written + composed by NEWS & it's the 2nd song that NEWS created together after Share .
Johnnys rarely include B-sides in their albums but in this case , I'm actually glad that NEWS decided to include Strawberry as it was 1 of my favourite B-side songs in [Ikiro] & it means a lot to NEWS .
Concluding WORLDISTA is [Ikiro] which is NEWS's 24th single . [Ikiro] was used to promote NTV's drama Zero Ikkaku Senkin Game , starring member Kato Shigeaki .
I think it's quite evident on why it took me so long to decide to publish my review on NEWS's latest album WORLDISTA as unfortunately I think it's their weakest album since 2016's QUARTETTO .
I was genuinely surprised how much I enjoyed NEVER LAND & the same thing goes for EPCOTIA to some extent but this time round , I think WORLDISTA misses the mark which I think it's a huge shame as I love the covers & concept of it .
Somehow most of the new album material doesn't match up to what NEWS planned to go for in WORLDISTA & due to this , I find myself being quite bored of it rather quickly .
Ironically I enjoy the album's opening , middle & ending interludes a lot more than the new material which's not a good thing . The sound consistency in WORLDISTA is there but aside from that , the new songs weren't up to mark & the last part of the album sounded out of place too .
I'm always concerned whenever artistes release albums on a yearly basis as I know quality will bound to suffer & this's evident on other artistes I listen to , not just NEWS .
I'm hoping that NEWS's next album will be a lot more better execution wise although I still feel that they should release an album every 2 years or so but I don't think that's going to happen anytime soon .