CD Review :: DAIGO☆STARDUST - The space toy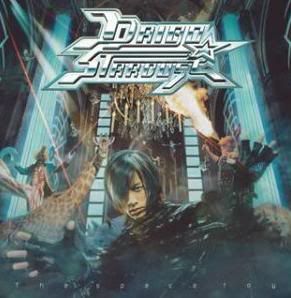 Tracklist :

1) The space toy
2) STARS
3) Queen Stardust
4) Eien no (Eternal) Space Cowboy
5) dear sunshine
6) D☆TRANCE
7) Dolly
8) ruby & sapphire
9) I wanna be your star
10) MARIA
11) heavy heavy


The space toy is DAIGO☆STARDUST's debut album . It was released 7 years ago on 21st Nov .
The album's debut position was #160 & it only charted for a week & DAIGO's 1st 2 singles & 2 B-sides are included in The space toy .
Just like in BREAKERZ now , DAIGO wrote & composed the whole record & in addition he produced The space toy which I say it's admirable & commendable .
Sharing the same title as the album , it's The space toy which kick things off . I honestly didn't know what to expect of The space toy but I guess it concides things with the album cover .
Also , I find the song pretty random & weird with Engrish/English words DAIGO thrown in but it more or less set the tone on what to expect for the rest of the album aka glam & colourful rock .
The ending for The space toy paves/dives straight into STARS which's the 1st B-side of DAIGO's debut single MARIA .
STARS follows almost the same music structure as The space toy except it's less random & that at least it has a proper head & tail attached to it . It took me quite a while to remember STARS cos DAIGO didn't actually really said the word prior to the ending of the song .
Queen Stardust is track #3 & I like this song on 1st listen simply because it has a light hearted feeling attached to it . You still can feel some of the glam rock vibes in here but it's quite toned down to a certain extent .
Also , nice guitar riffs going on in Queen Stardust too .
Eien no (Eternal) Space Cowboy is DAIGO's 2nd single & this song's very catchy even though the video will make you cringe & be intimidated by DAIGO .
But if you don't watch the video & just take a listen to Eien no Space Cowboy , it's more or less old school rock at its best with plenty of synth beats to boot .
dear sunshine is track #5 & just like STARS , it took me quite a while to remember dear sunshine as I did not find the song as memorable as what I was hoping for but now I realised it has subtle violin strings attached to the song which's lovely I have to say .
D☆TRANCE is the 1st B-side taken from Eien no Space Cowboy & D☆TRANCE screams out coolness chic & David Bowie .
Also , this's the only song in The space toy that DAIGO made use of his falsetto , something that's not commonly seen in BREAKERZ & frankly in D☆TRANCE , he managed to pull things off quite well even though I was a bit freaked out when I 1st heard him using his falsetto in D☆TRANCE but I'm quite fine with it now .
Dolly is track #7 & this's a keeper because it's the only ballad you can find in the album .
It has a really simple music structure & it's just DAIGO singing alongside with simple synth & drum beats & he pretty much just make use of his vocals in Dolly & you don't need any extra methods to make Dolly sound good as it's already's .
ruby & sapphire is track #8 & just like Dolly , it's pretty laidback/chilled out to certain extent & it's more or less acoustic driven .
The only thing I don't like about the song's that DAIGO's vocals are a bit grating in here but other than that , the song's nice .
I wanna be your star follows after ruby & sapphire . This's actually 1 of my fave album tracks as it's so upbeat sounding & DAIGO sounded like he had fun recording this no. . Also I like I wanna be your star immediately when I 1st listened to it as there's just something about the song that drews me back in listening to it over & over again .
MARIA is DAIGO's debut single . Written by DAIGO , this song's composed by BOØWY's Himuro Kyousuke who was responsible for taking charge of KAT-TUN's 5th single Keep the faith where he composed it & cowrote it with SPIN .
It's also the only song in The space toy that DAIGO did not composed for that matter .
Way before I listened to MARIA , I already salute Himuro Kyousuke for doing such a great job for Keep the faith & this goes for no exception in MARIA too .
It's basically a mean angsty driven rock song & it's probably 1 of the more darker no.s you can find in The space toy & I really love MARIA the very 1st time I heard it & I know with Himuro Kyousuke onboard , things will & cannot go wrong at all .
heavy heavy is the final track to close off The space toy . Not as memorable as what I was hoping for & this took me quite a while to remember & it sounded a bit clunky to me which's a pity to end things in a not very good manner .
DAIGO☆STARDUST's debut album The space toy has a few hit & misses . To me , I feel that the 2 singles are probably the best tracks on the album . The album tracks that were hits were solid but the ones that're not , I'm slowly beginning to change my mind on this as each album spin goes by .
The space toy was a music solo stepping stone for DAIGO where he brought his own brand of glam & colourful rock to the music business during the time when he was DAIGO☆STARDUST .