Wednesday, January 31, 2007
Cast Of High School Musical - We're All In This Together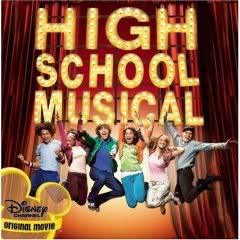 The latest 2nd single to hit radio stations from the massive successful High School Musical , is We're All In This Together after the success of the lead single Breaking Free that was sung by the 2 leads Zac Efron & Vanessa Anne Hudgens .
For those hugh HSC fans like myself , we all know that this song's the finale song that was done at the end of the movie & what better way to close the movie with such a happy preppy song . With the whole cast like Zac Efron , Vanessa Hudgens , Ashley Tisdale , Lucas Grabeel , Corbin Bleu & Monique Coleman , it's fanastic to get everyone in the act together & yup I think this's a great song .
If you ask me , radio stations should pick up Start Of Something New next . I'm sure it will do just as well as Breaking Free . & yes there will be a sequel which will be hitting Disney Channel this year hurrah !
Wednesday, January 17, 2007
CD Review :: Muse - Blackholes And Relevations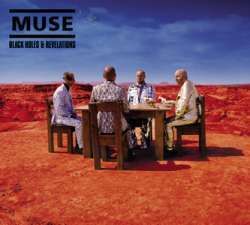 Tracklist :

1) Take A Bow
2) Starlight
3) Supermassive Black Hole
4) Map Of The Problematique
5) Soldier's Poem
6) Invincible
7) Assassin
8) Exo-Politics
9) City Of Delusion
10) Hoodoo
11) Knights Of Cydonia
12) Glorious (Bonus Track)
Just performed yesterday at Fort Canning Park to a sell out crowd of over 6,000 fans is UK band Muse . In fact all tickets were sold out to the extent that LAMC Productions extended the sale of 500 extra tickets costing S$112 each a day before Muse's gig took place & it was the 1st time that Muse performed live in S'pore .
I only heard about Muse last year cos of the release of the 1st single from their 4th album Blackholes And Relevations which was Supermassive Black Hole & they were MTV Asia Moto Artist for last year too in which the month I can't remember .
When I 1st heard that song , I dismissed it cos it sounded strange & I thought they're a new band . Imagine my surprise when I dug up somemore info about them & they have been around since '94 ! See that goes to show how terribly ignorant I'm .
Muse consists of Matthew Bellamy (vocals, guitar, keyboards, piano), Dominic Howard (drums, percussion) and Chris Wolstenholme (bass guitar, keyboards, backing vocals). As of the release of Blackholes And Relevations , Morgan Nicholls assists the band during live performances, providing additional keyboards, samples and backing vocals.
My opinions about Muse's music soon changed after I heard their follow up which's the gorgeous Starlight . It was only til I heard their next single Knights Of Cydonia on their MySpace which practically sealed the deal for me in which led me to grab a copy of Blackholes And Relevations . Even my good friend highly recommended their album in which he said that it's great although I read a fair bit of mixed reviews about Muse's latest release .
I have been spinning the album non stop since Mon & I love it . The guitar riffs of the songs on the album are very kick ass & punchy . It's not your usual straight mix of rock . Rather it's a mixture of rock/funk & other music genres thrown together in your face . Some people might not appreciate this kinda rojak mix but I personally like it !
The album kicks off with a great track Take A Bow followed by the gorgeous Starlight & then the 1st single Supermassive Black Hole in which after I listened to it a few more times , I really like it right now .
& track no4 will be the new single that Muse's scheduled to release real soon which's Map Of The Problematique . It's a strange title yes but I guarantee that this track's nothing short of being fantastic & it was followed by an interlude Soldier's Poem . I wish that was a song instead of an interlude .
After Soldier's Poem , it was the ballad Invincible which's a great track & it's 1 of the few songs on the CD that allows frontman Matt to show his vocal chops & the next track in the line is another of my fave which's the kick ass Assassin . Love the guitar riffs on it , it screams out anger . Well to me that's
Exo-Politics is nice too , as well as City Of Delusion . The opening of Hoodoo sounds like something straight from a western cowboy theme movie & yes when I 1st heard it , I thought it's really cheesy but at least when the song progressed further , it sounds awesome .
& what better way to close the album than the fantastic 3rd single Knights Of Cydonia ! When I 1st heard that on MySpace , it blown me away big time & that made me decide to get a copy of their CD on Monday .
Who would have thought that I will be listening & liking to Muse's music now where in the beginning I said that I will not be caught dead listening to them . Ha I'm eating my own words right outta myself !
It's quite embarrassing that I only got to know of Muse only recently but I suppose it's better than nothing . Even though I missed their debut gig in S'pore yesterday , but it's ok . Maybe I should start listening to their older material now if that's the case to get to know them better but yes I love Blackholes And Relevations .
They're great live & you should watch Starlight being done live at last year's MTV Europe Music Awards or just buy their DVDs . Rather buy Hullabaloo which's highly recommended by my friend !
Tuesday, January 09, 2007
CD Review :: Utada Hikaru - ULTRA BLUE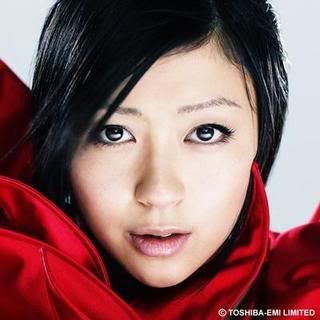 Tracklist :

1) This Is Love
2) Keep Tryin'
3) BLUE
4) Nichiyou no Asa (Sunday Morning)
5) Making Love
6) Dareka no Negai ga Kanau Koro (When Someone's Wish Comes True)
7) COLORS
8) One Night Magic Feat THE BACK HORN's Yamada Masashi
9) Kairo (Sea Route)
10) WINGS
11) Be My Last
12) Eclipse (Interlude)
13) Passion
In my previous review of Utada Hikaru's EXODUS in which you can read in here , I said that I would consider in buying her latest album ULTRA BLUE which I did managed to get myself a copy on Sun !
ULTRA BLUE doesn't stray too much from her Eng album EXODUS music wise . Writing , composing all 13 tracks in ULTRA BLUE , it shows that Utada has come of age since her debut in '98 with her very 1st Eng album Precious & now the soon to be 24 year old (whose b'day is on 19th this month) , released her 4th Japanese album ULTRA BLUE last year .
I love the fact that she's able to produce & make each track on the album sound fresh & different from each other & that the more I listen to the songs , the more they sounded better . She mainly dabbed in R&B with splashes of Pop & Ethereal to it in which I think it's great . Somemore to produce , write , composed melodies for everything in ULTRA BLUEat such a young age , it's impressive so to speak !
Some of the songs that I really really like are This's Love , BLUE , COLORS , Keep Tryin' , the beautiful ballad

Dareka No Negai ga Kanau Koro . I also like the instrumental arrangment of Sea Route as well .
With the exception of Kairo , the rest of the songs I have heard them before I laid my hands on ULTRA BLUE . I also heard Passion (in which she composed an Eng version of the song that's titled Santuary . I like Santuary it's great ! ) , Be My Last , WINGS as well which I find them not bad . However the tracks that I didn't listened to before such as Making Love , One Night Magic , Nichiyo No Asa failed to make a lasting impression on me .
It's probably because I heard the tracks that I mentioned eariler way before so in a way it's kinda unfair to pick on them as I personally think that there's isn't any single bad track on ULTRA BLUE so hopefully in time to come , I will change my perception on the songs.
But still , I like it & I'm looking forward to hear somemore new material from this talented married lass in the near future !


Thursday, January 04, 2007
CD Review :: ayumi hamasaki - Secret


CD Only Cover :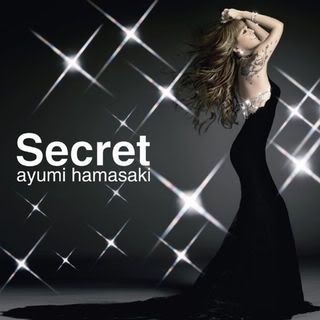 CD + DVD Cover :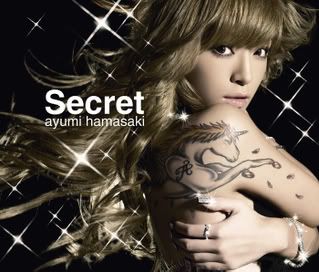 Tracklist :

1) Not yet
2) until that Day ...
3) Startin'
4) 1 LOVE
5) It was
6) LABYRINTH
7) JEWEL
8) momentum
9) taskinst
10) Born To Be ...
11) Beautiful Fighters
12) BLUE BIRD
13) kiss o' kill
14) Secret
Secret's the 8th full length album released by Ayumi Hamasaki .
Originally slated to be a 7 track mini-album , Ayumi or better known as Ayu to her fans , decided to turn it into a full album with her working overtime in the studio in order to complete it on time .
& her efforts paid off when Secret became her 8th album to hit no1 in the Oricon chart & it's easy to see why due to her huge star power .
In each of her albums which she has been releasing a new album every year & a new single practically almost every month , she has been known to mix & try different genres of music & also she changed her image as fast as a blink of an eye .
My middle sister has her 6th album MY STORY in which I really like it cos all the tracks contains rock influences .
& this time for Secret , she mixed metal , techno , synth & lounge to create a slick , futuristic sound which sounds refreshing & great . In fact I enjoyed all 14 tracks on Secret .
Secret's is believed to be Ayumi's most successful album outside of Japan yet seeing that it has topped the charts in S'pore , Taiwan , Hong Kong , China .
It's not easy to see why Secret's so successful cos I mean the tracks are really good & the press pics that accompanied her latest album's very nice . Even the photos in the CD sleeve are fantastic & I think it's possibly 1 of her best look to date even though I really love the press pics of My Story as well . She made lingerie wear look oh so damn good it hurts !
I love tracks such as the oh so fab BLUE BIRD , brillant JEWEL , Startin' , the upbeat Born To Be... which was used for Nittele's coverage of the 2006 Winter Olympics, the touching momentum , 1 LOVE , It was , the title track Secret , kiss 'o kill . Surprisingly , the 3 interludes on Secret are nice too especially LABYRINTH .
Beautiful Fighters's cute but the melody can be a bit annoying when you listen to it a few more times but I like the music video that accompanied it . The concept's refreshing . Think of it as a mini Fast & The Furious concept .
The music video to JEWEL is now available for viewing on the net. Reportedly, the jewellery in the music video cost over 100 million yen, making JEWEL one of the most expensive videos ever made. I seen JEWEL & it's wow , I love the jewellery & everything that was used in it .
Aside from Beautiful Fighters & JEWEL , Ayu also released music videos of Startin' , Born To Be... , 1 LOVE , momentum , BLUE BIRD . I love the video of momentum , a bit disappointed with Born To Be... & BLUE BIRD though but ah well that's just me .
You can view all these music videos on youtube .
& you don't get any cookie cutter type of music from Ayumi as she writes all the lyrics to her songs . She might not have the most crystal clear voice around but she stands out from the pack cos of her deep poetic soulful lyrics .
Although I can't understand the words/lyrics that she's singing about , but at least I can feel the melodies/music of her music & J Pop in general too . Long live the Empress Of J Pop I say !
I can't wait to see what else she has up her sleeve , image & music wise .
Wednesday, January 03, 2007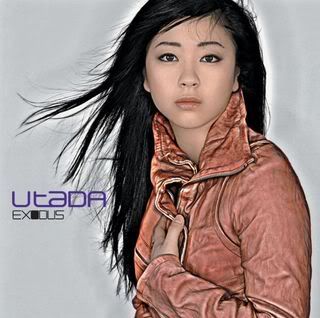 UK Cover :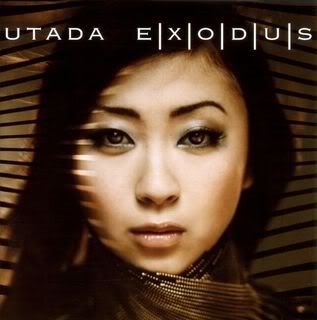 Tracklist :

1) Opening
2) Devil Inside
3) Exodus '04
4) The Workout
5) Easy Breezy
6) Tippy Toe
7) Hotel Lobby
8) Animato
9) Crossover Interlude
10) Kremlin Dusk
11) You Make Me Want To Be A Man
12) Wonder 'Bout
13) Let Me Give You My Love
14) About Me
I bought J pop artiste Utada Hikaru's US Eng debut album Exodus last year . Took a while to give the whole album a listen or 2 & I came to conclude that she sounds good doing English songs & in fact all 14 tracks are really nice .
She does J pop songs as well & she has an edge over Ayumi Hamasaki in that she can speak both Japanese & English fluently as she's born to Japanese parents in US .
Anyway , Exodus is nice on whole & somemore she got Timbaland to produce & cowrite 2 tracks on there which's Exodus '04 & Let Me Give You My Love . Other than that , she wrote , produced all the tracks on the album .
Was a pity that Exodus bombed in US when it was released in 2004 due to lack of promotion that was being done there but it was still able to debut at no1 in the Oricon chart in Japan but I heard that she's gonna re-release EXODUS once again .
If there's 1 thing I should pick on Utada is that her image's very plain jane & she should probably jazz things up & pick a style tip or 2 from Ayumi . Besides I'm sure that will make her husband happy . F.Y.I her husband is 15 years her senior & he directed quite a lot of her music videos & Utada got married when she was only 19 & that time her husband was 34 so yeah...
Anyway the tracks are all in the same R&B/Techno/Oriental mix mashed mode that doesn't really stray much from her J pop sound like that's not a bad thing to me but from what I listen , can tell that Utada's a very talented musician/singer/songwriter.
Some outstanding tracks that I really like are Devil Inside , Exodus '04 , Easy Breezy , About Me , Kremlin Dusk , Hotel Lobby .
Be warned though , if you want to pick this album up , some of the lyrics on the songs are sexually suggestive . In fact when I 1st listen to the songs , the lyrics that Utada wrote , did shocked me such as Tippy Toe , Wonder 'Bout , The Workout .
But still good effort from her , am considering to pick up her latest ULTRA BLUE CD as of now .