CD Review :: ARASHI - Are You Happy?

CD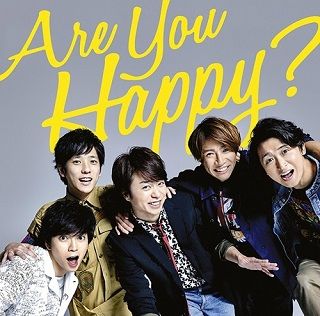 CD + DVD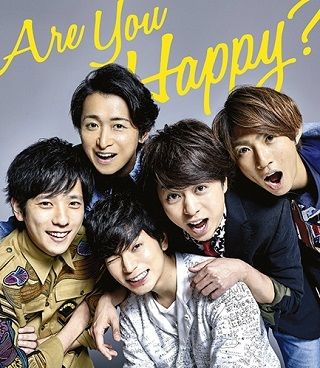 1) DRIVE
2) I seek
3) Ups and Downs
  4) Seishun Boogie
5) Sunshine (Sakurai Sho's Solo)
6) FukkatsuLOVE
7) Amore (Aiba Masaki's Solo)
8) Bad boy (Ohno Satoshi's Solo)
9) WONDER-LOVE
10) Mata Kyou to Onaji Ashita ga Kuru (Ninomiya Kazunari's Solo)
11) Daylight
12) Ai wo Sakebe
13) Baby blue (Matsumoto Jun's Solo)
14) Miles away
15) To my homies
16) Don't You Get It
17) TWO TO TANGO (CD Only Track)
Are You Happy? is ARASHI's 15th album & it was released on 26th Oct .
ARASHI's last album release was last Oct's Japonism . In Are You Happy? , singles Ai wo Sakebe , FukkatsuLOVE & I seek / Daylight are included while their most recent / 50th single Power of the Paradise is excluded .
There are 16 songs in total - 4 single songs , 5 solos & 7 new group album tracks . The CD only version of Are You Happy? includes a bonus track TWO TO TANGO .
Are You Happy? focuses on the theme of happy & it portrays the present ARASHI that ARASHI thinks of .
In addition to solo songs , this time round each of the members were in charge of original ARASHI songs using ie. 5 songs that are even more individualised than usual are included in Are You Happy? .
The 'under the supervision of' caption refers to each member being in charge of the song . None of them were involved in the song making , except for Sakurai who wrote his own rap lyrics and Nino who cowrote the lyrics for his solo no. Mata Kyou to Onaji Ashita ga Kuru .
Are You Happy? is described as an album that will envelop all who listen , packaging up ARASHI's current progress as they continue on forward .
Kicking things off in the new album is the 1st album track , DRIVE which was supervised by MatsuJun .
Unlike their past opening album tracks which were upbeat & extremely memorable , DRIVE is quite a laidback song that frankly does not set the pace on what to expect in Are You Happy? subsequently .
I seek is the 1st A-side of ARASHI's 49th single I seek / Daylight . This was used to promote leader Ohno Satoshi's Sekai Ichi Muzukashii Koi drama .
Described as a love song , I seek centres on the dilemma + sadness of a clumsy man in love & it's sung in a bright positive way that's accompanied with groovy feelings .
Ups and Downs is the 2nd album track & surprisingly , this's used as the opening song for their current ongoing ARASHI LIVE TOUR 2016-2017 Are You Happy? which I find it rather odd as I don't think it's a memorable track .
The next song Seishun Boogie was supervised by Aiba . I feel that this track is slightly better/memorable as compared to the 1st 2 album tracks even though I wouldn't consider this song as a favourite of mine .
Sunshine is the 1st of 5 solos in Are You Happy? & this's sung/rapped by Sakurai . Rap lyrics wise , Sakurai wrote them as per norm .
After Japonism's angsty driven Rolling days , as the title of his latest solo suggest , Sunshine is a cheery no. that's bound to put a smile on fans as this's short & sweet . The addition of Sakurap always adds a nice touch .
FukkatsuLOVE is ARASHI's 48th single & this was used to promote the ads of NTT docomo's d Hits .
Described as a love song , FukkatsuLOVE was composed & arranged by Yamashita Tatsuro , with lyrics written by Yamashita's wife Takeuchi Mariya .
A catchy guitar melody was added to Yamashita Tatsuro's unmistakable chorus & rhythm . ARASHI heartrendingly & melodiously sings the universal story of love between a man and a woman that could be taking place in any era . As such lyrically , FukkatsuLOVE is a dramatic love song that's moulded into like a novel .
ARASHI requested the couple to create a song for them when both of them attended their concert in 2013 . Sakurai described this as a seasonal project & they were real pleased to release FukkatsuLOVE .
In addition , fellow Johnnys colleague Ikuta Toma appeared in the FukkatsuLOVE video .
The next 2 songs are solo tracks . Amore is sung by Aiba while Bad boy is handled by leader Ohno .
When I saw the title Amore , I thought Aiba was going to sing a ballad in which the opening has a piano driven melody . It subsequently changed & became a mid tempo track . I would have preferred if Amore was a full blown ballad as I like what Aiba did for his LOVE solo track Yozora e no Tegami .
As for Ohno's latest solo no. in Are You Happy? , he's like a blank canvas in that basically almost any type of music genre he's able to handle it quite perfectly . For Bad boy , it's a full out onslaught EDM driven no. & it's frankly 1 of the better/memorable tracks in the album .
The next 2 songs are related to Nino in the sense that he supervised the production of WONDER-LOVE while his latest solo track Mata Kyou to Onaji Ashita ga Kuru followed suit after that .
On 1st listen , WONDER-LOVE sounds like a track that didn't made the cut in their 13th album THE DIGITALIAN as just like Ohno's Bad boy , it's quite EDM driven .
As for Mata Kyou to Onaji Ashita ga Kuru , Nino had personal input in that he cowrote the song . I find his latest solo track quite interesting as it's somewhere in between a mid & uptempo piano driven no. .
The next 2 songs are single tracks . Daylight is the 2nd A-side of ARASHI's 49th single I seek / Daylight .
Daylight was used to promote MatsuJun's 99.9 ~Keiji Senmon Bengoshi~ drama . MatsuJun personally requested Sakurai to provide the rap verses in the song .
2012's Face Down was the last single song that Sakurai last rapped in . Linked to the world of drama , both strength + kindness are wrapped inside the warm melody found in Daylight .
Ai wo Sakebe is ARASHI's 47th single & this was used in the ads of wedding information magazine Zexy .
According to creative director Yanai Michihiko , this collaboration came about as he wanted "ARASHI to sing 'a national song of celebration' that everyone can sing together during a wedding reception ." In response to Yanai's request , ARASHI put together a cheerful & uptempo wedding song that's sung from the point of view of the bride's male friends .
On Ai wo Sakebe , ARASHI commented , "The lyrics are made up of words of congratulations that you are too embarrassed to say because you've known each other for a long time as well as feelings of slight loneliness . It would make us happy if you would love this song that will liven up weddings and celebrate a new threshold ."
Baby blue is the last solo track found in Are You Happy? & for this , this's sung by MatsuJun .
All the while MatsuJun's solos always either been hit or miss for me . In this case , I'm in the middle in that while I feel Baby blue is a pleasant sounding song . there's nothing special about it but still it's not as bad/weird as some of his past solo tracks .
Miles away is the next album track & this was supervised by Ohno .
Frankly out of the 5 songs that each ARASHI members supervised , Miles away is my favourite as it's a chilled out sounding song but at the same time , it's 1 of those tracks that has an extra edge over the other album tracks . And if I have my way , a video should have been made for this song .
The next song To my homies was supervised by Sakurai & there's the inclusion of Sakurap in the song .
Despite the rather hip sounding title , To my homies is actually quite a boring song to me as I find it rather lacklustre & even though there's Sakurap present , it doesn't do that much in saving the track .
Don't You Get It is the last song in the CD + DVD edition of Are You Happy? & it's also the only album track that has a video made .
I guess the phrase saving the best for last applies to Don't You Get It & it's quite obvious on why ARASHI chose to make a video based on this song as out of most of the new album material , this's somewhat the most memorable out of the entire lot .
And as compared to ARASHI's past album tracks , Don't You Get It has a less serious tone which showcases a different side of them which's evident on what goes on in the accompany video .
TWO TO TANGO is exclusively found in the CD only edition of Are You Happy? & Sakurap is present in the track .
This can be considered as the most angsty driven song in the album as it's quite bold in your face . While TWO TO TANGO is no truth and/or Breathless , it's still quite ok nonetheless .
ARASHI asks , Are You Happy? After the high concepts of LOVE , THE DIGITALIAN & Japonism , this time the group starts from the basic universal joy of listening to music & presenting songs that make the listener feel happy . Besides singles Ai wo Sakebe , Fukkatsu LOVE , I seek & Daylight , the album includes songs from each member that convey the theme of "happy" .
I hold back in writing/releasing this review because I wanted to make sure I gave Are You Happy? considerable no. of listens before I publish this because it has been a really long time since I last felt so disconnected from an ARASHI album .
The positive aspects is that I feel the single songs that made the cut in Are You Happy? are still tops even though I wished they include Power of the Paradise as I like that song a lot .
And also personal input wise , this's the most amount of individual effort that has gone into the production of an ARASHI record as normally it tends to be Sakurai & Nino who does this for their own solos and/or album tracks . And for all members to do so , it's quite a commending effort .
However despite this , I actually don't feel happy in listening to Are You Happy? . Instead , I felt bored in hearing the new material as most of them sound quite uninspiring & bland . And I genuinely feel that Miles away is the standout non solo track in the album .
When I reviewed Japonism last year , at least some of the album tracks were memorable & able to be on par/suppress the single songs despite it being musically messy . That doesn't apply to Are You Happy? which I think it's a huge pity as albums wise , I thought LOVE & THE DIGITALIAN were ARASHI's most recent better/more put together albums .
Perhaps ARASHI is suffering from album fatigue ? I don't know but considering Are You Happy? is their 15th album & the fact that they've been releasing an album every year , maybe it's time for them to put emphasis on quality as I rather they release an album every 2 years but I know it will sound great as I never would have thought I used the word boring to describe an album released by ARASHI .
For now , I say just skip most of the new material & focus on the single songs + Miles away + perhaps Don't You Get It . I do hope ARASHI would recapture my attention in their next album as I don't want to come to a stage where I would dread & be bored by ARASHI once more .