CD Review :: Acid Black Cherry - Q.E.D.

CD Only




CD + DVD Type A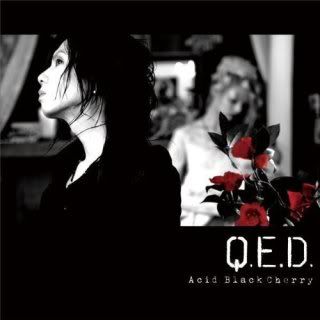 CD + DVD Type B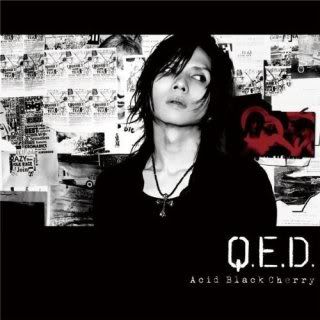 1) Mother
2) cord name [JUSTICE]
3) Jigsaw ~Q.E.D. version~
4) Tsumi to Batsu (Crime And Punishment) ~Kamisama no Alibi~ (~God's Alibi~)
5) Nemuri Hime (Sleeping Princess)
6) Cherry Cherry
7) 1954 LOVE/HATE
8) I'm not a ghost
9) Yasashii Uso (Tender Lie)
10) Kuroi Taiyou (Black Sun)
11) Maria
12) 20+∞Century Boys


Q.E.D. is Acid Black Cherry's 2nd album & it was released on last year on 26th Aug .
Just like yasu's 1st solo album BLACK LIST , you can find 4 singles included in Q.E.D. .
Q.E.D. kicked things off with a rather cool sounding track Mother . It's not as dreary/depressing as compared to BLACK LIST's opening no. sins . Also what I like about Mother is the neat subtle orchestra strings attached to the song .
cord name [JUSTICE] is the 2nd album track & this's 1 really kick ass song that's full of fierce aggressive guitar riffs & drum beats .
Also the usage of synth on yasu's part , that kind of enhance the quality of the way cord name [JUSTICE] sounds I feel .
Jigsaw is Acid Black Cherry's 6th single & in here , it has been renamed as Jigsaw ~Q.E.D. version~ .
Well honestly to me , I can't tell of any musical difference between the single & album versions of Jigsaw .
But I can say that alongside with yasu's debut single SPELL MAGIC , Jigsaw is 1 of the more dark singles in yasu's solo discography & if you have seen the video for Jigsaw , best's to view it during the day & not at night . You don't want to get nightmares after doing so (which I did lol)
Tsumi to Batsu (Crime And Punishment) ~Kamisama no Alibi~ (~God's Alibi~) is track #4 & there's just something really cool I feel towards Tsumi to Batsu ~Kamisama no Alibi~ .
I really like the unique music structure that Tsumi to Batsu ~Kamisama no Alibi~ has & also the guitar riffs gives the song an edge it deserves & also it's catchy & 1 of the more prominent album tracks you can find in Q.E.D. .
Nemuri Hime (Sleeping Princess) is yasu's 7th single & this's actually the very 1st song I listened to from Acid Black Cherry .
I didn't know how Acid Black Cherry sounded like prior to this so I guess Nemuri Hime is 1 perfect song for me to initally get a feeling on how yasu's material's like .
What I like about Nemuri Hime is that it's a really enpowering ballad & you can feel how much emotions yasu pours into this no. which I adore .
Cherry Cherry is track #6 & this's 1 really cute song ! It has that pop flair attached to it & I must admit I was surprised when I 1st heard Cherry Cherry .
It's basically a song that gives you happy positive vibes after listening to it & it's a breathe of fresh air in Q.E.D. since you tend to get material from yasu which lies on the dark moody side so Cherry Cherry is something I really welcome from him .
1954 LOVE/HATE places quite a heavy emphasis on the synth factor . You can hear quite a lot of it in the beginning of 1954 LOVE/HATE being used quite freely & this doesn't stop til the song concluded .
I'm not a ghost is the 6th album track & despite the weird song title , it's basically a standard & rather dark rock song that yasu delivers . I can hear slight traces of SPELL MAGIC in here too .
Yasashii Uso (Tender Lie) is Acid Black Cherry's 8th single & the guitar piece of the song was played by BREAKERZ's AKIHIDE since he serves as a support guitarist to yasu's solo project .
I really like Yasahii Uso on 1st listen . It's a mid tempo rock no. that's quite piano driven & while it's nothing like Nemuri Hime , it's 1 of the those songs that you can visualis puppets , marionettes & etc being found/used in the video .
I know it sounds strange but I had that image of Yasahii Uso & the video which accompanied the song can be considered as probably 1 of my fave videos of Acid Black Cherry as it managed to convey the messages that the song want to deliver .
Kuroi Taiyou (Black Sun) is the 2nd last album track & woah the introduction for Kuroi Taiyou really caught me by surprise .
It's still synth driven but this's accompanied very well with fast paced guitar riffs & drum beats .
Maria is track #11 & it's the final album track of Q.E.D . It's also the longest track in the album , at 6:37 mins .
I thought yasu might cover DAIGO☆STARDUST's debut single MARIA since other than being friends with DAIGO , yasu released a cover titled Recreation 2 years ago on 21st May but that's not the case when I gave Maria a listen .
Despite being the longest track in Q.E.D. , it can be considered as the only album ballad & I like it that the song began to switch from a piano driven melody to 1 that's basically full force upbeat rock & the guitar riffs are in full swing here & also the song concluded in an unusual gospel tinged like manner which yasu backed up by kids's voices .
So basically for Maria's case , you have a lot of things going on in here . It might sound messy & musically complicated but yasu managed to make things work in his favour .
20+∞Century Boys is Acid Black Cherry's 5th single & it's also the last single & let alone song in Q.E.D. .
Just like Cherry Cherry , 20+∞Century Boys is pretty much in the same music vein as Cherry Cherry since both songs have a somewhat pop influence to it & it's not a typical music direction that yasu follows so it's nice not to take everything so dark , depressing most of the time in his solo discography material .
Q.E.D. is pretty much chapter 2 of what you expect from Acid Black Cherry . I can detect quite a significant growth & maturity in yasu's 2nd solo album offering .
Compared to BLACK LIST , Q.E.D. is not all moody & gloomy . Songs such as Cherry Cherry & 20+∞Century Boys displayed somewhat cheery sides to yasu & the whole package that Q.E.D. presented to me is more tight & less random .
Not to mention , the singles that made the cut in Q.E.D I feel are a lot more solid as compared to the singles you can find in BLACK LIST .
yasu will be releasing his 2nd cover album Recreation 2 on 30th June & among the songs that yasu cover , there's 1 song that he will duet with BREAKERZ's frontman DAIGO which's a cover of CRYSTALKING's Daitokai (Big City) .
I don't know how the original sounds like since it's a very old song which was released way back in 1979 but I'm sure it's going to be something for me to look out for , since other than the fact that both are really good friends & hold each other in high esteem , it's going to be interesting for me to hear what both guys have in store in their remake of Daitokai .