CD Review :: B'z - MAGIC

Cover For Both CD Only & CD + DVD's :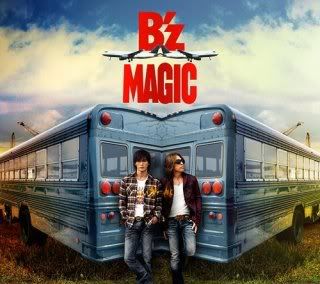 Tracklist :

1) Introduction
2) DIVE
3) Time Flies
4) MY LONELY TOWN
5) long time no see
6) Ichibu to Zenbu (One & All)
7) PRAY
8) MAGIC
9) Mayday !
10) TINY DROPS
11) Dare ni mo Ie Nee (Tell Anyone)
12) Yume no Naka de Aimashou (Let's Meet In A Dream)
13) Freedom Train


MAGIC is JRock duo B'z's 17th album . It was released last Wed on 18th Nov & this comes in 2 years since their last album ACTION !
The duo's latest album contains 2 singles . MAGIC debuted at #1 with 1st week sales of 340,630 which's even higher than the 1st week sales collected by ACTION ! ie. 292,687 copies .
All lyrics in MAGIC were written by lead singer Koshi Inaba while all music were composed by guitarist Tak Matsumoto .
The opening track Introduction was a guitar instrumental requested by Koshi once the rest of the album had been completed .
This track was designed to merge into the opening of the second track DIVE which had previously been on the album's first single .
The slow tempo opening of the single version was removed to provide a more seamless crossover from the end of the introduction track .
DIVE is of course the 2nd A-side of their 46th single Ichibu to Zenbu (One & All) / DIVE which was released on 5th Aug this year & it was used to promote Suzuki's Swift compact car .
Red Hot Chili Peppers's drummer Chad Smith & Mars Volta's bassist Juan Alderete were invited as guest musicians by the duo to play drums & bass for both tunes .
The album version of DIVE is about 18 secs shorter than the single version since the single version's intro was cut off in here in order for Introduction to move into DIVE easily .
Well regardless of the single or album versions of DIVE , I still like both takes of the no. & just like Ichibu to Zenbu , this's a fast & mean rock influenced tune .
Time Flies is MAGIC's 1st album track & this's a less aggressive song unlike DIVE but it's still an upbeat no. & I really like the guitar riffs going on in Time Files .
MY LONELY TOWN is the duo's 47th single & this was released last month on 14th Oct . It's the last single to be included before MAGIC was released .
The song was already played during the duo's most recent B'z SHOWCASE 2009 -B'z In Your Town tour and also as a part of their performance at the popular rock festival SUMMER SONIC '09 in August this year .
Also , this's their 1st single to be released in CD & CD + DVD's editions in their 21st year together in the business .
Despite the fact that somehow I overplayed MY LONELY TOWN to a certain extent , the song never fails to captivate me because I really like the way on how the song started off really mean/kick ass & then somehow it mellowed down in the middle & the cycle goes on .
Also with a touch of classical/violin influence thrown in for good measure , you know you're listening to something that's really solid .
long time no see is the 2nd album track & it has been selected to be used as the theme song for the upcoming drama Salaryman Kintaro 2 , which is set to begin airing in January 2010 on TV Asahi .
This's yet another fast paced album track just like Time Files but the difference's that it's more upbeat & guitar driven . Not to mention , I can detect a lot more synth going on in long time no see too .
Definitely another great kick ass rock track to watch out for .
Ichibu to Zenbu is the 1st A-side of the duo's 46th single Ichibu to Zenbu / DIVE & it was used as the theme song for the drama Buzzer Beat which starred NEWS's Yamashita Tomohisa & Kitagawa Keiko .
I never watched Buzzer Beat but this's the song that kicked start my B'z's music journey as I just absolutely adore how the song sounds . I mentioned before that it sounded like something on what Franz Ferdinand might come up with but obviously B'z does it better with plenty abomb .
I noticed that the album version of Ichibu to Zenbu where it seems that the drums beats are much more louder as compared to the single version . I'm not sure if it's just me or something though but ah well .
PRAY is the 1st album power ballad & it served as the theme song for the movie TAJOMARU .
I was really drawn into PRAY the moment I 1st listened to it . It sounded like the B-side of MY LONELY TOWN ie. Kirei na Namida (Beautiful Tears) but the only difference's for PRAY's case is that it's much more emotional driven & the melody's just so beautiful & really , kudos to both Koshi & Tak for making this song a masterpiece in its own right .
MAGIC shares the same title as the album . I reviewed this song before but that time I only heard a radio rip of the tune .
Now that I have heard the studio/clearer version of the song , I'm fine with it . It's just that I wouldn't really consider MAGIC to be my fave album track .
Mayday ! is track #9 & just like the song title suggest , it's probably those kind of songs you might hear if a disaster's about to strike or something -_- . But jokes aside , it's quite a heart thumping no. for that matter .
TINY DROPS is the 2nd album track that's a power ballad & this was first played on the bayfm radio show .
This's probably the only album track that has a piano driven melody which's very pretty to say the least & lead singer Koshi pretty much conveyed the message of TINY DROPS across the board .
The song's more depressing sounding than PRAY but considering that these 2 tracks are the only power ballads in MAGIC , this's a keeper .
Dare ni mo Ie Nee (Tell Anyone) & Yume no Naka de Aimashou (Let's Meet In A Dream) are the 2 album tracks that I had a bit of a difficulty telling them apart from each other as both of them tend to sound alike .
It took me quite a while to distinguish both songs but at least now I know Yume no Naka de Aimashou is the song that has trumpet beats thrown in for good measures while for Dare ni mo Ie Nee , the guitar riffs are really cool in there .
Freedom Train is the last track you can find in MAGIC . Despite the case , this's actually the 1st song that the guys recorded .
I thought that might be a Kobukuro cover seeing that they had a song which has the same title but thank goodness that's not the case .
Freedom Train's basically a really enpowering no. & as such , I think it's quite fitting for the duo to close things off with this tune .
MAGIC is the 1st B'z album I listened to & I have to say that it's a really solid rock album offering .
Before this , I went with an open mind but I somehow know that the album's going to sound really epic seeing that this's coming from the best selling Japanese act of all time & when you have Tak Matsumoto who was responsible for composing KAT-TUN's debut single Real Face & Real Face #1 , you know what good things you're getting in MAGIC .
The production's really solid & both Koshi & Tak's roles in the group are very well defined & their talents in each field go hand in hand together .
The only thing I wish I heard more from MAGIC is more ballads seeing that out of 13 tracks , only 3 songs are in the ballad department inclusive of MY LONELY TOWN .
It might have been better for the duo to come up with more ballad inspired like tunes in their next single/album seeing that they're versatile in both rock thumping songs & ballads as evident in the ballad version of Ichibu to Zenbu .
But other than that , a solid rock & roll album to check out before 2009 wraps up & looks like I'm officially onboard the B'z's music wagon from now onwards .