CD Review :: Aoyama Thelma - HIGHSCHOOL GAL

CD Limited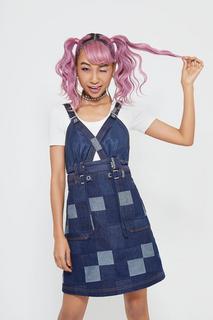 1) Sekai no Chushin ~We are the world~
2) poppin' Feat Kato Miliyah
3) Madabaka
4) sweet sweet days 
  5) talk s2 me
6) ONIGIRI
7) Boonshakaraka
8) hEy bOi
9) Day & Night
10) Best Friend
HIGHSCHOOL GAL is Aoyama Thelma's 6th album & it was released on 25th July .
No singles are included in HIGHSCHOOL GAL and Aoyama's previous studio album release was last Sept's 10TH DIARY .
The concept of Aoyama's new album is the respect for music that she developed during her high school days .
Besides this , HIGHSCHOOL GAL contains songs of various genres from reggae to hip hop to R&B .
Kicking things off in HIGHSCHOOL GAL is Sekai no Chushin ~We are the world~ which's the album lead promo track .
Before the physical release of HIGHSCHOOL GAL , Sekai no Chushin ~We are the world~ was 1st released digitally on 28th May .
The only song to get a video , Sekai no Chushin ~We are the world~ is a high energy party anthem that channels the club music beats and boom of 1999 .
For Sekai no Chushin ~We are the world~ , Aoyama challenged herself to "para para sound" & she uses words that are symbolic to the gyaru culture in the lyrics .
Poppin' is the only song in HIGHSCHOOL GAL that is a collaboration and for this , it features Kato Miliyah .
This's the 2nd time that Aoyama & Miliyah work together after 2014's I'll be there with you that also featured rapper AI & it was included in Miliyah's 10th anniversary concept album MUSE .
Oddly I couldn't really hear Miliyah's vocals that much in Poppin' , maybe because this song is mainly rap driven and in the midst of things , Miliyah got lost in the track .
From a rap driven song to another different music style present in HIGHSCHOOL GAL is Madabaka which's very Bollywood inspired . Immediately when the song kicks in , it's in your face even though it could get a bit annoying .
The next song sweet sweet days is a mid tempo R&B number which's followed by talk s2 me that has a chilled out melody .
With a song title like ONIGIRI , I didn't know what to expect and unfortunately it's 1 album track I dislike as I don't like the way Aoyama sings & raps in it .
On the other hand , Boonshakaraka is something that I actually quite like . It might sound like a generic reggae reject but it's 1 of those songs that I would consider to listen during a guilty pleasure .
hEy bOi is another R&B mid tempo song but for this , I don't find anything special about it .
Day & Night is the 2nd last song in HIGHSCHOOL GAL and this's the only album song that's closest to be considered as a ballad .
Concluding things off in the album is Best Friend . HIGHSCHOOL GAL started off with a strong sounding uptempo song so I guess it makes sense for Aoyama to wrap things up with an equally memorable R&B upbeat track .
Aoyama Thelma revives the music that influenced her in high school in her new album . Filled with club music flavour , HIGHSCHOOL GAL's edgy pop numbers incorporate reggae , R&B and hip-hop elements .
10TH DIARY was something that I didn't quite like on whole so I didn't know how HIGHSCHOOL GAL might sound like seeing that both back to back albums didn't had any singles included , same thing goes for Aoyama's 4th album Lonely Angel .
The type of music sounds found in HIGHSCHOOL GAL most definitely brought back lots of old memories for me especially Sekai no Chushin ~We are the world~ as the para para dance boom was big during the 90s .
I don't like all the songs in HIGHSCHOOL GAL but the ones I kind of enjoy , they're not bad & ironically , the weakness in this album are the mid tempo songs which I found it to be quite uninspiring .
That said , HIGHSCHOOL GAL will not be an Aoyama album I would recommend for a 1st timer to get into as I find it overall to be quite clunky .
But between 10TH DIARY & HIGHSCHOOL GAL , I prefer HIGHSCHOOL GAL a bit more as it has a more wider range of different music genres .
I just hope for Aoyama's next music release , it would be more well put together & the type of music styles found in HIGHSCHOOL GAL is proof that what might be cool back during the 90s sometimes not necessary will age well over the course of time .