CD Review :: SPYAIR - Rockin' the World

Cover for all 3 editions (CD , CD + Bonus Disc & CD + DVD)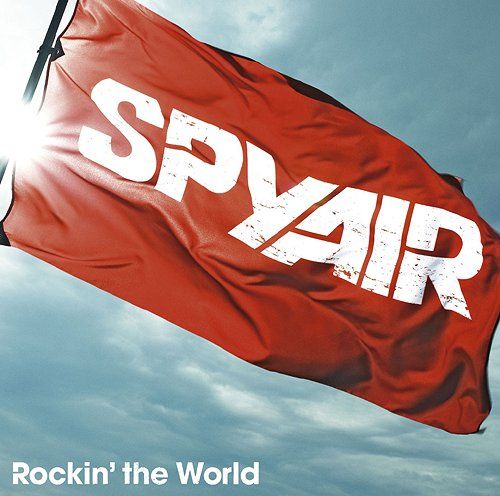 1) Rockin' the World
2) Japanication
3) Samurai Heart (Some Like It Hot !!)
4) BEAUTIFUL DAYS
5) STRONG
6) LIAR
7) Stay together
8) Beautiful
9) I miss you
10) Last Moment
11) SINGING (album mix)
12) My Friend

Rockin' the World is rock band SPYAIR's debut album & it was released last month on 21st Sept .
SPYAIR's debut album contains 5 singles & a B-side & with the release of Rocki'n the World , this's the group's 1st release that charted in the top 10 of the Oricon charts .
Sharing the same title as the album , Rockin' the World is a nice start to what to expect from the guys which's a good dosage of no-nonsense power pop rock with distinct vocals delivered by lead singer/frontman IKE .
Rockin' the World (the song) definitely has a lot of potential should it be a full length track but with it being slotted as the very 1st track in the tracklist , it sets the mood/tone on what to expect from SPYAIR in the next few songs to come .
The next 3 songs are singles that SPYAIR has already released prior to the release of Rockin' the World .
Japanication is the group's 3rd single & for this , it's basically a mean gritty aggressive track that has plenty of attitude & kick .
I can understand why this song's slotted right after Rockin' the World , since sound consistency wise , it's there & let alone Japanication is extremely catchy & memorable .
Samurai Heart (Some Like It Hot !!) is the band's 4th single & for this song , it was used as the outro theme for the anime Gintama .
I really like Samurai Heart (Some Like It Hot !!) , with it being another solid & strong single . Unlike Japanication , the mood that can felt from Samurai Heart (Some Like It Hot !!) is more light hearted & cheery sounding which's really nice .
BEAUTIFUL DAYS is SPYAIR's 5th single & for this , it was used in the drama Don Quixote & it's the guys's most recent release before they released Rockin' the World .
This song can be considered as the band's breakthrough hit even though their past singles were used in the Gintama & BLEACH animes but I guess it's easy to see why more people sit up & take notice of SPYAIR soon after BEAUTIFUL DAYS is released .
Before I decided to listen to SPYAIR , I actually have heard a little bit of BEAUTIFUL DAYS but at that time , I didn't paid attention to them . It was only until I heard the full song & then I can understand why IKE mentioned on TV that this no. pushed up their popularity to a certain extent .
It's hard not to like BEAUTIFUL DAYS , with soaring vocals & with such an emotional driven melody , this probably can be considered as the group's best single which they included in Rockin' the World .
STRONG is the 1st proper album track & just like Japanication , it's 1 highly charged up rock thumping no. . With a song that's called STRONG , this is actually 1 of the more stronger & prominent album tracks found in Rockin' the World .
LIAR is SPYAIR's debut single & this was used to promote the drama Hammer Session ! .
I suppose the fact that LIAR is the band's debut single , LIAR gave them a proper footstart in the industry & even though this was released last year in Aug , LIAR still sounds really fresh & unique which I like .
The next 3 songs are album tracks . The 1st up is something that's titled Stay together .
Stay together is really fuss free sounding . Unlike the other songs which can get a bit over complicated sounding , Stay together presents a more stripped down & chilled out vibe that the song gives off .
Beautiful follows after Stay together & Beautiful is well beautiful in the sense that it has some really nice guitar riffs & also drum beats that's thrown in for good measures .
Likewise for I miss you , it's an emotional charged up mid tempo no. . I thought I miss you might be a ballad but I guess from the song title , I was a bit mislead on things .
Last Moment is SPYAIR's 2nd single & this was used as the outro theme for the anime BLEACH & this's also the last single included in Rockin' the World .
This song can be considered as the 1st song/video I've heard/seen of the guys . I must admit , I wasn't really impressed with what Last Moment had to offer but it's only until much later after I heard BEAUTIFUL DAYS & the rest of the singles , my perception towards Last Moment gradually changed slowly .
SINGING was originally included as the 2nd B-side in the guys's debut single LIAR & in here , it has been given an album mix .
SPYAIR has quite a lot of B-sides from their 1st 4 singles but I'm actually glad they decided to include SINGING in the album & let alone giving it an album mix , as this song's really a class of its own .
My Friend is the last album track if not song in the CD tracklist & I think out of the new songs that're included in Rockin' the World , I consider My Friend as 1 of my faves .
1 of the things that makes My Friend stood out from the rest is that I thought it's brillant for IKE to sing acapella at the beginning before the song breaks out in having this unusual if not cool finger snapping / beats thumping no. , which's something the other songs in Rockin' the World does not have .
I guess I can see why the guys included My Friend as the last song , because I couldn't think of any other song that's more fitting to wrap things up in Rockin' the World than My Friend .
SPYAIR is 1 artiste I can see that they have a lot of potential to go far & Rockin' the World is a really solid debut album from this upcoming talented rock band .
The time duration for Rockin' the World lasts a total of 40 mins but still , this album that contains 12 songs is extremely enjoyable to listen to from the start to the end & let alone , it's great that this's the guys's very 1st release to debut in the top 10 in Oricon .
Their fans have spoken & Rockin' the World is easily the best debut album I've came across that was released this year & I'm excited to have come across SPYAIR's music as this's 1 rock group that definitely can survive in this tough fickle music industry .
I wait & anticipate to see their next single release & with this album , SPYAIR proclaims that they are rocking the world & they're here to stay !