CD Review :: Saito Kazuyoshi - 45 STONES

Cover for both CD regular & limited editions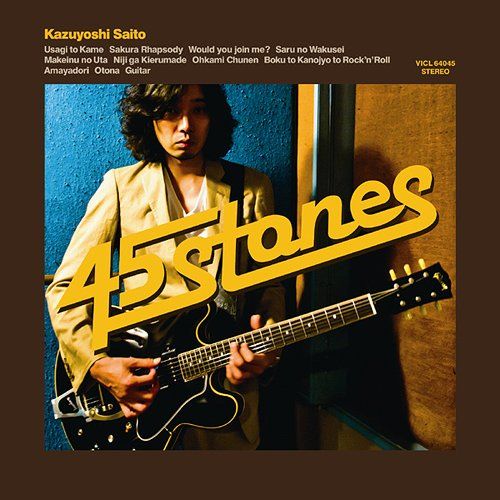 1) Usagi to Kame (Rabbit & Tortoise)
2) Sakura Rhapsody
3) Would you join me ?
4) Saru no Wakusei (Planet Of The Apes)
5) Makeinu no Uta (Poem Loser)
6) Niji ga Kierumade (Rainbow To Disappear)
7) Ohkami Chunen (Middle-aged Wolf)
8) Boku to Kanojyo to (I'm With Her) Rock'n'Roll
9) Amayadori (Shelter)
10) Otona (Adults)
11) Guitar

45 STONES is Saito Kazuyoshi's 15th album & it was released on 19th Oct .
No singles are included in 45 STONES . Instead , only a digital single Amayadori (Shelter) is found in Saito's latest album offering .
Saito's last album release was last Oct's ARE YOU READY ? .
45 STONES start things off with a rather weird song that's titled Usagi to Kame (Rabbit & Tortoise) . I wasn't sure what to expect for Usagi to Kame but it turns out to be a rather simple easy listening mid tempo no. .
In the case of the next song Sakura Rhapsody , it's classic Saito in the sense that there's just so many layering of different instruments being utilised in this rather grand sounding track in which Sakura Rhapsody is hands down 1 of my fave tracks found in 45 STONES .
Would you join me ? is pretty random because Saito can be heard reciting the title song many times in here .
However if I thought Would you join me ? was random , the next song Saru no Wakusei (Planet Of The Apes) is even more up there on the odd factor .
With a song titled as Saru no Wakusei , naturally I have no idea what to expect for this just like another animal related song title just now ie. Usagi to Kame .
But for Saru no Wakusei , it's more unusual & it does pay homage to the song title's because I strangely can hear monkey related sounds in it . It's not really something that I would listen to on a regular basis but I have to give credit to Saito for experimenting out of the box .
Luckily the next song Makeinu no Uta (Poem Loser) is something that's less complicated sounding but it still is able to retain a lot of charm & class .
Makeinu no Uta is a very under-stated song that's quite guitar & piano driven . This's something I like & coming from Saito , he did this very well .
Niji ga Kierumade (Rainbow To Disappear) is actually a self-cover that's originally written for Koizumi Kyoko .
Just like Makeinu no Uta , Niji ga Kierumade is another nice track that I enjoy & in here , it takes on a more acoustic guitar route which's great as I feel Saito doesn't need anything else to make things better sounding than this .
Saito basically let his vocals & a simple melody do most of the work in Niji ga Kierumade & he even did a bit of whistle blowing prior to the conclusion of the song too .
Ohkami Chunen (Middle-aged Wolf) is the 3rd animal related song in 45 STONES & it seems that in the past 2 albums I've heard/reviewed of Saito , there always tend to be a song that's slotted in the random department & I guess the same thing can apply for Ohkami Chunen .
In short , Ohkami Chunen is really random if not obnoxious . I thought the earlier part of 45 STONES was quite weird for me to handle but that doesn't seem to be the case after I've heard Ohkami Chunen .
It's definitely not something for the faint hearted to listen .
Whereas in the case of Boku to Kanojyo to (I'm With Her) Rock'n'Roll , this's 1 really catchy memorable track .
Boku to Kanojyo to Rock'n'Roll as the title suggests , is a cheery sounding no. that brings back a lot of old school fuss free rock from the old days . I don't really have much to add except this's 1 song I love on 1st listen .
Amayadori was released as a digital single & this song is something that I've reviewed/talked about a while back ago .
I'm real pleased to see Amayadori in the tracklist as this's 1 song that never fails to stuck a chord or 2 in me . I can tell just how much emotions Saito has poured into this heartfelt piano ballad .
Amayadori is quite a sombre sounding no. as well which's a nod/dedication to the victims of the March 11th earthquake/tsunami disaster .
Otona (Adults) contrasts Amayadori in the sense that Otona is a very uplifting no. which I find it really inspirational .
Also instead of Otona sounding just like any other typical rock song , Saito added in a few little touches of his own such as using a harmonica which gives Otona a bit of more kick than the average standard no. .
Guitar is the last song in 45 STONES & this's yet another simple & fuss free track which I think it's perfect to conclude things .
The vibes presented in Guitar is very simple & clear cut . It's basically just Saito singing alongside with an acoustic guitar melody , with a little bit of percussion on the sideline to make things sound better than the norm .
In 2002 , singer-songwriter Saito Kazuyoshi released the album 35 STONES , named as so because he was at the age of 35 at the time of release .
Nearly 10 years later , Saito - now 45 years old - has released his 15th studio album 45 STONES . Recorded after the March 11th earthquake/tsunami , 45 STONES is a personal album that expresses Saito's thoughts in the post-disaster situation .
Saito's 39th single Yasashiku Naritai (I Want Gently) will be released this coming week on 2nd Nov .