CD Review :: LANDS - Olympos EP

CD Only First Press Cover :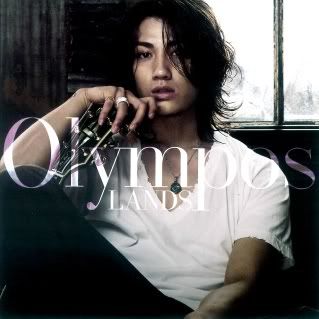 CD Only Regular Press Cover :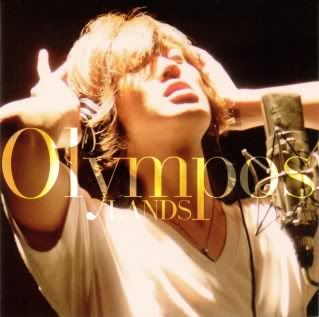 Tracklist :

1) Olympus
2) Genki (Health) ska version
3) Hatachi no Sensou (20 Year Old War)
4) Yuuki (Courage/Bravery)
5) Kodou (Beat/Pulse/Throb)
6) BANDAGE
7) Hatachi no Sensou (20 Year Old War) -Y's edition-
8) Genki (Health) perfect issue
9) Sankyuu (Thank You)
10) Genki (Health) Acoustic (Hidden Track)

Olympos is LANDS's debut/last mini album . It was released 2 days ago on 13th Jan .
Only 1 single is included in Olympos & the album is being released in 2 editions .
First press editions come with a 24 page booklet & the regular edition will be released in about 2 weeks's time . This edition has a 18 page booklet & the pictures differ in both versions .
LANDS is KAT-TUN's Akanishi Jin & Mr.Children's & Remioromen's producer Kobayashi Takeshi's pet project .
The name LANDS came about from a band that Akanishi formed in his debut movie BANDAGE which will open in cinemas in Japan tomorrow .
Set in the 90's , the movie depicts the friendship of the 4 members of LANDS as they aim for success & in here , Akanishi plays the band's leader/vocalist Takasugi Natsu .
The movie's theme song shares the same title as the movie itself & it's written , composed & arranged by Kobayashi . BANDAGE the movie sees Kobayashi as his 1st movie in the director's seat .
Olympos features a great deal of lyrics & music input by Kobayashi . Not only that , he also produced the album & is responsible for the album cover & jacket sleeves too which's really impressive .
Olympus & the ska version of Genki (Health) are tracks #1 & #2 & basically both songs have the same vibes that were given off from each other .
Both songs surprised me when I 1st listened to them as they have influences of rock & also ska which I wasn't expecting that from LANDS at all .
Surprisingly , Akanishi sounded pretty much at ease when he sang such songs because obviously you don't get to see or should I say hear such music influences in KAT-TUN (yet) so for both songs , it's quite a breath of fresh air for me .
You even can hear slight bossa nova influences going on in the ska version of Genki too with loud trumpets blaring out from the side which's cool .
Hatachi no Sensou (20 Year Old War) is track #3 & this's 1 song that I has been waiting to hear of in full simply because alongside with BANDAGE (the song) , the preview for Hatachi no Sensou can be heard in the movie trailer too .
I know it somehow or another that I was going to like the full version of Hatachi no Sensou after I heard the preview in the trailer & I was right .
I guess the closest I can describe Hatachi no Sensou is that it's a really nice midtempo rock driven ballad . It's quite soft & mellow to a certain extent too .
Yuuki (Courage/Bravery) is the only song in Olympos that Akanishi had some personal input in that he cowrote it .
It's also a nice track that I enjoyed seeing that it's more drums driven which I like & seeing that Akanishi cowrote it , guess that should earn him some brownie points in a way or 2 .
Kodou (Beat/Pulse/Throb) was 1 song that took me quite a while to like because it just didn't sound that right to me .
I do like the electric guitar riffs in Kodou & so's the drum beats but there was just something about the song that I didn't like which I'm not sure why I felt this way .
Guess I wouldn't consider Kodou as a fave album track of mine if that's the case .
BANDAGE is the only single included in Olympos & perhaps this's no surprises that this's probably can be considered as the best track you can find in the mini album .
The way the keyboards & synth work their magic in here , it's great & when you have Kobayashi who wrote , composed & even arranged this track , you know you can't go wrong with BANDAGE at all .
Such a great catchy track , what's there not to love about it ?
The -Y's edition- of Hatachi no Sensou is basically nothing much to comment about as you can mainly hear Akanishi's voice echoing in the background where he belted out the chorus so this can be more or less consider like an interlude or 2 .
I don't know why this was found in the mini album , it should have been scrapped off as I found it un-necessary . If not slotting in another new song is not such a bad idea to do so .
The perfect issue of Genki is found as track #8 . I think this's the original take of the song since earlier on in track #2 , you can find the ska version of the song .
Regardless of which , I like both as they offer something different musically .
Sankyuu (Thank You) is the last song in Olympos & I don't know if this's just me but I had Christmas vibes when the introduction opened the song which took me by surprise in a good way .
But this's nice to close off Olympos .
Prior to the actual closing of the album , there's a hidden track you can find in Sankyuu after the song finished . In the 7th min mark or so , you can hear another version of Genki & this time round , it's the acoustic take .
It sounds a bit daunting to have 3 different versions of the same song in Olympos but the acoustic version of Genki is really raw & full of emotions .
It's basically Akanishi singing partial parts of Genki with nothing but an acoustic guitar backing him up & really , sometimes simplicity is sometimes at best when comes to acoustic songs & this goes for no exception in the acoustic take of Genki too .
Olympos is a really neat & well put together mini album I have to say . Despite the fact that it's slotted in as a Johnny's release , it will surprise you to note that LANDS's material sounded nothing like what you might expect at all .
Especially since Akanishi's the 2nd co lead vocalist of KAT-TUN & naturally people might assume that what he does in LANDS will be the same as what he does in KAT-TUN but you'll be surprised after giving Olympos a listen .
It's basically a throwback to the 90's where you have some great old school rock & ska tracks waiting for you to give a listen or 2 & Akanishi pretty much handled the whole album on its own with Kobayashi Takeshi well for that matter .
KAT-TUN will be releasing their 11th single Love yourself ~Kimi ga Kirai na Kimi ga Suki~ (~I Hate You I Love You~) on 10th Feb & the A-side has been chosen to be used as the theme song for the drama Yamato Nadeshiko Shichi Henge starring the 1st co lead vocalist of the group Kamenashi Kazuya , NEWS/Tegomass's Tegoshi Yuya & Johnny Junior Uchi Hiroki .
In fact the 1st episode of Yamato Nadeshiko Shichi Henge was just aired today in Japan too so keep a lookout for that & Olympos is 1 album that's worth a listen especially if you're into old school ska & rock tunes .