CD Review :: Shota Shimizu - Journey

Cover For Both CD Only & CD + DVD Editions :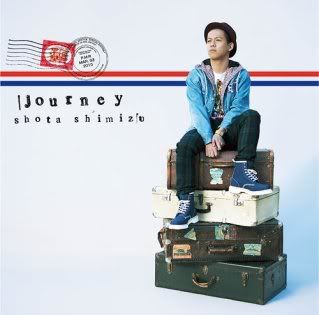 Tracklist :

1) Journey
2) FOREVER LOVE (Shota Shimizu x Miliyah Kato)
3) Kimi ga Suki (Love You)
4) CREAM
5) Starlight
6) Sayonara wa Itsumo Sobani (Goodbye To The Usual)
7) Kimi ga Ita Kara (Because You Were)
8) Close to you
9) Utsukushii Hibi yo (Beautiful Days)
10) Sakura (Cherry Blossom)
11) DAYS
12) Let's Groove (Bonus Track)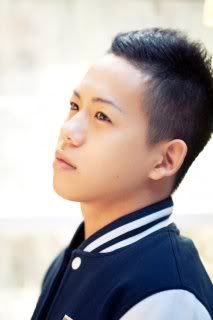 Journey is Shota Shimizu's 2nd album . It was released on the 3rd of this month & the album debuted at #1 with 1st week sales of 57,155 & this's his #1 album .
Pretty much all the singles that Shota released are included in Journey except for the following 2 songs which're incidentally duet no.s Love Forever (Miliyah Kato x Shota Shimizu) & Oyasumi no Kiss wo (Kiss Me Goodnight) ~Good Night My Love~ (DOUBLE & Shota Shimizu) .
The song that shares the same title as the album ie. Journey kicks things off & this sets the tone/bar on what to expect from Shota , a nice easy listening R&B meets pop no. . It's not something that's a full blown upbeat tune but Journey's something heartwarming to check out .
FOREVER LOVE is track #2 & this's the most recent single included in the album prior to the release of Journey .
It's an answer call song to Love Forever that he did with Miliyah Kato & FOREVER LOVE was released under the billing Shota Shimizu x Miliyah Kato .
No doubt I'm a bit sore that Love Forever is absent here but I can see why so aka to make room for more album tracks .
Anyway , when I 1st heard Love Forever , I love the harmonisation of vocals between Shota & Miliyah & this goes for no exception for FOREVER LOVE & I guess the fans have spoke in a way or 2 since it performed better than Love Forever , chart ranking wise which's great stuff .
Kimi ga Suki (Love You) is Shota's 5th single & I remembered the time when Kimi ga Suki was released , I felt that it was perfect for the holidays season . Even though Christmas's not around the corner anymore , I can't help but feel nostaglic whenever I get the chance to listen to this nice soothing R&B ballad .
CREAM is the 2nd album track & this's quite a cute song . I think it's quite something to hear Shota say/sing 'strawberry , chocolate cream' in the backdrop haha but you have to give props to Shota to tackle such a tune as not everybody can pull this off without sounding ridiculous .
Starlight follows suit after CREAM & I find Starlight captivating not just because of the song title .
But rather , there's just something about the song that draws you in on 1st listen . I'm not sure what it's but that's how sometimes things work & there's no deny that the song's catchy .
Sayonara wa Itsumo Sobani (Goodbye To The Usual) is the 2nd A-side of Shota's 4th single Utsukushii Hibi yo / Sayonara wa Itsumo Sobani & this's his 1st double A-side release too .
Compared with Utsukushii Hibi yo (Beautiful Days) , the 2nd A-side displays a more bittersweet feeling that's somehow being concealed with a rather positive rhythm . I'm quite sure there's some underlying messages surrounding Sayonara wa Itsumo Sobani but I leave it as it's .
Kimi ga Ita Kara (Because You Were) & Close to you are the next 2 album tracks & freaky enough , they both sound almost like identical twins to me in that they both have the same R&B mid tempo melody .
It frankly took me quite a lot of listens to distinguish both no.s but I'm fine with them now .
Utsukushii Hibi yo (Beautiful Days) is the last single you can find in Journey & I basically have no complaints towards Utsukushii Hibi yo at all .
Then again , I guess I can say that I like most of the singles that Shota has released from his debut single HOME til now .
Sakura (Cherry Blossom) is track #10 & this's the only album track that receive a music video but oddly enough , the video's not included in the DVD tracklist of Journey .
Then again you're not missing out on anything as the video's nothing to shout about but anyway , I can see why Sakura was chosen to serve as the leading album track for promotion as the song's very simple & heartfelt .
It's just Shota with a piano being played at the backdrop & he just lets his vocals do the work which's awesome .
DAYS is track #11 & this I feel is the only weak link in Journey as there's basically nothing going on in here .
It's very monotone & there's virtually no head or tail attached to it which's a pity . I wanted DAYS to work in Shota's favour but it doesn't seem so as no matter how many times I tried to listen to DAYS , I can't remember how it goes .
Maybe my opinion towards DAYS will change after I finish writing this album review , who knows ?
Found as a bonus track , Let's Groove is the final piece of Journey before things are being wrapped up .
I know I said before that I personally feel that Shota doesn't do well in the upbeat R&B music department but he surprised me when I listened to Let's Groove .
I love the additional jazz touches that he incorporated in the song in which the final product gives you this well groovy sounding no. that's still very much R&B driven .
Journey is the 1st proper album that I chose to listen to of Shota Shimizu . I did gave his debut album Umbrella a listen or 2 but I frankly was not impressed with it & I only feel that the singles saved Umbrella from becoming a total R&B snoozefest .
But this time round , I'm happy to say that the album tracks in Journey more or less is on par if not slightly better than the singles that made the cut . It's tough for R&B artistes to venture out of their music comfort zone but at least Shota did a bit of experimentation like in the case for Let's Groove which I like .
He's 1 talented JPop/R&B singer/songwriter to look out for in recent times & what better way than to experience his music journey in the form of his latest album offering Journey .