CD Review :: Maksim - Electrik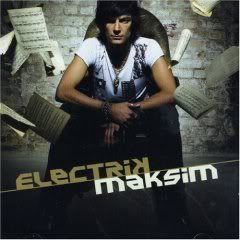 Tracklist :
1) The Gypsy Maid
2) Requiem
3) Child In Paradise
4) Anchem
5) Hall Of The Mountain King
6) Nachrach
7) Beyond Rangoon / Waters Of Irrawaddy
8) March Of The Icons
9) Tango In Ebony
10) Carmen Entr'acce
11) Prelude In C
12) In Paradisum
13) The Way Old Friends Do
Bought Croatian pianist Maksim latest CD aka his 4th , after the release of his debut The Piano Player , Variations Part I & II + also A New World. In which all 4 CDs are released in major label EMI .
Before I say anything else , I know what you're thinking , you like Maksim's music or aka classical music ? shouldn't it be BORING with a capital B ?
I grew up listening to classical music & it's the 1st music genre I was exposed to since I was young . But naturally as I grow older , I kinda rebelled & start listening to anything that's on the radio & more .
It was only a few years ago that I started to go back to my classical roots & then I came across some mainstream classical acts which made classical music which's otherwise sound so boring , sound cool now.
Aside from Maksim , I also listened to Richard Clayderman , Bond (these ladies are lovely & oh so talented , I'm a huge fan of them , there's more to life than just Victory OK ? ) , a bit of 12 Girls Bands & some Vanessa Mae too.
Maksim actually released his 1st album Gestures before The Piano Player but cos Gestures wasn't released under a major label so I'm not gonna consider Gestures as his 1st release.
& before I go on further , yes I have to say that I love Maksim's works , he's so cool & make classical music sounds oh so hip & he's like a hippier version of another pianist Richard Clayderman.
& also I have all 4 CDs of Maksim which's pretty something as the last 3 CDs I got all of them for my 19th b'day from my friend Jenny :)
I never took notice of Maksim before , it was only til the release of his debut single The Flight Of The Bubblebee which made me sit up & take notice of him & also that single shot him to worldwide fame .
+ it does help that he's very good looking & has that bad boy looks going on heh heh but alas he's married boohoohoo & he has a daughter now in which her name's Leeloo which's also the inspiration behind Leeloo's Tune , a song that can be found on Variations Part I & II , bless.
& in the album sleeve of Electrik , there're tons of great pics of Maksim which left me drooling all over the place hee hee
Honestly I don't put all the songs from his CDs into my mp3 , I only choose the selected ones as when comes to classical music or should I say mainstream classical music , I always like to go for the uptempo ones .
The slow ones aka the ballads , I'm not really into them unless for some specific reasons or so , then yeah I would dig them . Some of the ballads that I can think of are Claudine , Merry Christmas Mr Lawrence , 1 of my absolute fave Croatian Rhapsody (the tune of it is fucking awesome) , Olympic Dream , Handel's Sarabande , the beautiful The Flower Duet , Mojito & many more.
Thankfully , in his latest Electrik , there're quite a lot of uptempo ones , a few slow ones that I didn't like in which they almost put me to sleep :S but yeah the uptempo ones are really good.
Standout tracks include The Gypsy Maid , Requiem , Tango In Ebony , Hall Of The Mountain King in which I must add the tune to it's very very familiar so naturally I like it & March Of The Icons.
In fact , on those days that I'm absolutely bored of what to listen or if I have no damn-ing idea to listen next , I always go to my Classical Crossover folder & just plugged Bond or Maksim away !