CD Review :: Shota Shimizu - COLORS

CD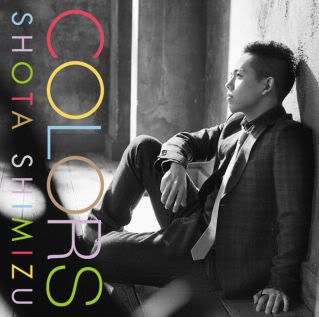 CD + DVD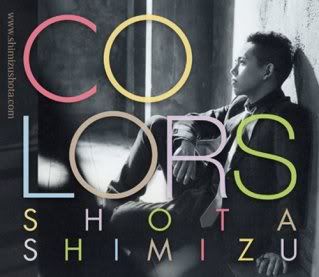 1) GOODBYE
2) flower
3) YOU & I
4) Party All Night
5) Forget-me-not
6) Sora (Sky)
7) Kimi ga Kurasu Machi (The Town Where You Live)
8) So Good
9) Winter Love Song
10) Midnight Flight
11) Eclipse
12) Tears
13) let go ~maison de m-flo~ (Bonus Track)
14) Summer Time (Bonus Track)
15) Be With You duet with JOE (Bonus Track)


COLORS is Shota Shimizu's 3rd album & it was released last week on 9th March .
3 singles , a digital single , a B-side & 3 bonus tracks are found in Shota's latest album offering . Shota wrote & composed all the songs in COLORS except for 3 songs .
GOODBYE is Shota's 6th single & it's also the earliest / 1st track in the CD tracklist to kick start things .
I don't have any issues with GOODBYE as it's quite a nice energetic dancey R&B no. which's accompanied by an infectious rhythm & an affecting vocal performance by Shota .
flower is the 1st album track & I have to say I was really surprised when I 1st heard flower because I was very drawn into the melody instantly .
I never heard this musical side of Shota prior to hearing flower which's quite poppy , acoustic guitar & bongo drums driven which's very different from Shota's usual R&B influenced songs .
Still , it's an experimental risk that Shota took which I have to say it really works well in his favour .
YOU & I is Shota's 8th single . It was used as the Sony's WALKMAN Play you commercial song , alongside with JASMINE's ONE & YUI's Your Heaven .
Just like JASMINE , Shota went to New York to get inspiration in line with what he has to offer in YOU & I which's a cheery sounding R&B piano driven song .
The inspiration for YOU & I is drawn from Shota's thoughts in that he decided his theme was to be meeting & sound . While he was in New York , Shota worked with a pianist he met & in the process , YOU & I was created .
Party All Night follows after YOU & I . I wasn't comfortable when I 1st heard Party All Night as I thought the melody sounded quite dated & let alone , I'm still iffy in Shota to sing unusually very upbeat R&B songs .
But after a while , Party All Night is pretty ok even though at 1st the song got on a rather bad footing note to me .
Forget-me-not served as the lead album promo track & it's a cover of Ozaki Yutaka .
In addition , Forget-me-not is the only song that receives a video too .
I reviewed Forget-me-not as a standalone track way before COLORS was released & up to now , I still have an endurance towards this song . I'm not sure why but it's probably because of the way Shota covers & makes Forget-me-not exclusively unique .
I frankly don't know how the original Forget-me-not sounds like but Shota transformed it into something that's basically almost sounds like Forget-me-not belongs to him .
Sora (Sky) follows after Forget-me-not & this's quite an unusual track because other than being quite acoustic guitar driven , Shota can be heard rapping while some autotune can be heard too .
Everything all sounds like a music recipe for disaster but considering the fact that Shota's the 1 that composed & wrote this , I say it was a worth it risk that he took & what's there not to like about this inspiring uplifting tune ?
Kimi ga Kurasu Machi (The Town Where You Live) is Shota's 7th single & it's the last physical CD single included in COLOURS .
Described as a sweet R&B ballad . Kimi ga Kurasu Machi perfectly complements the sight of falling autumn leaves & the mild breezy weather of autumn .
Honestly , I only find Kimi ga Kurasu Machi a-ok & I wouldn't consider it as a fave Shota single of mine as at times , Kimi ga Kurasu Machi can sound quite bleak if not dreary .
The upside for Kimi ga Kurasu Machi is that it has quite a rather strong piano backing but I wouldn't listen to Kimi ga Kurasu Machi during days that I might feel down .
In the case of So Good , now that's a different thing altogether . As the song title suggests , So Good makes a person well feels good about 1 self .
In anycase , So Good is 1 of those songs that's suitable for a good pick me up for 1 self's mood .
Winter Love Song is the next album track & this's another gem in COLORS .
I thought Winter Love Song was going to have Winter vibes but I was surprised that's nothing like what I imagined .
For starters , Winter Love Song is quite heavily auto tune driven to a certain extent & it's accompanied by a rather enchanting melody which I was drawn into on 1st listen .
Winter Love Song is unusual sounding but I can't help but adore this song quite a significant deal .
Likewise for Midnight Flight , it's another fantastic track that I enjoy which's so catchy & memorable on 1st listen .
Midnight Flight is basically a smooth mid tempo no. that has shades of blues attached & I frankly can visualise Midnight Flight being played in a bar because it fits the whole setting image of 1 quite well .
Eclipse is track #11 & this's 1 of 2 songs found in COLORS that's sung in complete English .
Just like Midnight Flight , Eclipse is another slow jam R&B no. but what makes Eclipse even more something is that Shota is the 1 that composed & wrote it himself which's pretty something , considering that English's by right not his 1st language .
As a result , it was a bit difficult for me to listen to Eclipse & I had to refer to the CD sleeves to check the lyrics but in general , it was surprisingly easy for me to listen to Eclipse & Shota's English dictation is pretty good .
I'm not sure if Shota has any experience in learning English but from what he wrote for the lyrics in Eclipse , there's not a sight of Engrish .
Tears follows after Eclpise & for Tears , it's basically a straightforward acoustic pop guitar track .
There's somewhat of a bittersweet feeling attached to Tears which I was able to detect but I thought that's what makes Tears charming in this aspect .
The next 3 songs are bonus tracks available in COLORS .
The 1st song is something titled let go ~maison de m-flo~ & this also can be found from m-flo TRIBUTE ~maison de m-flo~ which's a tribute album released 2 years ago on 16th Sept to celebrate the 10th anniversary of pop/R&B/hip-hop duo m-flo .
I guess let go belongs to m-flo & this's the 2nd cover song found in COLORS after Forget-me-not but regardless of which , let go ~maison de m-flo~ is pretty nice .
I wasn't sure what to expect for let go ~maison de m-flo~ but it's something that I enjoy despite its rather unusual sound as it 1st started with a nice piano backing before slowing branching out into something more R&B driven .
Summer Time is the 2nd bonus track & it's also incidentally the 2nd digital single of Shota .
I reviewed Summer Time as a standalone song before COLORS was released . I still don't consider this as something memorable as there're many other album tracks found in COLORS that're way better than Summer Time .
As such , Summer Time doesn't seem to be able to stack up against the other songs that well & I don't think it's something that I might listen to on a frequent basis too .
Be With You is the final track available in COLORS & this's the B-side song found in Shota's 6th single GOODBYE .
This song is a duet that Shota sang with JOE , in which JOE is a US R&B singer/record producer who has collaborated with Mariah Carey & 98 Degrees in 2000's Thank God I Found You & JOE is best known for his own solo hits such as early 2000's I Wanna Know & Stutter .
Be With You is the 2nd full English song after Eclipse & similiarly , Shota had a hand in cowriting Be With You alongside with JOE .
Before I switched to listen/support Japanese music full time , I was very much into the English music scene so I know who JOE is .
Considering I grew up listening to the above English songs that I have listed , for Shota to work with JOE , I think it's an honour so to speak .
Song wise , I feel lyrically Be With You is an easy listening R&B no. . Naturally , JOE's English dictation is much better than Shota but the good thing about Be With You is that Shota doesn't sound overpowered by JOE that much & I feel both of them compliment & harmonise things very well .
Shota Shimizu has come quite a long way after debuting on the scene with 2008's HOME & I have to say that I really/truly enjoy listening to COLORS .
I wasn't sure what to expect for his new album as I did enjoy his previous album Journey quite a fair bit but for COLORS , I think the title of his new album fits the concept well in the sense that I was very surprised & let alone blown away by the sheer quality of the album tracks .
Unlike Journey , Shota really branched out & experimented a lot more this time round in COLORS . The singles are frankly ok but it's the album tracks that bring the whole record to a whole new different level .
There were quite a lot of new sounds that Shota didn't explore before but he did this time round & I say this music gambling risk paid off in a lot more ways than I ever imagine .
Already the fact that Shota composes & writes everything on his own , it's not easy & for him to deliver such an enjoyable , memorable & solid album , as the saying goes , 3rd time is definitely the charm .
2011 hasn't come to an conclusion yet but COLORS I feel is already a shoo in nomination for album of 2011 at this point in time .
COLORS is definitely an album worth checking out especially if you're looking for some geniune good R&B music .