CD Review :: Hilcrhyme - Recital

CD Only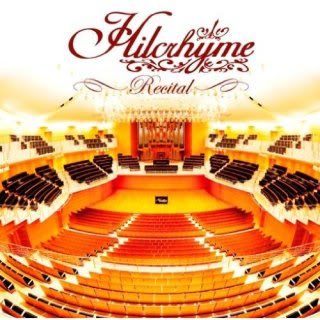 CD + DVD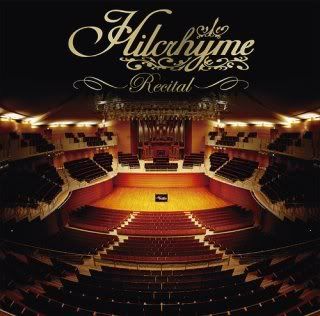 1) ~OPENING~
2) Recital ~Hicrhyme Koukyougakudan Sakuhin Dai 1 Ban Hen Hi Tanchou~ (~Hilcrhyme Symphony Orchestra Interpreting The 1st Symphony With Minor Changes~)
3) Child Play
4) Shunkashuutou (The Four Seasons : Spring , Summer , Autumn & Winter)
5) Uten (Rainy Weather)
6) LAMP LIGHT
7) RIDERS HIGH
8) Shatei Kennai (Within Range) Feat SUNSQRITT
9) Mou (Already) Bye Bye
10) Ibara no Michi (Thorny Path) Feat BOXER
11) Tsubomi (Flower Bud)
12) Jun'ya to (And) Manami
13) My Place


Recital is Hilcrhyme's debut album . It was released this year on 13th Jan & its peak position on the Oricon album charts was #2 .
The duo's 1st 3 singles & 2 B-sides are included in Recital . All lyrics in the album are written by rapper/vocalist TOC while all music are composed by DJ KATSU .
~OPENING~ is a 1:11 mins introduction . If you have seen the covers for Recital , ~OPENING~ has that orchestra driven like melody which sets the tone/mood on what to expect in the next song .
The introduction for Recital flows straight into the 1st album track on Recital titled Recital ~Hicrhyme Koukyougakudan Sakuhin Dai 1 Ban Hen Hi Tanchou~ (~Hilcrhyme Symphony Orchestra Interpreting The 1st Symphony With Minor Changes~) .
I have to say that Recital ~Hicrhyme Koukyougakudan Sakuhin Dai 1 Ban Hen Hi Tanchou~ is 1 of the longest song titles I ever came across . Still , this should not stop you from listening to it as this song is really catchy/memorable on 1st listen .
Recital ~Hicrhyme Koukyougakudan Sakuhin Dai 1 Ban Hen Hi Tanchou~ contains the duo's signature rap & hip hop beats which're mixed together with classical influences .
Rap , hip hop & classical might seem like a really odd combination . But for this case , all 3 elements go very well hand in hand together which I think it's great .
Child Play is the 2nd album track & this's another catchy song that I really like .
Unlike Recital ~Hicrhyme Koukyougakudan Sakuhin Dai 1 Ban Hen Hi Tanchou~ , the melody for Child Play is a lot more simple & less complicated .
Child Play takes on a more upbeat tone which emphasised a lot more on hip hop & it has that really smooth soothing factor & that should be credited to vocalist/rapper TOC for sounding really at ease while singing/rapping at the same time .
Shunkashuutou (The Four Seasons : Spring , Summer , Autumn & Winter) is Hilcrhyme's 2nd single & this has been considered as the duo's breakthrough hit .
The song was used in several promotion areas , such as being used in last Sept's ending themes no. for a-ha-N , CDTV , MUSIC B.B. , MUSIC EDGE + Osaka Style , Music & Entertainment Gachicame 7 & Duòmo . That goes for being used as an ending theme song for NIGHT CRUISING last Oct & also in the ads of Recochoku & Yamaha Music Media too .
I can understand as to why Shunkashuutou is credited as the song which made more people to sit up & take notice of Hilcrhyme . While I feel it's not as catchy as some of their other singles , it's the lyrical content of the song which I'm quite sure stuck a chord or 2 in people .
So for that , you have to give props to TOC for writing such an inspiring no. .
Uten (Rainy Weather) can be considered as the 1st album track for a ballad .
Personally , I feel this's 1 really cool song as it's a more toned down/laid back . Like the song title suggest , you can hear subtle raindrops on Uten & this's accompanied by a rather simple acoustic guitar backing which I really like .
LAMP LIGHT is found as the B-side in the indie release of the duo's 3rd single Mou (Already) Bye Bye .
Honestly , LAMP LIGHT took me a while to get the hang of it . I don't really find anything special about the song . Still , this's 1 really funky groovy no. to listen alongside with .
RIDERS HIGH flows straight after LAMP LIGHT . Unlike LAMP LIGHT , RIDERS HIGH is 1 song that I really like on 1st listen & I feel it's 1 of the more prominent album tracks in Recital .
It's a lot more fast paced than other songs on Recital but RIDERS HIGH doesn't make TOC sound as though he had a hard time in keeping up the pace with singing/rapping .
Shatei Kennai (Within Range) is the 1st collaboration you can find in Recital & in here , the song features SUNSQRITT .
At 1st , I was worried whether will the vocals of TOC & SUNSQRITT clash but surprisingly when I listen to Shatei Kennai , I did not feel it as so .
Song wise , it has quite an Americanised flair to a certain extent as I feel this's something that you'll be able to listen out to if you turn on your local radio station if you want to listen to English hip hop/rap songs .
Mou Bye Bye is Hilcrhyme's 3rd single . It was originally the duo's debut indie single release but it was eventually re-released as their 3rd major label single .
The song was used in the ads of Recochoku . Also last Dec , it was used as an opening theme for CDTV & ending theme no.s for MUSIC B.B & MUSIC EDGE + Osaka Style .
Mou Bye Bye is pretty much simplistic at its best . With hip hop beats being mixed together with subtle acoustic guitar strings which're combined with TOC's rapping/singing , this's a winner in the bag for the duo .
Ibara no Michi (Thorny Path) is the 2nd collaboration song in Recital & for this , it features another rapper , BOXER .
I find Ibara no Michi really unusual but yet cool on 1st listen . Just like Recital ~Hicrhyme Koukyougakudan Sakuhin Dai 1 Ban Hen Hi Tanchou~ , you can hear quite a significant amount of orchestra influences in Ibara no Michi being mixed up with hip hop beats .
Ibara no Michi is a fast paced song but both TOC & BOXER's vocals doesn't sound as though they're trying to keep up with the pace of Ibara no Michi .
Between Ibara no Michi & Shatei Kennai , I like the former a bit more because I feel BOXER's vocals were able to compliment TOC's a bit better than SUNSQRITT .
Tsubomi (Flower Bud) is found as the 2nd B-side in the duo's debut major label single Jun'ya to (And) Manami .
I know I said before that I did not find Tsubomi really memorable when I reviewed Jun'ya to Manami a while back ago & that I don't consider it as a B-side of mine from Hilcrhyme .
But after listening to Tsubomi quite a significant no. of times , my perception towards Tsubomi has changed gradually . Now ,I'm able to remember how this mid tempo laid back track sounds like .
Speaking of Jun'ya to Manami , the song flows straight after Tsubomi .
Jun'ya to Manami are given Japanese names for that matter .
Even up to now , I still really like Jun'ya to Manami as it's not often you get to hear a song that has wedding influences being combined with the duo's hip hop/rap sounds .
It's definitely something unique that Hilcrhyme offered & lyrically , it's really touching/nice to a certain extent too .
My Place is the final song on Recital before things are concluded .
What I like about My Place is that it has a really simple acoustic guitar melody . That's a lot more emphasised & I don't really hear that much hip hop influences in here .
But it's ok as this shows that Hilchrhyme is able to tackle music genres with ease & that they're willing to take music risks which's great .
Overall , I find Hilchrhyme's Recital a really enjoyable & solid debut album . I did had reservations in giving their material a shot as hip hop & rap are not exactly considered as 2 fave music genres of mine .
But with Recital , I find that my perception towards hip hop & rap have changed quite significantly & now , I view both music genres in a rather positive light/angle & that I realised it was probably a stigma thing that I had towards hip hop & rap .
Even though Hilchrhyme's main music focus is on hip hop & rap , they're able to experiment out of their music comfort zone & mix other forms of music genres such as acoustic guitar pop & even orchestra .
That & also , I feel that TOC has quite a natural ability to sing & rap so seamlessly at ease which I think it's important/great as not everyone's able to do both together co-currently at the same time .
In the 1st blog entry I wrote about Hilchrhyme's 5th single Loose Leaf , I wrote that I predict that given more exposure/time , I feel this's 1 artiste that can go really far in the music business & I think once again this same analogy can apply , especially after you give Recital a listen .
Hilcrhyme will release their 6th single Travel Machine next month on 22nd Sept & for that , I can't wait to hear what they have to offer for it .
At the meantime , Recital is 1 album that I will be plugging for the time being .