CD Review :: SPYAIR - Just Do It

Cover for all 3 editions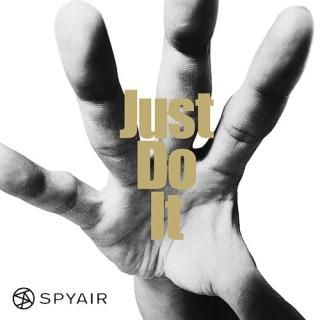 1) Just Do It
2) Rock'n Roll
3) 0 GAME
4) My World
5) Little Summer
6) No where , Now here
7) Stay Gold
8) Break myself
9) Naked
10) U&I
11) I want a place
12) Raise Your Hands
Just Do It is SPYAIR's 2nd album & it was released on 19th Sept .
Released about a year since the guys's debut album Rockin' the World , Just Do It includes 3 singles & a B-side .
All songs in the album are written by bassist MOMIKEN & with the exclusion of the 3 singles & B-side no. , Just Do It contains 7 new album tracks .
Just like Rockin' the World , the opening title shares the same name as the album & Just Do It the song serves as a teaser no. on what to expect in latter part of what Just Do It the album has to offer .
Personally , I think for both opening tracks found in both albums are really good & they definitely have the potential to get transformed into full songs but as to whether will this become a reality , that's another matter to discuss separately from this post .
Diving straight right in after the opening no. Just Do It , it's the 2nd song in the tracklist which's titled Rock'n Roll .
Rock'n Roll was actually 1st found as the 1st B-side in SPYAIR's 7th single 0 GAME in which the CD only edition of the single contains 3 B-sides unlike the CD + DVD edition that only includes the main A-side .
I'm actually really glad that Rock'n Roll is included in Just Do It as it's a very fast paced if not quite interesting sounding no. even though in actual fact , most of SPYAIR's B-sides does sound good already on their own .
And speaking of 0 GAME , it's the next song right after Rock'n Roll .
0 GAME was selected to be used in promotion for the movie The Amazing Spider-Man which the film production company offered 0 GAME to be featured in the movie as the movie's staff give high praises for the song & stated that it's the perfect theme no. for the film .
Out of the 3 singles that're included in Just Do It , 0 GAME is definitely my fave out of the lot & it does help that I did watched The Amazing Spider-Man when it opened in cinemas so it does bring good memories for me but song wise , it's 1 of the group's most prominent if not memorable tracks to date .
And it also helps that at this point in time , 0 GAME is the group's best charting single to date too .
My World is SPYAIR's 6th single & it was used as the ending theme for the Mobile Suit Gundam AGE anime which started airing on Jan 29th .
Described as a powerful no. that encourages people who suffer from distress , My World was also released on the same day as the group's 1st concert DVD SPYAIR LIVE At Yaon 「Just Like This 2011」 .
Little Summer is the 1st album track & this's something that I really like on 1st listen as I couldn't help but get attracted to this emotional driven no. .
In fact I notice that Little Summer is 1 of the songs in Just Do It that I tend to listen on a regular basis which definitely is a good sign .
No where, Now here is the shortest track in Just Do It , clocking in at under 2:53 mins . Despite the time constaint , No where, Now here is still able to pack quite a few punches with it quite gritty sounding & angst driven .
From another new album track to the next , in comes Stay Gold which's 1 of the more experimental no.s in Just Do It .
Stay Gold utilises quite a significant lot of synth , something that's not heard/seen in the guys's previous songs but the band's signature sound was still able to get retained in here .
The ending result gives Stay Gold quite a needed edge over the other album tracks in Just Do It .
Break Myself is the 4th album track & the 1st few lines of the song sound oddly the same as 0 GAME but make no mistake , after that , the song lashes out a mean mix of kick ass heart thumping melody which's backed up really nicely with fierce guitar riffs & even more mean sounding drum beats .
And just like No where, Now here , Break Myself is a relatively short track , under 3 mins long but who says good things doesn't come in small packages ?
Naked is SPYAIR's 8th single . Serves as the lead promo single prior to the release of Just Do It , it has been described as an uptempo tune that will remind fans of the group's 4th single Samurai Heart (Some Like It Hot !!) .
The song incorporates a message that it is important to bare one's heart in love & any other human relationship once in a while , stressing the importance of colliding with others for better understanding .
U&I follows after Naked & this's 1 of more emotional heartfelt no. in Just Do It & it's quite evident in the way lead vocalist IKE delivers this song with such professionalism .
I want a place is the 2nd last album track & just like Stay Gold , it also utilises quite a fair bit of synth with also autotune thrown in for good measure too .
This song & Stay Gold are probably 2 of the more experimental no.s in Just Do It which I really don't mind as it shows that the guys are willing to step out of their music comfort zone & do something different .
Last but definitely not least , Raise Your Hands is the final no. included in Just Do It & what a heart wrenching song this's which IKE literally goes out with a bang , with him yelling & pouring his heart out in this rock drenched tune with plenty of gusto & attitude , which basically seals the deal for Just Do It .
A few months prior to their maiden Nippon Budokan performance that will take place on 18th Dec , SPYAIR released their latest 2nd album Just Do It , which comes almost a year after the release of their really enjoyable debut record Rockin' the World .
Personally , comparing both albums , Just Do It displays a much more stronger mature side coming from the guys & the fact that they have showcased signs of some experimentation going on , it definitely means something as I will be disappointed if their new album were to sound almost exactly like what Rockin' the World had to offer .
The only minor flaw I feel that Just Do It has is that I wish that the guys wouldn't have included 0 GAME & My World side by side together as already the singles outweight the new album tracks , so they should have spread out both tracks evenly as so .
But other than that , a really solid follow up from where Rockin' the World left & with both albums clocking in under an hour , good things definitely do come in small packages .