CD Review :: Shota Shimizu - PROUD

CD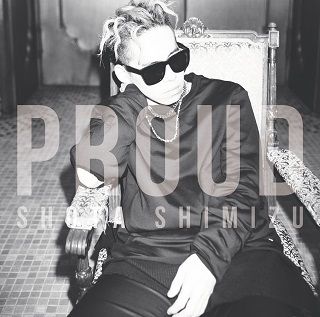 CD + DVD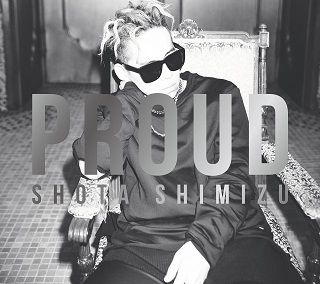 1) Feel Good
2) PROUD
3) Damage
4) Good Conversation
5) ANIMAL
6) Drunk
7) thinking bout you
8) N.E.E.D
9) Hanataba no Kawari ni Melody wo
10) MONEY Feat Aoyama Thelma , SALU
11) BYE×BYE
12) Kimi no Sekai e
13) lovesong
PROUD is Shota Shimizu's 6th album & it was released last month on 30th March .
Shota's last studio album release was 2014's ENCORE . 3 singles are included in PROUD . Single songs SNOW SMILE & I miss you -refrain- are excluded from the album but they're included in Shota's 1st best album ALL SINGLES BEST that was released last Feb .
Feel Good & PROUD (the song) are the 1st 2 new album tracks . Feel Good is a smooth mid tempo piano driven opening number while PROUD is an upbeat track that has quite a lot of auto tune .
Damage is Shota's 20th single & this mid-tempo ballad that expresses painful emotions is the latest single song included in the tracklist prior to the release of PROUD .
Good Conversation is the 3rd album track and for this song , it has a really groovy Jazz feel & it's 1 of the rare tracks in the album that doesn't have auto tune but Shota can be heard rapping a considerable amount in the song .
ANIMAL is the next new song & it's the only new album track to get a video .
Prior to the physical release of PROUD , ANIMAL was released digitally last month on 16th March .
Honestly before hearing ANIMAL , I was a bit scared in wondering what kind of song it was going to be . Turns out it's an upbeat song that follows almost in the same music vein as PROUD (the song) with both tracks quite heavily auto tune driven . The video accompanying ANIMAL is really odd & random though .
The next 3 album tracks are also in the same auto tune & rap music pool . Drunk is the most gritty aggressive out of the lot with everything almost being kicked into overdrive while thinking bout you is a slow paced number that has auto tune .
As for N.E.E.D , it sees Shota once again doing a fair amount of rap , in addition to singing in the song .
Hanataba no Kawari ni Melody wo is Shota's 19th single & it was used as the theme song for NHK's drama Designer Baby that starred Kuroki Meisa .
Described as a warm yet painful love song about universal love , Shota commented , "Hanataba no Kawari ni Melody wo is a fantastic love song that I wrote with the thoughts , 'a love song that I can only write now after striving towards music all this time .' I want many people to listen to it ."
Out of the 3 singles included in PROUD , Hanataba no Kawari ni Melody wo is my favourite as unlike Damage & BYExBYE , there's no auto tune and the piano driven ballad is still a really heartwarming great no. .
MONEY is the only collaboration found in PROUD & for this track , it features Aoyama Thelma & SALU .
Surprisingly , a video was made for the song but it's not included in the album DVD .
Shota 1st collaborated with Aoyama in stay which was found in her male theme concept GRAY SMOKE mini album which was released last Sept . stay was a good song that showcased how both their vocals compliment each other rather well .
In MONEY , SALU is brought into the picture and while I'm not familiar with his material , at the end of the day , this song mainly emphasised on rap & the portions that Shota sings have auto tune .
It would have been better if Aoyama was featured more but her music talent is not showcased much in MONEY as she's mainly doing rapping which's a bit of a pity .
BYE×BYE is Shota's 18th single and this R&B no. that documents the painful feelings of two people parting ways is the last single included in PROUD .
Kimi no Sekai e & lovesong are the last 2 tracks in the album . For Kimi no Sekai e , it's the shortest track in PROUD while lovesong felt like it picked up from where the opening number Feel Good left behind .
lovesong would have been better if Shota didn't rap that much in the song .
Shota Shimizu makes his fans proud with his 1st album release in 2 years & in Shota's latest album , he displayed a lot more attitude and character in PROUD .
Frankly , PROUD is actually not that bad but if you realise the way I wrote the new material in the album , a lot if not most of the songs have either auto tune , Shota's rapping or both .
I like songs that have auto tune but in PROUD , it's a bit too much which Shota should have toned down as having it in almost all the songs is quite excessive .
Likewise I actually never really been a fan of Shota doing rapping , which probably explained why I didn't like his debut album Umbrella that much .
I suppose in PROUD , Shota wants to express himself to be more liberal but I can't help but feel the material in his new album has a more western flair .
Hopefully in Shota's next album , he will go a different music direction . His previous album ENCORE was still good . In this case for PROUD , if you happen to like R&B music that has plenty of auto tune and/or rap , then this might be something for you to check out .
If not , just stick with Shota's past albums such as ENCORE & my personal favourite COLOURS .