CD Review :: Kis-My-Ft2 - Yummy!!

CD
1) "7th" Overture
2) Invitation
3) Mr.Star Light
4) PICK IT UP
5) Break The Chains
6) Toxxxic (Fujigaya Taisuke) {CD Only Track}
7) Shinkirou
8) Ka・Ku・Shi・Go・To (Kitayama Hiromitsu) {CD Only Track}
9) Selfie
10) Seishun Don't Stop!!
11) Super Tasty!
12) Clap-A-Holics (Tamamori Yuta) {CD Only Track}
13) FREEZE
14) Akai Kajitsu
15) REAL ME (Kitayama Hiromitsu & Fujigaya Taisuke)
16) Yu + Jou o , Kuttsukete
17) HAPPY☆DAY
18) We are Kis-My! (CD Only Bonus Track)
CD + DVD A
CD + DVD B
Both CD + DVD's tracklist
1) "7th" Overture
2) Invitation
3) Mr.Star Light
4) PICK IT UP
5) Break The Chains
6) Shinkirou
7) Selfie
8) Seishun Don't Stop!!
9) Super Tasty!
10) FREEZE
11) Akai Kajitsu
12) REAL ME (Kitayama Hiromitsu & Fujigaya Taisuke)
13) Yu + Jou o , Kuttsukete
14) HAPPY☆DAY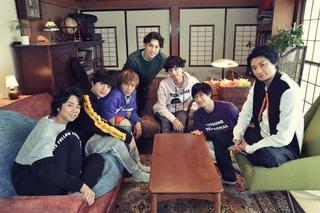 Yummy!! is Kis-My-Ft2's 7th album and it was released on 25th April .
Kis-My-Ft2's last album release was last May's MUSIC COLOSSEUM . Singles PICK IT UP & Akai Kajitsu are included in Yummy!! .
The CD only version of Yummy!! has 18 songs inclusive of 3 solo songs by leader Kitayama Hiromitsu , Fujigaya Taisuke & Tamamori Yuta + 1 bonus group track We are Kis-My! while both CD + DVD versions has 14 tracks .
Yummy!! was released on the same day as special single You & Me that's only available for sale via 7/11 .
Kis-My-Ft2's latest album offering has the same music structure as MUSIC COLOSSEUM . So same as before , I will review Yummy!! based on the CD only version tracklist .
After a fun loving intro "7th" Overture , Yummy!! wasted no time in diving into the 1st 2 album tracks Invitation & Mr.Star Light which're both back to back upbeat jovial sounding songs .
PICK IT UP is Kis-My-Ft2's 19th single & it was used to promote Fuji TV's Sakurako-san no Ashimoto ni wa Shitai ga Umatte Iru drama that member Fujigaya Taisuke starred in .
Break The Chains is the 3rd album track & this's 1 of my favourite new songs as it showcases what Kis-My-Ft2 does best with it being angsty aggressive sounding .
Toxxxic is 1 of 3 solo songs only available in the CD only version of Yummy!! and for this , this's sung by Fujigaya .
I wasn't sure what to expect for Toxxxic given the weird song title but I actually enjoy it .
After back to back upbeat songs , Kis-My-Ft2 slow things down considerably with Shinkirou . Surprisingly there's auto tune in Shinkirou but despite this , I don't mind as the other album tracks don't have that much auto tune .
Ka・Ku・Shi・Go・To is the 2nd of 3 solo songs only available in the CD only version of Yummy!! and for this , this's sung by leader Kitayama .
Out of the 3 solo songs , Ka・Ku・Shi・Go・To is my least favourite as I frankly find this song nothing special & Kitayama's past solos were better but not Ka・Ku・Shi・Go・To unfortunately .
The next 3 album tracks all ironically starts with the same alphabet , S .
Selfie was chosen to be used in the ads of Yamazaki's Summer's tasty choice promotion .
Seishun Don't Stop!! is quite a typical sounding upbeat song while Super Tasty! is Yummy!!'s main lead album promo track as Kis-My-Ft2 performed it on TV shows .
I would have loved to see Super Tasty! had a video made as initially I didn't quite like the song but after a while when Kis-My-Ft2 kept performing it during TV shows , my opinion on it changed .
Also despite the song title , it's quite surprising Selfie has a chilled out Caribbean like flair to it .
Clap-A-Holics is 3rd solo song only available in the CD only version of Yummy!! and for this , this's sung by Tamamori .
Vocally , Tamamori is not the best in Kis-My-Ft2 similar with ARASHI's Aiba but both guys are able to put out surprisingly good entertaining solos & this's no exception for Tamamori's latest solo offering .
Out of the 3 solo songs in Yummy!! , I like Clap-A-Holics a lot as it's super fun & the momentum keeps on happening non stop from start until finish . This's a lot more catchy than Tamamori's past solo ALIVE but it's no doubt 1 of the main album highlights in Yummy!! .
And speaking of album highlight songs , the next album track FREEZE is also another fantastic track & for this , MIYAVI is credited as the 1 who played the guitar riffs in this song .
FREEZE is a rock number that's complimented with the resounding sound of MIYAVI's guitar and this's something that could have been in MUSIC COLOSSEUM .
Akai Kajitsu is Kis-My-Ft2's 20th single & it was used to promote TV Asahi's Juuyou Sankounin Tantei drama that starred Tamamori & NEWS's Koyama Keiichiro .
REAL ME is the newest duo song sung by Kitayama & Fujigaya . Same with FREEZE , this could have been included MUSIC COLOSSEUM as well as REAL ME is outright angsty driven & I don't know if it's just me but when I 1st heard the song , it sounds quite similar like Tonight .
Yu + Jou o , Kuttsukete is the only album song that's the closest that can be considered as a ballad . Just like Super Tasty! , I also wished that a proper video was made for Yu + Jou o , Kuttsukete as it deserves so .
HAPPY☆DAY & We are Kis-My! are the last 2 album songs in the CD only version tracklist . For We are Kis-My! , it's an exclusive bonus group track that's excluded in both CD + DVDs versions of Yummy!! .
Yummy!! started in an upbeat peppy mood so it's no surprises that it also concludes in the same beat as well . We are Kis-My! gets quite crazy as the song progresses which's actually quite amusing as I never heard Kis-My-Ft2 sing so fast before until now .
Overall , Yummy!! is Kis-My-Ft2's most less serious sounding album to date . I wouldn't deny that I was quite disappointed with last year's MUSIC COLOSSEUM as I feel the concept & songs didn't go well hand in hand together .
At least for Yummy!! , both the album's concept & new material were in sync but in this case , I genuinely only enjoy the middle part of the album such as Break The Chains , FREEZE and also Fujigaya + Tamori's latest solos .
I'm not really a big fan of the other album tracks as the cheesy factor is there but seeing that they play up Yummy!!'s concept well , I can let it slide a bit but on whole , I feel Yummy!! is not a Kis-My-Ft2 album I would recommend to new fans as their past albums were better sounding to me .
I said before that Kis-My-Ft2 has been releasing studio albums on a yearly basis when they made their debut in 2011 and as much as I want them to stop doing it , I rather they take their time & release it slowly instead of releasing it for the sake of doing so .
V6's The ONES was released 4 years after 2013's Oh! My! Goodness! but despite this , The ONES was an unexpectedly great album which I felt it was worth the 4 years wait and this's something Kis-My-Ft2 could consider learning from their seniors but I unfortunately don't see it from happening anytime soon .
That said , Kis-My-Ft2's 21st single LOVE will be released next month on 11th July & as to whether Yummy!! is a good or bad follow up from last year's MUSIC COLOSSEUM , that's not for me to decide but I feel that given a choice , I prefer Yummy!! slightly more than MUSIC COLOSSEUM .