Electrico's Amanda On ST's URBAN

Strait Times's URBAN supplement did a 50 Most Stylish People For 2006 in which they shortlisted 20 men & 30 women whom they dubbed them stylish & what do you know , lovely keyboardist Amanda came in 29th in the list !
I think the order's in no particular order but still nice going for her & yeah you gotta admit , she's really stylish in her own unique way & I like her fashion sense a lot in that she knows what looks good on her best.
Only grouse in that article's that since when Amanda's a singer ???
http://www.myspace.com/electricomusic
TODAY Write Up On Electrico's Triumphs For 2006
TODAY did a recap of the best of the best of 2006 in the music world & what better way than they mentioned a thing or 2 about Electrico !
They came in 7th in the top 10 list of memorable albums that you should rock out in the stereos & was mentioned in a very positive manner in which it's great of course .
2006 has been a great year for the guys & girl & 2007 look set to be a year that's even more fruitful , fufilling & kick ass for them in which I know it will be !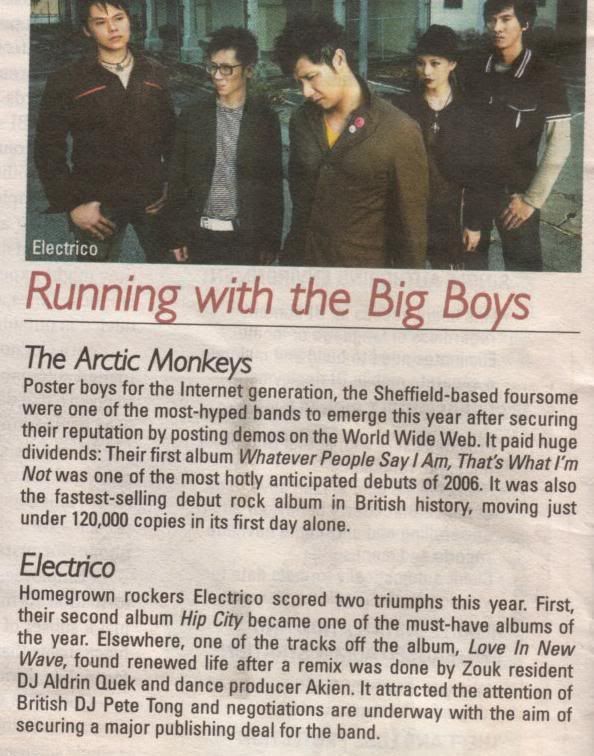 Hot Review Of Maksim's Electrik

Found in the latest hot magazine issue 62 (16th-29th Dec '06) in which Tom Cruises & Katie Holmes's on cover & in truth I was really surprised when I saw that they did a review of Maksim's Electrik cos I mean Maksim does mainstream classical music & hot's quite a hippy magazine so yeah .
& generally I agree with the review & compared to his 1st 3 albums , Electrik's more techno driven , with less ballads & more upbeat . Choice cuts include The Gypsy Maid , Hall Of The Mountain King , Requiem & Anchem.
CD Review :: Vanessa Hudgens - V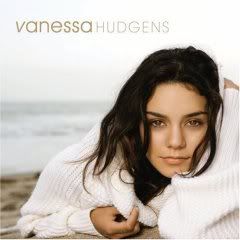 Tracklist :

1) Come Back To Me
2) Let Go
3) Say OK
4) Never Underestimate A Girl
5) Let's Dance
6) Drive
7) Afraid
8) Promise
9) Whatever Will Be
10) Rather Be With You
11) Psychic
12) Lose Your Love
I bought Vanessa Anne Hudgens or should I say Vanessa Hudgens's debut CD V yesterday at HMV & in case you're wondering , what does the V stands for , well according to Vanessa , it stands for Variety .
Best known for portraying Gabriella Montez in the highly successful , the Disney Channel Original Movie High School Musical , this Filipino American who was trained in opera singing when growing up , did sang on most of the songs in High School Musical , such as Start Of Something New , Breaking Free , What I've Been Looking For , We're All In This Together & on her own in , the heart breaking emo ballad When There Was Me & You . The 1st 3 songs that I mentioned , she did the songs with Zac Efron in which both of them are apparently dating in real life & not just in reel life .
If that's true , then good for them cos they looked good & cute together & did I mentioned , the soundcheck of High School Musical , it's fast approaching the 4x platinum mark in US aka almost close to 4 million copies had already been sold !
& did you know V was recorded & mixed just under 2 months & the album was mastered by Stephen Marcussen at Marcussen Mastering , Hollywood CA , the same place where Electrico's 1st 2 albums & Jesse McCartney's latest record Right Where You Want Me was mastered too.
Anyway back to Vanessa's solo debut music , if you're thinking that oh she will be doing the same stuff as what she did in High School Musical , then you will be sorely disappointed big time .
After giving her CD a listen or 2 when I was at the gym eariler , conclusion ? all 12 tracks are very listenable & radio friendly hits & most of the tracks are less than 4 mins long . The longest track's only 3:47 which's track no9 Whatever Will Be .
Her solo debut V as Vanessa described contains "pop-rock, pop-R&B and pop-dance... almost like a mix-tape". I think so too , judging from the tracks that I heard , it seems that way .
Radio & MTV only started picking up her debut single Come Back To Me & I already heard that track on her official MySpace like 2 months ago or so & honestly , I was skeptical about that track & also whether to buy her debut album or not cos like what I said earlier , the stuff that she does in High School Musical & in V are totally different .
But thankfully , the more I listened to Come Back To Me , the more I like it & it seems that Vanessa does pop/r&b pretty well & now instead of Let Go that's scheduled to be the next single , it's now changed to Say OK & the song will be out on radios next month on Jan 12th.
I rather Let Go be chosen instead of Say OK cos to me , Say OK's slightly less catchy & a bit weak than Let Go imo .
You get a mixture bag of mid tempos & ballads in V & to me , Vanessa shines in ballads & reminds me of her High School Musical material especially in When There's Me & You .
I love the ballads in V , such as Whatever Will Be , Drive , Afraid . That doesn't mean that she doesn't sounds good in mid tempos fare . She carried them pretty well too , as evidence proof in Come Back To Me , Say OK , Promise , Rather Be With You , Lose Your Love but I find Psychic a bit cheesy , as in the lyrics to Psychic but I like the melodies of it .
Overall , to me it's a commendable good effort from Vanessa & she definitely exceeded my expectations before I pick up her CD cos before that , I didn't really know what to expect from her cos before buying her CD , I only heard Come Back To Me & Let Go but after hearing the whole album , nice really nice .
& oh confession time , I usually don't buy CDs that contains pop/r&b but Vanessa's disc's surprisingly enjoyable to listen & go grab her CD if you like pop/r&b music or simply put , buy it to support this young upcoming rising star of High School Musical & yes it has been confirmed , there will be a sequel to the movie woo hoo