CD Review :: Matsushita Yuya - BLACK NEVERLAND

CD
CD + DVD
1) Prologue ~ BLACK NEVERLAND
2) King Ü-Wingy
3) Midnight Party
4) Butterfly
5) Rendez-Vous
6) Nobody Feat SHUN
7) In Darkness
8) OOAK (One Of A Kind) Feat SHUN
9) Playa Playa
10) Love
11) Painful Romance
12) Ohji Aoi Yori
13) Moonlight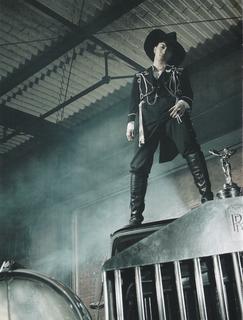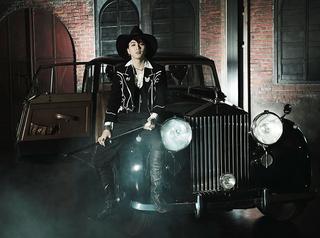 BLACK NEVERLAND is Matsushita Yuya's 4th album & it was released last month on 27th March .
Matsushita's last solo album release was 2013's #musicoverdose .
3 songs that're included in BLACK NEVERLAND were released digitally prior to the album's physical release :
- King Ü-Wingy ; released last year on 27th Sept
- OOAK (One Of A Kind) Feat SHUN ; released last year on 24th Oct
- Midnight Party ; released digitally on 16th Jan
OOAK (One Of A Kind) & Midnight Party had music videos made .
BLACK NEVERLAND was also released in a special CD + DVD + Photobook version but the DVD footages included are not the same as in the CD + DVD version .
In addition , BLACK NEVERLAND is Matsushita's 1st physical release via Teichiku Records .
All songs in BLACK NEVERLAND were written by Matsushita under his pen name U except for :
- Prologue ~BLACK NEVERLAND~ ; introduction melody composed by long time collaborator Nakamura Jin
- Nobody
- OOAK (One Of A Kind)
Both Nobody & OOAK (One Of A Kind) were cowritten together with SHUN .
After kicking things off with Prologue ~ BLACK NEVERLAND , Matsushita wasted no time in jumping straight into King Ü-Wingy .
King Ü-Wingy is 1 of the more less mainstream yet edgy songs in BLACK NEVERLAND but it also showcased Matsushita's rapping skills .
Before I heard King Ü-Wingy , I was out of the loop in not listening to Matsushita's music for quite sometime so when I 1st heard the song I was a bit shocked as it's very different from what he used to do but after I get past the shock , the song grew on me as time goes by .
The next album track Midnight Party serves as the lead promo no. for BLACK NEVERLAND .
Just like King Ü-Wingy , Midnight Party has a lot of attitude + dance flair to it . Matsushita's long time collaborator Nakamura Jin composed it and I think it's so great that both of them are still working together after all these years .
Track 4 is Butterfly & prior to BLACK NEVERLAND , this was already included in X4's XXXX album .
I don't listen to X4's music so Butterfly is considered a new track to me . Just like Midnight Party , Nakamura Jin also composed this mid tempo song as well .
Rendez-Vous follows after Butterfly and this's also another mid tempo no. that I enjoy as well .
SHUN is featured on 2 songs in BLACK NEVERLAND & the 1st 1 he's featured on vocals wise is Nobody .
Same with Butterfly & Rendez-Vous , Nobody is also a mid tempo track as well but between this & the other song SHUN is featured in , I preferred this a lot more .
In Darkness is the closest I count it as an album ballad & it's 1 of the more interesting songs in BLACK NEVERLAND that I find it really cool .
OOAK (One Of A Kind) is the 2nd song that features SHUN & this track was released last Oct digitally while the accompanied video was filmed in New York .
I said earlier on that between Nobody & OOAK (One Of A Kind) , I preferred Nobody over OOAK (One Of A Kind) . In actual fact , OOAK (One Of A Kind) is 1 of my least favourite tracks in the album .
Also this normally doesn't happen but after I watched the OOAK (One Of A Kind) video , I end up disliking the song a lot more than before .
Playa Playa is track 9 & despite the somewhat outdated melody , I actually like it a lot with it being somewhat a throwback from the 90s . If Matsushita didn't made videos for OOAK (One Of A Kind) and/or Midnight Party , I would have loved to see a video made for Playa Playa instead .
The next song Love has the same writing & composing credits as Playa Playa but both songs sound completely different from each other .
Despite this , just like OOAK (One Of A Kind) , Love is my 2nd least favourite track in BLACK NEVERLAND as I find it nothing special with it being quite repetitive after a period of time .
Painful Romance is the last song in the album composed by Nakamura Jin . Similar with In Darkness , both tracks are almost hovering in the ballad route .
The 2nd last song in BLACK NEVERLAND is Ohji Aoi Yori & this's 1 of the more slower sounding songs in the album .
And concluding things is Moonlight which's quite a straightforward mid tempo R&B track .
After years of branching his career in different directions as a musical performer , an actor & a member of X4 , Matsushita Yuya is finally releasing a new solo album! BLACK NEVERLAND marks the 10th anniversary of his debut as a solo artist . The 13-track album includes Midnight Party , the ending theme of the NTV drama Uchi no Gaya ga Sumimasen! & OOAK featuring SHUN .
Frankly it's so hard to believe it has been so long since Matsushita last released solo music . I always have a soft spot for him as I've followed/supported his music since he made his debut in 2008 with foolish foolish .
Unfortunately even though Sony Japan tried their best to promote/market Matsushita , that changed along the way & after a period of time , Matsushita went the indie route by setting up his own record label .
Along the way I stopped listening to Matsushita's music as he formed X4 which saw him go back to his boyband roots which happened before he went solo .
But when it was announced at long last Matsushita was making a return with BLACK NEVERLAND , I was ecstatic & to some extent , Matsushita's comeback solo album didn't disappoint .
Despite achieving success with his earlier solo works , Matsushita surprisingly didn't obtained any Top 10 charting position for his studio albums unlike some of his past singles which managed to achieve that but that changed with the release of BLACK NEVERLAND .
It's so heartening to see Matsushita's longtime collaborators Nakamura Jin & SHUN are still working with him after all these years as the 3 of them go way back .
If there're some faults I want to pick on BLACK NEVERLAND is that I wished Matsushita would have included a few proper ballads as all the while I feel he's versatile in both very upbeat dance songs & ballads .
Also in some way BLACK NEVERLAND is quite short length wise but considering it has been so long since Matsushita last released solo music , I couldn't be any happier about it .
Now I just hope I wouldn't need to wait another 6 more years for new Matsushita solo music to get released .