CD Review :: ARASHI - Popcorn

CD Regular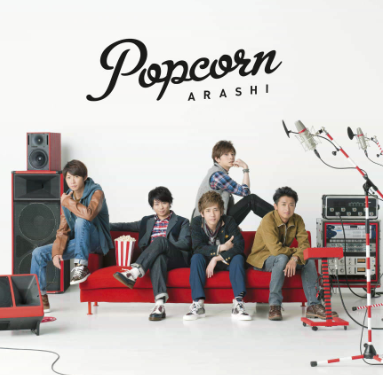 CD Limited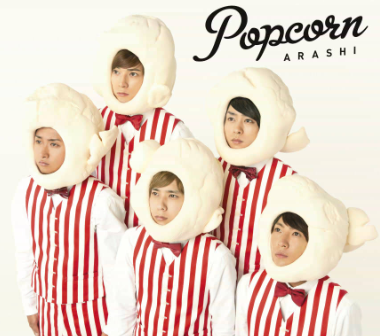 1) Welcome to our party
2) Kakenukero ! (Run Through !)
3) Wild At Heart
4) Face Down
5) We wanna funk , we need a funk (Matsuomoto Jun's Solo)
6) two (Ohno Satoshi's Solo)
7) Waiting for you
8) Rakuen (Paradise) (Aiba Masaki's Solo)
9) Tabi wa Tsudzuku yo (Journey Will Continue)
10) Sore wa Yappari Kimideshita (It Was You After All) (Ninomiya Kazunari's Solo)
11) Meikyuu (Labyrinth) Love Song
12) Your Eyes
13) Fly on Friday (Sakurai Sho's Solo)
14) Cosmos
15) Akashi (Proof)
16) Up to you


Popcorn is ARASHI's 11th album & it was released on 31st Oct .
The group's latest album offering includes 4 singles & this comes about 1 year 3 months since the release of their previous album Beautiful World .
In addition , 2 album tracks have promo tie in's & just like previous albums , Popcorn includes a mixture of singles , group album tracks & 5 solo songs that consolidates 16 tracks in the CD tracklist .
Kicking things off in Popcorn is a fun filled tune titled Welcome to our party .
Welcome to our party has the inclusion of Sakurap & it sets the tone on what to expect in later part of Popcorn but it's definitely a very entertaining no. which immediately got my attention on 1st listen .
This song is actually the 1st song I've heard from the album as Aiba Masaki played this track on his radio show but at that time , he only played a long short version of it as the track I 1st heard was under 3 mins , unlike the studio version which's longer .
But still , I like Welcome to our party as it's a strong opening album track .
Kakenukero ! (Run Through !) is the 2nd group track & it's the 1st of 2 songs that have promo tie in's .
In the case of Kakenukero ! , it was used in the ads of Nissan's Serena which some of the group members can be seen in the ads themselves .
Kakenukero ! is quite a smooth sounding no. but it's not really my fave group track in Popcorn but still the sound transition from Welcome to our party to Kakenukero ! is not bad .
The next 2 songs are singles that were released prior to Popcorn .
Wild At Heart is ARASHI's 37th single & it was used as the theme song for the drama Lucky Seven , starring Matsumoto Jun .
Described as an uptempo rock song , Wild At Heart is a playful , energetic tune that complements the fun , action-packed vibe of Lucky Seven .
Face Down is ARASHI's 38th single & it was used as the theme song for the drama Kagi no Kakatta Heya , starring Ohno Satoshi .
The song expresses the agony of facing your 'other self inside of you' with the theme of 'Who you really are ?' .
A fast-tempo upbeat song with elements of rap & dubstep in the mix , ARASHI takes on a mysterious journey with Face Down . The upbeat electronica song revolves around a scenario in which a man embarks on an introspective journey & discovers that there is another side of him that he'd never knew it existed .
The next 2 songs are solo tracks with We wanna funk , we need a funk being the 1st up in line & this's sung by Matsumoto Jun .
It's a known fact that MatsuJun's solos are my least fave as compared to the other members & it's not helping matters that when I 1st saw the title of his latest solo no. , I thought it was a big joke as it sounds vulgar in a subtle way .
But with that said , when I manage to hear We wanna funk , we need a funk I was surprised as it's not as terrible as what I thought it might be & I'm sure the reason on why this's a heavily dance meets autotune track is that it's to conceal MatsuJun's vocals since vocals wise , he's the weakest in the group .
To sum it up , We wanna funk , we need a funk is actually quite tolerable for my liking .
two is the next solo track & for this , it's sung by the leader Ohno Satoshi .
Ohno always has consistently good solos & with him having the best vocals in the group , it's hardly surprising but still hearing two for the 1st time was surprising to me .
For once , two is not the typical standard ballad that Ohno usually does & it has quite a bit of an edgy vibe attached to it . In short , two is kind of like a hybrid mix of a ballad meets upbeat dance tune .
Unusual combination but somehow or another , Ohno manages to work two very well & the way that he delivers the song speaks volume in that it's a great track worth enjoying .
Waiting for you is the 3rd group track & personally , this's my fave song in Popcorn .
Compared to the other group tracks , something about Waiting for you on 1st listen really made me like the song in an instant & it somehow reminds me of ARASHI's older works to a certain extent too .
I guess the old fan in me really misses their old stuff which might explain why I had that nostalgic feeling upon hearing Waiting for you .
Rakuen (Paradise) is the 3rd solo song & for this , it's sung by Aiba Masaki .
Even though Aiba is not the best singer in the group , his solos in general are pretty good as he knows what works & what doesn't work for him .
In the case of Rakuen , it's much different from his past solos which definitely surprised me as I thought it was going to be something Aiba usually does but not in this case .
For Rakuen , it's quite an angsty driven no. which in the beginning it has a soft side but slowly but surely it transformed itself into something edgy driven . A nice surprise but a good 1 that Aiba delivered .
Tabi wa Tsudzuku yo (Journey Will Continue) is the 4th group track & at 1st I thought this was going to be a ballad but turns out I was really wrong .
In addition , it's probably the most quirky track in Popcorn as it sounds extremely loopy but at the same time it gives off a very strong carnival circus vibe .
Coupled with Sakurap , Tabi wa Tsudzuku yo puts itself up there really high in the experimental level . It's a song that either will be liked or disliked but you have to hand it to ARASHI for tackling something new like this .
Sore wa Yappari Kimideshita (It Was You After All) is the 2nd last solo track & for this , it's sung by Ninomiya Kazunari .
Written by Nino & with him co-arranging the song with ha-j , Sore wa Yappari Kimideshita is hands down the best solo in Popcorn , with Ohno's two coming at a close 2nd .
For Nino's case , his solos might fall in the hit or miss category but when his songs are in the 1st category , it gets done exceptionally well & likewise the same thing goes for Sore wa Yappari Kimideshita .
Sore wa Yappari Kimideshita is emotional , haunting & so beautiful which reminds me from where Nino's previous solo Doko ni Demo Aru Uta. (Song That Exists Anywhere.) left behind which's brillant .
No doubt that Niji (Rainbow) is still Nino's best solo but no complaints should be filed against a simple understated piano driven ballad in the form of Sore wa Yappari Kimideshita .
Meikyuu (Labyrinth) Love Song is ARASHI's 36th single & it was used to promote the drama Nazotoki wa Dinner no Ato de , starring Sakurai Sho .
The oldest single included in Popcorn , Meikyuu Love Song is described as a positive tune about the bond of family , friends & lovers .
Your Eyes is ARASHI's 39th single & it was used in the drama Mikeneko Holmes no Suiri , starring Aiba Masaki .
Described as a mellow & contemplative mid-tempo tune , Your Eyes is the most recent single released prior to Popcorn . Even up to now , this song's still something that I really like .
Fly on Friday is the final solo track & for this , it's sung/rapped by Sakurai Sho .
With rap lyrics written by Sakurai himself , naturally Fly on Friday is quite heavily rap driven .
Sakurai's solos usually are a hit or a miss but in the case of Fly on Friday , I think it's quite decent even though I can't help but feel that this song oddly sounds like something that might be used in a World Cup football competition .
Likewise , the same thing goes for the next track Cosmos which's a group offering & I guess this might explain why both songs are included side by side together as they sound almost quite identical , sound wise .
But at the same time , Cosmos includes Sakurap so there .
Akashi (Proof) is the 2nd last group track & it's the 2nd song that has a promo tie in with it serving as the theme song for NTV during the time when the TV station did coverage on the 2012 London Olympic games .
The only ballad track in Popcorn , Akashi is definitely a keeper & I like the way that the guys's vocals are in synch with each other . Coupled with a really grand sounding melody , it doesn't get any better than this .
Up to you is the final song in the tracklist . While Welcome to our party served as a fun opening track for Popcorn , Up to you on the other hand served as a pretty good closing no. in wrapping things up on what Popcorn has to offer .
After being in the business for 13 years , ARASHI shows no signs of slowing down & it's evident in the release of their latest album Popcorn .
I must say that I had a few surprises when I listened to Popcorn as this album exceeded my expectations on a few issues , especially on the solos which're probably the group's best in quite a long time .
Compared to their previous album Beautiful World , Popcorn somehow feels much more well put together , with the singles included in Popcorn are more top notch if not better which's evident in the best single that the group put out for this year ie. Face Down .
Even if so , with regards to the group tracks , they're also a class of their own right which leads to the final input of Popcorn being entertaining & enjoyable from the start to finish .
Definitely an album worth checking out before 2013 swings by !