CD Review :: Mao from SID - Maison de M EP

CD
CD + DVD A
CD + DVD B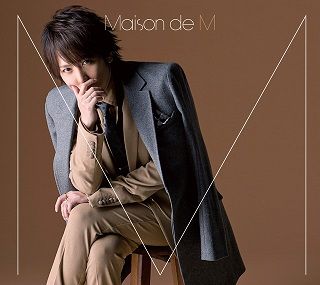 1) chandelier
2) Manicure
3) Hoshi
4) Sayonara Last
5) Hozue
6) Tsuki
Maison de M EP is SID's Mao's debut solo mini album & it was released last month on 28th Sept .
This release includes 6 songs inclusive of Mao's debut solo single Tsuki / Hoshi . All songs in the EP were written by Mao himself .
Maison de M EP kicks off with the peppy upbeat track chandelier with great Jazz influences thrown in for good measure while the next album track Manicure is a chilled out laidback Bossanova driven no. .
Hoshi is the 2nd A-side of Mao's debut solo single Tsuki / Hoshi . I didn't liked this song at the time when Tsuki / Hoshi was released but the song has grown on me considerably since then .
Sayonara Last is the next track & it's also the only album track that gets a video .
I would prefer if chandelier gets a video as it's quite a strong opening album no. but Sayonara Last is nonetheless equally good & memorable .
Hozue is the last new album track in Maison de M EP . It's also a slow laidback no. like Manicure except the difference is for Hozue , it's more piano driven .
Saving the best for last is Tsuki which's the 1st A-side of Mao's debut solo single Tsuki / Hoshi . I remembered when I 1st heard the song , I was surprised as it was unusually long but it's still a pretty good song .
After SID's bassist AKi became the 1st member from the group to go solo last year , it's no surprises frontman/vocalist Mao would follow suit after AKi . But what surprised me regarding Maison de M is Mao's decision to embrace the Jazz/Bossanova genres , something that's very different from what SID does (even though they do have a Jazz no. here & there in their discography) .
As such , Maison de M is an interesting release as I never would have thought Mao's vocals would suit Jazz/Bossanova quite well . It would have been better if this release is a full length album but it's better than nothing .
All in all , I enjoy what Maison de M has to offer & it's a solid release in listening to , if you plan to stay in/relax for the day . I look forward to hear what Mao plans to do/release in the near future , solo wise .