CD Review :: MUSCLE ATTACK - HERCULES ROAD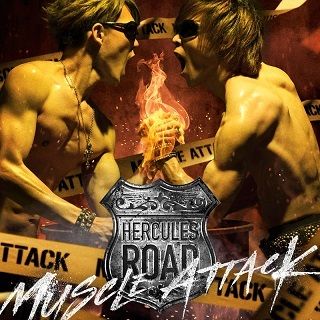 1) SURVIVE
2) Hercules Road
3) LIVING DEAD
4) PROLOGUE
5) I WANNA ROCK 'N' ROLL
6) BLUE SKY BLUE
7) LAST TRAIN
8) WHO I AM
9) TIME GOES ON
HERCULES ROAD is MUSCLE ATTACK's 3rd album & it was released last month on 11th May .
Released on the same day as BREAKERZ's guitarist SHINPEI's birthday , the group's previous album ATTACK was released last March .
Up to now , there's still no studio versions of CYCLE & LIFE GOES ON but the acoustic version of LIFE GOES ON is included in the DVD footages of ATTACK .
All songs in HERCULES ROAD were written & composed by SHINPEI except for :
- PROLOGUE ; written & composed by bassist Jong
- WHO I AM ; composed by guitarist Shunp
While songs that're sung in full English include :
- SURVIVE
- LIVING DEAD
- WHO I AM
Kicking things off in HERCULES ROAD is SURVIVE & it's the only track that received a studio live video .
It's easy to see why SURVIVE has 1 out of the rest (although some other tracks deserve it) as it sets the tone on what to expect in the later part of the album .
Sharing the same title as the album , it's Hercules Road & just like SURVIVE , it's another hard thumping in your face song .
As for LIVING DEAD , the emphasis of the drum beats can be heard considerably in it .
PROLOGUE is the only track in HERCULES ROAD that's not sung by SHINPEI seeing that the vocals are different here & I have a feeling it's bassist Jong as he was the 1 that wrote + composed it , similarly to what he did for My BLOODY BUNNY in their debut album MUSCLE (with him composing the song) .
The next 2 songs are my favourite tracks in the album . I WANNA ROCK 'N' ROLL has a great upbeat cheery feeling while BLUE SKY BLUE is the closest thing you can get as a ballad in HERCULES ROAD .
From another upbeat song to another , in comes LAST TRAIN followed by WHO I AM .
WHO I AM is considered the oldest song in HERCULES ROAD as before it was given the CD studio treatment , it was 1 of the songs that the group performed live quite constantly in their past concerts/tours .
Concluding things off is TIME GOES ON . While it started off mellow , the mood changed to a full out rock song after the introduction .
MUSCLE ATTACK showcase their muscles , brains & brawn in their latest release HERCULES ROAD & frankly , I feel happy for SHINPEI that despite the odds , they're still able to release another album .
Writing my opinions on MUSCLE ATTACK's music has not been easy as at times I have problems using the right words to describe their music but at the end of the day , it's good old fashioned rock music with an Americanised flair .
For HERCULES ROAD , it's not a bad release just that I wish there were more ballads in the album & some of the songs don't stand out but the ones that I like , they're real gems .
Not everyone will like/enjoy their music but I admire each of the members' decision to continue to release music . Not everything in their discography is great but for the selective few tracks from their records that're good , they're home runs to me .
It reminds to be seen if they will release another album next as it's surprisingly odd that CYCLE & LIFE GOES ON have no CD studio versions yet .
Perhaps they will be eventually made to the group's next release , only time will tell .