CD Review :: Namie Amuro - PAST < FUTURE

CD Only Cover :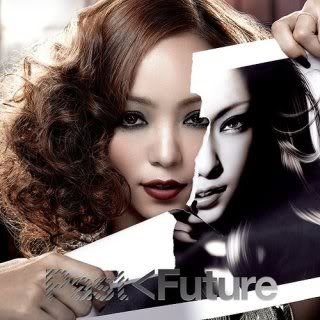 CD + DVD Cover :




Tracklist :

1) FAST CAR
2) COPY THAT
3) LOVE GAME
4) Bad Habit
5) Steal my Night
6) FIRST TIMER Feat DOBERMAN INC
7) WILD
8) Dr.
9) Shut Up
10) MY LOVE
11) The Meaning Of Us
12) Defend Love


PAST < FUTURE is Namie Amuro's 8th album . It was released this Wed on 16th Dec & this comes 2 1/2 years since the release of her last album PLAY .
The album only contains 1 single which's her 33rd single WILD / Dr. . As such , you're not able to find her 32nd single 60s70s80s in here but you're able to find the 3 songs in her million selling compilation album BEST FICTION .
4 album tracks receive music videos for that matter .
FAST CAR is track #1 & it's the 1st album track that received a music video , just like what happened to Hide & Seek in PLAY's case .
I did wrote that I initally said that FAST CAR is still not as catchy as Hide & Seek but now , I guess they're both on par with each other .
There's virtually no escape of fast & sexy jazzy trumpets beats that you can hear blaring out at every single corner in FAST CAR's case & for that , it's 1 hot smoking opening album track .
COPY THAT is track #2 & this was used in the Vidal Sassoon ad , just like for Dr. & MY LOVE which I will review both tracks later .
I wouldn't deny that COPY THAT is 1 of my fave album tracks on the album . It sounded like a song that has various mash up's being put together rather nicely .
It might get repetitive as each listen goes by but I'm fine with it & I knew it somehow or another that I would like the full song after I heard the preview of this no. when I saw the Vidal Sassoon ad which featured Namie herself .
LOVE GAME is the 2nd album track that got a music video . I initally did said that I didn't find the song that memorable for my liking but after many listens , I have no problems with it .
Also the background vocals where Namie sang 'loving you loving you' , that no doubt gets addicitive as each listen goes by .
Bad Habit sounded like a standard R&B fare to me . I frankly don't find anything outstanding about this no. & it doesn't really help that Namie sounded like she sang 'bad rabbit' in here too .
Steal my Night is 1 hot finger snapping no. . Seems to me that after Bad Habit ended , the melody from the song was being 'recycled' .
But anyway , I don't mind & I also like the jingling guitar riffs going on in Steal my Night which gives the song the edge it needed .
FIRST TIMER is the only song which has a guest feature artiste in the form of DOBERMAN INC .
This's probably the strangest song you can find in PAST < FUTURE . It's basically like a mash up of several songs rolled into 1 & it does have a futuristic sound attached to it .
I gather I would have liked the song a lot more if not for the rapping that's going on in here that's done by DOBERMAN INC .
Still , I have to give props for FIRST TIMER for sounding really unique/cool .
The next 2 songs are the 2 A-sides taken from Namie's 33rd single WILD / Dr. .
WILD was used to promote Coca-Cola Zero in their ads which Namie appeared in the ads .
Even though WILD / Dr. was released way back on 18th March , WILD is a song that I can never get sick of at all .
I mean , what's there to dislike about WILD ? it's still an insane hot catchy track which always put me in a really good mood .
Dr. was used in the Vidal Sassoon ads after the 3 songs in 60s70s80s in which Namie appeared in their ads herself .
Initally when the single was released , it seem like an odd no. as Dr. was something that Namie didn't ventured into before , with Dr. being a somewhat R&B mash up futuristic tune .
But now that it's slotted in PAST < FUTURE , I think it's quite fitting & it doesn't seem out of place that much .
Shut Up is track #9 & before I heard this song , I was wondering was it something that I'm not able to withstand ?
I was kinda right to a certain extent because I actually find Shut Up quite tolerable . It's probably the only song in PAST < FUTURE where it has quite a harder somewhat rock influence as compared to other album tracks .
The electric guitar riffs & finger snapping beats are pretty nice in Shut Up too but as expected , I don't really consider this as a fave album track of mine .
MY LOVE is the 2nd album song after COPY THAT which was used in the Vidal Sassoon ads .
I did wrote before that I didn't like this mid tempo R&B no. & that I prefer COPY THAT during the time when the 2 Vidal Sassoon were released & that the previews were played in the background .
I'm fine with it now but too bad after the 2nd chorus of MY LOVE was belted out , the song was a bit ruined with odd rapping being thrown in for weird measures .
The last 2 album tracks receive music videos of their own .
The Meaning Of Us is the only album ballad you can find in PAST < FUTURE & this's such a sweet no. .
What's absent is swirling future sleek beats & instead you can find a beautiful piano driven melody attached to The Meaning Of Us which's really just plain lovely .
Namie really should do more of such songs as I feel she's pretty versatile , be it when comes to ballads , mid tempo or uptempo R&B no.s .
Defend Love is the final album track & I probably can consider this as a Dr. part 2 , seeing that the music videos for both songs lies on the animated side .
Also you can hear Namie mentioned 'please save us Dr.' in the 3 min + mark of the song .
Aside from that , I think this's a great tune to close PAST < FUTURE as this's a really catchy futuristic sounding no. .
I'm not going to deny that I really like Defend Love on 1st listen . I wanted to review Defend Love on its own initally but I decided to do so now as I feel it's more fitting .
Unlike Dr. , Defend Love sounded like it's more put together as compared to Dr. where it's a bit clunky .
After the release of 2007's PLAY , Namie Amuro has since rebounced back in popularity with the release of 60s70s80s , BEST FICTION , WILD / Dr. , namie amuro BEST FICTION TOUR 2008-2009 DVD & then now with PAST < FUTURE .
I honestly had doubts PAST < FUTURE would have sounded more superior than PLAY but I take my statement back after I listened to the album .
I find myself really enjoying PAST < FUTURE from the start to the beginning & that all the 12 songs in her new record are really solid in their own respective right , seeing that most of the songs has its own unique futuristic R&B sound which have been combined with sleek & seriously great addictive beats .
She has no doubt come a long way in the industry & this's definitely 1 album you have to listen/get before 2009 wraps up .