CD Review :: Utada Hikaru - ULTRA BLUE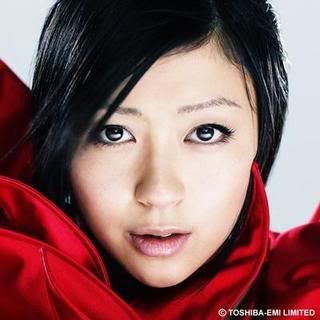 Tracklist :

1) This Is Love
2) Keep Tryin'
3) BLUE
4) Nichiyou no Asa (Sunday Morning)
5) Making Love
6) Dareka no Negai ga Kanau Koro (When Someone's Wish Comes True)
7) COLORS
8) One Night Magic Feat THE BACK HORN's Yamada Masashi
9) Kairo (Sea Route)
10) WINGS
11) Be My Last
12) Eclipse (Interlude)
13) Passion
In my previous review of Utada Hikaru's EXODUS in which you can read in here , I said that I would consider in buying her latest album ULTRA BLUE which I did managed to get myself a copy on Sun !
ULTRA BLUE doesn't stray too much from her Eng album EXODUS music wise . Writing , composing all 13 tracks in ULTRA BLUE , it shows that Utada has come of age since her debut in '98 with her very 1st Eng album Precious & now the soon to be 24 year old (whose b'day is on 19th this month) , released her 4th Japanese album ULTRA BLUE last year .
I love the fact that she's able to produce & make each track on the album sound fresh & different from each other & that the more I listen to the songs , the more they sounded better . She mainly dabbed in R&B with splashes of Pop & Ethereal to it in which I think it's great . Somemore to produce , write , composed melodies for everything in ULTRA BLUEat such a young age , it's impressive so to speak !
Some of the songs that I really really like are This's Love , BLUE , COLORS , Keep Tryin' , the beautiful ballad

Dareka No Negai ga Kanau Koro . I also like the instrumental arrangment of Sea Route as well .
With the exception of Kairo , the rest of the songs I have heard them before I laid my hands on ULTRA BLUE . I also heard Passion (in which she composed an Eng version of the song that's titled Santuary . I like Santuary it's great ! ) , Be My Last , WINGS as well which I find them not bad . However the tracks that I didn't listened to before such as Making Love , One Night Magic , Nichiyo No Asa failed to make a lasting impression on me .
It's probably because I heard the tracks that I mentioned eariler way before so in a way it's kinda unfair to pick on them as I personally think that there's isn't any single bad track on ULTRA BLUE so hopefully in time to come , I will change my perception on the songs.
But still , I like it & I'm looking forward to hear somemore new material from this talented married lass in the near future !