CD Review :: NEWS - NEWS

CD Only Regular Edition
2 CDs Limited Edition ; 2nd disc includes 4 solo songs from each NEWS member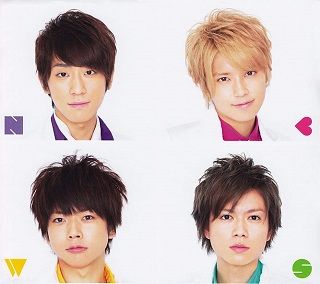 CD + DVD Limited Edition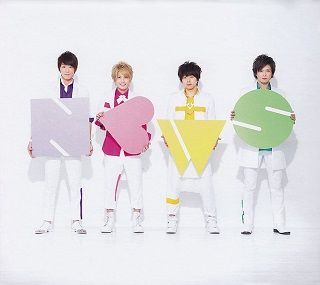 1) 4 ~compass~
2) WORLD QUEST
3) 4+FAN (Yomi : For Fan)
4) Nagisa no Onee Summer
5) Pokopon Pekorya
6) Koi Matsuri (Love Festival)
7) Greedier
8) Besame Mucho ~Kuruoshii Bolero~
9) Chankapana
10) Dance in the dark
11) HIGHER GROUND
12) Full Swing
13) CRY (CD Only Track)
NEWS is NEWS's 5th self titled album & it was released last month on 17th July .
The group's last album release was 2010's LIVE & NEWS is the 1st album release as a 4 member group .
The title of NEWS was picked in order to express the group's intention to continue representing their fans . NEWS includes 2 singles & 1 B-side , inclusive of 1 double A-side single release .
After the opening/introduction track 4 ~compass~ , the album dives straight into WORLD QUEST which's the 1st A-side of NEWS's 15t single WORLD QUEST / Pokopon Pekorya .
WORLD QUEST was used as the theme song for FIFA Club World Cup Japan 2012 with member Tegoshi Yuya appointed as the main reporter for the event .
4+FAN (Yomi : For Fan) is the 1st album track & this reminds me quite a lot of the old school NEWS , especially during the time when they 1st released their debut album touch .
As such , 4+FAN (Yomi : For Fan) is a great throwback song .
Nagisa no Onee Summer is the 2nd new album no. & it was used in the ads of Wing Kirei's Sarahada bra .
This song was 1 of the 1st few preview snippets leaked out prior to the release of NEWS & is no doubt 1 of the album's highlights , especially it's still Summer at this point in time .
Nagisa no Onee Summer could be considered as the main promo album track for NEWS as the guys have performed this quite a few times on TV & everytime I hear this song , I couldn't help but feel really happy upon hearing it . It's a bit unfortunate Nagisa no Onee Summer wasn't released as a single as it has plenty of potential to do well as 1 .
Pokopon Pekorya is the 2nd A-side of NEWS's 15th single WORLD QUEST / Pokopon Pekorya . Despite being a double A-side , a video was only made for WORLD QUEST .
In this case , Pokopon Pekorya served as the theme song that promoted the drama Hana no Zubora-Meshi which starred member Kato Shigeaki . The song was created by the same team who came up with NEWS's 14th single Chankapana in which Pokopon Pekorya gives off a light pop sound that lingers in fans's ears .
NEWS follows on with another album highlight , which's in the form of Koi Matsuri (Love Festival) . As the song title suggests , it gives off a very festive Summer vibe & it reminds me a lot of what their fellow colleagues Kanjani∞ used to do before they went mainstream .
Maybe because I really missed/liked Kanjani∞'s older works a great deal & I couldn't help but feel nostalgic upon hearing Koi Matsuri . This song's definitely 1 of my fave album tracks , alongside with Nagisa no Onee Summer .
Greedier is the next album track after Koi Matsuri . It's 1 of the album's slower no.s & it's 1 of those songs that's perfect to listen to while chilling on the beach . The sound effects in Greedier made things even a lot more convincing .
Subsequently , the mood changed quite significantly towards the next song which's Besame Mucho ~Kuruoshii Bolero~ . It's 1 of the album's edgier Latin tinged sounding tracks & it reminds me quite a lot of pacific's Ai no Matador which makes it another great throwback song just like what 4+FAN (Yomi : For Fan) offered .
Chankapana is NEWS's 14th single & this can be considered as the group's comeback release with it being NEWS's 1st release as a quartet .
Described as a love song . Chankapana means "dear or beloved" & it's a woman's exotic name that is the source of beautiful pop songs of love between men & women .
The last single included in NEWS , I still think Chankapana is a fantastic great comeback single for the guys & this proves that despite being down to 4 members , they're able to continue/solider on together despite the tough/difficult times the reminding 4 members faced & when Chankapana was released , they proved that they still are able to carry on as so .
The last few songs in NEWS are all new material in which Dance in the dark is 1 of the more in your face type of songs .
At 1st I thought Dance in the dark was going to be something like LIVE's Dancin' in the Secret but turns out I was wrong as Dance in the dark is quite mean sounding but without going overboard .
HIGHER GROUND is the 2nd last track in NEWS (should fans purchased the CD + DVD and/or 2 CDs edition) . This's a nice empowering song & although it might borderline as an album filler , I don't see anything wrong with HIGHER GROUND as I personally like it .
Full Swing served as the B-side of NEWS's 14th single Chankapana & it's the 1st time that NEWS has included a B-side in their album , something that did not happened to their 1st 4 albums .
Frankly , I was really happy when I saw Full Swing in the album tracklist because I think both Chankapana & Full Swing are equally really good even up to now so I don't really have any complaints for NEWS to include this in their album .
Found as a bonus track in the CD only edition of NEWS , it's a song that's titled CRY .
I thought CRY was going to be a really emo song but luckily it's not with it being a mid tempo no. . It's almost a bit boring for my liking but it's a grower . That said , with the majority of album tracks in NEWS are considerably top notch , I don't think CRY will be something I'll be listening to on a regular basis .
After the departure of leader Yamashita Tomohisa & Nishikido Ryo in 2011 , Johnny's group NEWS continued their activities as a quartet . The new NEWS has now finally releasing their new self-titled full-length album ! NEWS is their 1st album in almost 3 years & it features the singles Chankapana , WORLD QUEST & Pokopon Pekorya .
NEWS has definitely gone through a lot of up's & down's (probably more than any other Johnny's I know/support) since their formation in 2003 & their comeback album was definitely highly anticipated for me as I was curious on how the reminding members were able to pull it off but my fears were unfounded after I've heard NEWS .
If I have to describe NEWS's comeback album , it's a mixture of throwback elements from their older album works coupled with the now stronger than ever vocal harmonisation of the current 4 members . There's definitely something for everyone to enjoy in NEWS & I think that's what the guys were able to accomplish .
Up to now , I still think NEWS is 1 of the most under-rated Johnny's as all the while , they genuinely has been consistent with the quality of their music . No exception for their comeback album which I really enjoy a great deal .
The release of NEWS can be signified as a rebirth of sorts & this's just merely the beginning if not start for the brand new NEWS with hopefully even more great material to be released from them in the near future !