CD Review :: MUSCLE ATTACK - MUSCLE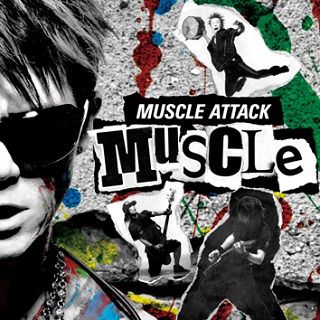 1) MUSCLE PARTY 
2) My BLOODY BUNNY 
3) RUNNER'S HIGH 
4) FIRE!! 
5) HIGHER 
6) HERO 
7) SPREE 
8) BYGONES 
MUSCLE is MUSCLE ATTACK's debut album & it was released last month on 27th Nov .
MUSCLE ATTACK is fronted by BREAKERZ's guitarist SHINPEI in which he started it as part of his solo project since BREAKERZ are currently on hiatus in order for each of the members to focus on solo projects for this year .
In MUSCLE ATTACK , SHINPEI serves as both the vocalist & guitarist . The rest of MUSCLE ATTACK consists of guitarist Shunp , bassist Jong & drummer HIDEHIRO .
No physical singles are included in MUSCLE . All lyrics in the album were written by SHINPEI . Except for My BLOODY BUNNY & SPREE that were composed by Jong , the other songs were composed by SHINPEI .
The 8 track album kicked things off with MUSCLE PARTY in which as the song title suggests , it's a fun energetic song that sets the mood on what to expect with the other songs found in MUSCLE .
My BLOODY BUNNY follows after MUSCLE . MUSCLE was preceded by My BLOODY BUNNY in which this song was 1st released digitally online on 17th July .
Promo wise , My BLOODY BUNNY was used to promote MUSIC JAPAN TV's MUSIC LAUNCHER in May as an image song .
Found as track #3 , RUNNER'S HIGH was picked to be used as the opening song for MUSIC JAPAN TV's MUSIC LAUNCHER for last month .
I've already heard the live version of RUNNER'S HIGH before the release of MUSCLE and needless to say , I was excited to hear the studio take of it . And to me , RUNNER'S HIGH is 1 of the standout tracks in the album .
FIRE!! is track #4 & this song has an interesting melody . It's fast paced but yet there's something quite enjoyable when comes to listening to FIRE!! .
On the other hand , HIGHER boosts rather shocking lyrics in the song as the F word was used in it which definitely caught me by surprise when I 1st heard the song while eventually looking at the lyrics .
That said , HIGHER is 1 of the more angsty driven songs in MUSCLE , be it lyrically and/or melody wise .
HERO follows after HIGHER . The 6th track in MUSCLE , HERO has a lot of good guitar riffs and SHINPEI's voice has been quite distorted here which was probably done on purpose .
The 2nd last track in MUSCLE , SPREE is a fun energetic song and it's something that I enjoy quite a fair bit .
BYGONES is the final song in MUSCLE & it's also the longest sounding track in the album too . It's not really my fave song in the album but I guess the guys have their own reasons in choosing BYGONES to conclude MUSCLE .
After the solo releases coming from BREAKERZ's AKIHIDE & DAIGO respectively , it's now SHINPEI's turn in the form of him releasing MUSCLE with new band mates under the group name MUSCLE ATTACK .
To be honest , I was quite skeptical on what MUSCLE ATTACK had to offer & given that their group name might come across a bit of a punch of jokes , it doesn't quite help matters either .
But I must say upon listening to MUSCLE , I was surprised on what the album had to offer & SHINPEI really deserves brownie points seeing that he put in considerable amount of effort to try his best to make MUSCLE work , especially since this time round , in addition to composing , he wrote lyrics for the 1st time , something that he didn't do so in BREAKERZ (yet) .
On the other hand , SHINPEI's music vocals is actually my least fave in BREAKERZ as vocal wise , he doesn't sound as good as AKIHIDE and/or DAIGO which might explain why quite a fair bit of songs in MUSCLE were concealed by music layering .
That doesn't mean MUSCLE is overall a bad album though . At the end of the day , SHINPEI & the rest of his band mates put in their heart , time & effort into making MUSCLE which I respect that . It's not easy but I'm sure for SHINPEI , this means a lot to him in getting MUSCLE released physically .