Monday, September 24, 2007
CD Review :: Koda Kumi - BEST ~second session~

CD Only Cover :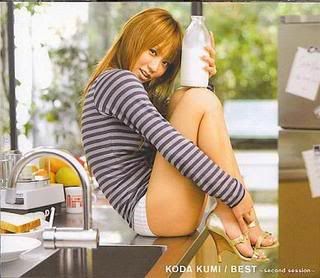 CD + DVD Cover :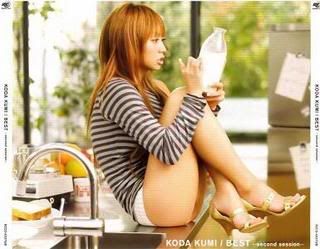 CD + 2 DVDs Cover :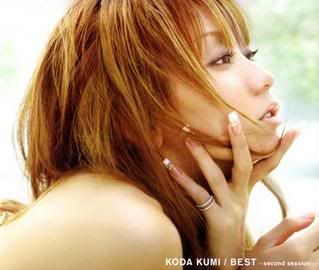 Tracklist :
1) Introduction to the second session
2) D.D.D Feat SOULHEAD
3) you
4) Candy Feat Mr. Blistah
5) Shake It Up
6) feel
7) WIND
8) Love goes like ...
9) No Regret
10) Birthday Eve
11) Lies
12) Ima Sugu Hoshii (I Want You Now)
13) KAMEN (Mask) Feat Kome Kome Club's Ishii Tatsuya
14) Someday
15) A Whole New World With Peabo Bryson (Bonus track on CD+2DVD)
In Dec 2005 , Koda Kumi began a project called the ~12 Singles~ Collection in which she released 12 singles for 12 consecutive weeks . The project was such a massive success her management wrapped all of the 12 singles into one best album : BEST ~second session~ .

The album contained all the title tracks of the ~12 Singles~ Collection , with the exception of Boys♥Girls and all the music videos of the project + 2 new tracks Love goes like ... & a cover of A Whole New World together with Peabo Bryson . The latter's only available in the limited edition CD + 2 DVDs .

But I have to say I really like Love goes like ... , it's good stuff . Initally I was bummed that Boys♥Girls wasn't included in the tracklisting which's the other double A side in Someday but now I'm kinda glad that song wasn't included cos honestly I think it's a rather weak song . Somehow it doesn't register in my head .

I wouldn't really call it a greatest hits compliation , more like a collection of songs that she has released from the ~12 Singles~ Collection . If you managed to look at all 12 singles cover from the ~12 Singles~ Collection , each of the 12 singles' covers represent a traditional dress from a different culture which's really cool .

You get a mixture of upbeat songs & ballads thrown in this compliation in which I think all of them are awesome although it took me some time to remember the song title & also which track/s she released in chorological order .

The tracklisting in the album's not in order in that by right she released the ballad you 1st & she closed the ~12 Singles~ Collection with Someday/Boys♥Girls so in my mp3 , I sorted the tracks according to the 1st track she released all the way to the last so it will take you sometime to familiarise yourself with this . Her management should have done that instead of messing the tracks around if you ask me .

The few tracks that I think are pretty weak & initally didn't register with me are D.D.D. feat SOULHEAD & Someday but the other tracks from the ~12 Singles~ Collection are really good .

Whether is it the ballads you , feel , KAMEN feat Tatuya Ishii or the upbeat no.s like WIND , Birthday Eve , the catchy Shake It Up , Lies or the steamy sex romp Imasugu hoshii(I want it right now) , there's something for everyone .

In fact I didn't know that the lyrics of Imasugu hoshii's super steamy & that it's a cover of SUGAR SOUL's hit which was released in 1997 . Apparently in Imasugu hoshii , Koda's singing about about sex , orgasms & whatnot alongside a heavy R&B beat . So much so that the song's banned in Korea .

The whole song is filled with overly sexual lyrics , but the rap that Koda did in the song's pretty cute . Then again even if my sister didn't roughly translate the lyrics to me , I somewhat can guess what Imasugu hoshii's all about , more or less but I like the song actually although the lyrics are sexually explicit . Luckily it's in Japanese .

In case you want to pick up your copy of BEST ~second session~ , the album's slapped with a M18 rating if you're picking up a copy of it which comes with a DVD containing all the videos from the ~12 Singles~ Collection & I think it's because of the videos which attributed to this .

The pics in the CD sleeve do play a part in it as well but I think it's the videos which contributed to the fact that the album's slapped with a M18 sticker in front of the CD cover . If you watch the videos for Imasugu hoshii , it's enough said where you get guys auctioning themselves for sale in front of Koda . Erm... nice .

The videos of you , Lies , feel & Someday strings together a drama show called Wish your happiness & love in which stars Koda herself & 3 Japanese actors & I suspect the videos of Lies & feel up the sex factor . I was watching the 4 videos & trying to interpret it & it was like watching a M18 drama show especially on what happened in Lies & feel .

I'm glad that I picked up a copy of this cos I really like the songs in there & there's something for everyone & I think Koda has come a long way & she has paid her dues & it's good to see that she's finally seeing the light at the end of the tunnel .
Thursday, September 20, 2007
ayumi hamasaki - decision (B side of talkin' 2 myself)

CD Only Cover :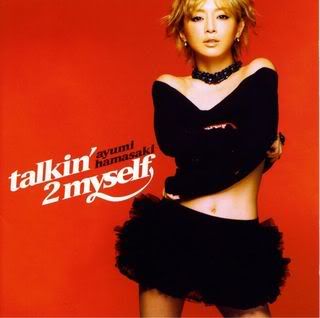 CD + DVD Cover :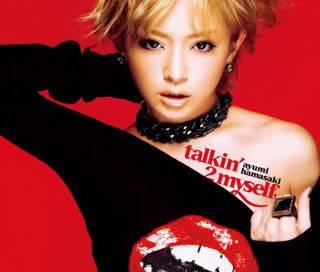 The B side of Ayumi's talkin' 2 myself single , it's something called decision . Just like talkin' 2 myself , it's another upbeat rock track & it's a good song .

I know usually for Ayumi's case , she doesn't tend to release music videos associated with B sides so this's a really rare case for her to choose to release a music video for a B side & honestly the video of decision's nothing to shout about .

The video centres Ayumi performing with her band & backup singers in which I recongise them from some of the tour DVDs that I caught of Ayumi previously .

I like Ayumi's outfit in the video of decision .


Saturday, September 08, 2007
ayumi hamasaki - talkin' 2 myself

CD Cover :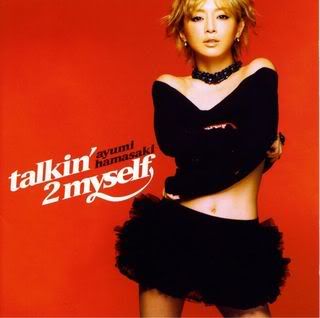 CD + DVD Cover :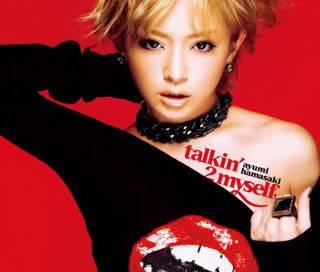 Set to be released in 2 Wed's time ie. on 19th Sept in Japan , it's the Empress of J Pop Ayumi Hamasaki's 42nd single talkin 2 myself .

talkin' 2 myself's used on the latest Panasonic Lumix FX-33 camera ad which features Ayumi who endorses it . The song's a rock track & there's a B side which accompanies it , called decision .

talkin' 2 myself's really good , it brings back & reminds me of her older rock & mid tempo material & I'm sure this will do well on the charts once it's released in Japan real soon .


Sunday, September 02, 2007
CD Review :: The Click Five - Modern Minds And Pastimes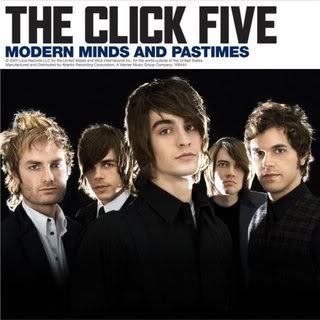 Tracklist :

1) Flipside
2) Jenny
3) Happy Birthday
4) Addicted To Me
5) I'm Getting Over You
6) When I'm Gone
7) Headlight Disco
8) The Reason Why
9) All I Need Is You
10) Long Way To Go
11) Mary Jane
12) Empty


MTV Asia Buzzworthy Artiste for Sept takes centrestage in the form of The Click Five & what better way to review their 2nd album Modern Minds And Pastimes today .

This time they're back with a new hot frontman called Kyle Patrick after the surprise departure of Eric Dill who has left to pursue a solo career & they came back with a superb 2nd album which I love a lot big time & I finally managed to get my copy when it was finally released in S'pore last week which surprised me cos I called Warner Music up & they said that it wouldn't be released til early Sept . Even my friend thinks that I'm crazy for doing that but I don't care !

Honestly as compared to their debut album Greetings From Imrie House & their new record , I definitely prefer the 2nd album . Initally I was skeptical whether can Kyle carries things well & nicely cos he really had some serious big shoes to fill in after Eric left but I'm glad to say that he has passed in my books !

From the 1st single Jenny to the catchy melodies of I'm Getting Over You , When I'm Gone , the tear jerker Mary Jane , The Reason Why , there's something for everyone . Kyle even cowrote the last track Empty with keyboardist Ben Romans which's a nice slow No. which slower builds up in due time .

I also like Addicted To Me with Ben playing & kicking the synth notes to a notch higher . Damn sexy but I find Headlight Disco a bit cheesy .

It's a pity that the album has bombed in US in that its 1st week sales was a mere 5,800 copies but sometimes you don't judge a good record with just sales alone . To me I always feel that if an album sounds good & better than previous records any artistes has released , it's good enough for me . I don't care about sales figures & the works cos no point buying an album which shifted a lot of copies but yet the material sucks hands down .

With that said , The Click Five's about to stop by S'pore again real soon . YES I know with a showcase & autograph session being planned at the moment . Just purchase you copy of Modern Minds And Pastimes now & inside you will get a special invite which you should definitely keep it .

Hopefully I can go for the showcase cum autograph session ! It will be awesome to finally meet the 5 cute , talented & very good looking guys in person !