CD Review :: KinKi Kids - J album

CD Only Cover :




CD + DVD Cover :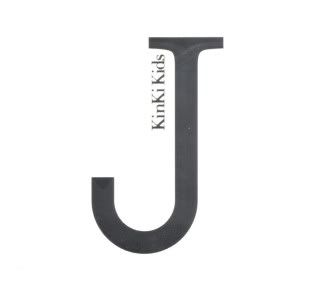 Tracklist :

1) Swan Song
2) Houseki wo Chiribamete (To Mount Gem/Jewel)
3) Ashioto (Footsteps)
4) Yakusoku (Promise)
5) Tsubasa (Wings) -little wing-
6) walk on ...
7) Secret Code
8) Yuutsu to Niji (Depression/Gloom And Rainbow)
9) I will
10) Missing
11) Kaze to Sonnet (Sonnet Of Wind)
12) Ai ni Tsuite (About Love)(CD Only Track)


J album is KinKi Kids's 11th album . It was released on 9th Dec & this comes 2 years since since their last album Φ (Phi) .
3 singles are included in J album & it debuted at #1 with 1st week sales of 170,183 .
Swan Song is the duo's 29th single & also incidnetally the very 1st & most recent track/single you can find in the album tracklist .
The song was used as a TV commercial song for music.jp & Swan Song's lyrics was written by Takashi Matsumoto who also worked on the guys's past singles such as their debut single Garasu no Shounen (Glass Boy) , Cinderella Christmas & Hakka Candy .
Swan Song is something that I'm still not bored of listening to . Because of the fact that it's kinda like a trip down memory lane to their debut single , Garasu no Shounen , I guess that's quite a big reason on why I like Swan Song so much .
For a song that has quite a somewhat depressing title , it's surprisingly really upbeat with piano organ sounds you can hear in the backdrop .
Houseki wo Chiribamete (To Mount Gem/Jewel) is J album's 1st album track & this's 1 really cool song .
It's an upbeat tune just like Swan Song but the difference's that Houseki wo Chiribamete has somewhat of an Egyptian flair to it which I think it's really unique .
Ashioto (Footsteps) is the 1st album track that's a ballad . I feel that it's a prominent album track .
It has a strong Enka driven melody for starters & the duo's vocals are quite solid in delivering this good tune .
From 1 ballad to another , in comes the duo's 28th single Yakusoku (Promise) .
Out of the 3 singles that made the cut in J album , this's the only song that's a ballad & it's quite a depressing tune .
Having said that , it's ok to put out such emotional heartfelt no.s once in a while & I think the guys nailed this aspect of Yakusoku downpat .
Tsubasa (Wings) -little wing- is yet another album ballad but unlike Ashioto , this has a simple acoustic guitar melody that backed up the guys's vocals with some minor percussion thrown in for good measures .
I feel that Tsubasa -little wing- is nice & that you don't need any extra fancy stuff to make the song sound good as it's already .
walk on ... is 1 hot upbeat tune . It has some groovy futuristic sounding beats attached to it .
After 3 ballads , it's nice to finally listen to an upbeat tune I say .
Secret Code is the duo's 27th single & it was used as the theme song used for the dorama 33pun Tantei in which Domoto Tsuyoshi starred in .
I guess I can understand why walk on ... was slotted in before Secret Code seeing that both songs are in the same genre ie. upbeat .
Except for Secret Code's case , it takes on a more jazz influence which I like on 1st listen as this's something that the duo didn't venture into so it's nice for a change for them to do such a no. .
Yuutsu to Niji (Depression/Gloom And Rainbow) is the next album track that's upbeat .
This's quite a cheery upbeat no. & I actually find myself humming alongside to Yuutsu to Niji for that matter which's pretty cool I guess .
The last 4 album tracks on J album are mid tempo & ballads no. .
I will is quite a slow finger snapping tune . I was a bit bored with the song initally as I found it quite slow/unmemorable for my liking .
I'm fine with it now but I will not consider I will as a fave album track of mine .
Missing is probably the surprising track on J album as it's a full English no. .
I was no doubt surprised when I listened to Missing & I honestly was surprised that the duo's English dictation is pretty good .
Tsuyoshi's English dictation is slightly better than Koichi but there's something charming about this gospel influence driven no. I say .
Kaze to Sonnet (Sonnet Of Wind) is a really powerful ballad . It's an orchestra driven no. & coupled with flute influences to give you this really beautiful song .
After Kaze to Sonnet concludes , you can hear a 40 seconds + interlude which subsequently flows into Ai ni Tsuite (About Love) .
Ai ni Tsuite is only found in the CD only edition of J album & just like Kaze to Sonnet , it's a ballad except it's a stripped down no. & a lot more slower than Kaze to Sonnet .
The song initally had a slow piano backing which accompanied the duo's vocals but slowly along the way , the song began to transform itself into an emotional driven ballad with minor percussions which close things pretty nicely .
J album is the 1st KinKi Kids album that I have listened to & I honestly think that this's a pretty solid record coming from the 2nd best selling Johnny's act of all time .
I did find some parts of the album quite slow/unmemorable for my liking initally & it does have that Yakusoku/Swan Song vibes it gives out in here but in due time , the album tracks began to take shape & a life of its own .
Production of the album's pretty solid & the duo has some great harmonisation going on in between them .
This's probably the last Johnny's albums you should get before 2009 wraps up .