CD Review :: BREAKERZ - FIGHTERZ

CD Only Cover :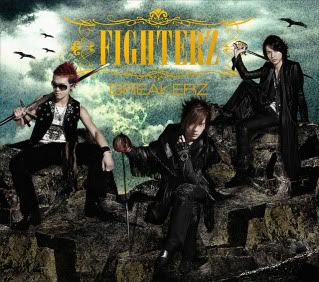 CD + DVD Type A Cover :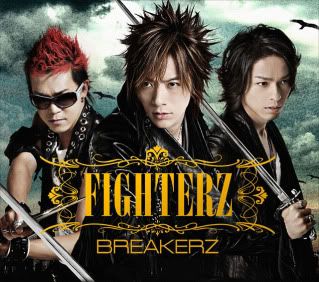 CD + DVD Type B Cover :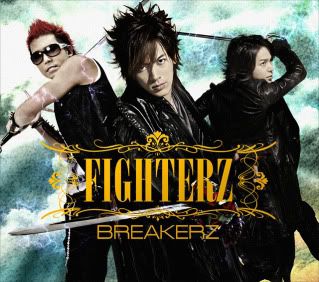 Tracklist :

1) THEME OF FIGHTERZ
2) NEXT LEVEL
3) LOVE FIGHTER ~Koi no (Love) Battle~ (FIGHTERZ MIX)
4) SUPER-HI-TENSION !!
5) BAMBINO ~Bambino~ (FIGHTERZ Version)
6) Everlasting Luv
7) SECRET GIRL
8) Bokura (Us)
9) Hatsukoi (First Love) Trampoline
10) Orion
11) Snow Rose
12) DEAR LIAR
13) GRAND FINALE
14) Hikari (Light) (FIGHTERZ Version)
15) Feel so good (B.R.Z Version) (BONUS TRACK)


FIGHTERZ is BREAKERZ's 4th album . It was releasd last Wed on 2nd Dec & this comes in almost a year since the release of their previous album BIG BANG ! .
All the singles that the guys released this year all made the cut in FIGHTERZ . They started to incorporate B-sides this year too but you will not find any of them in here .
FIGHTERZ debuted at #7 with 1st week sales of 20,564 copies & it ranked a notch higher than BIG BANG ! , making FIGHTERZ the trio's most successful album in terms of chart ranking & this's their 2nd album to attain top 10 status ranking as well .
This album was released as part of their triple 3 months trilogy campaign . Oct 14th saw the release of their 1st DVD BREAKERZ LIVE 2009 "WISH" in Nippon Budokan while on 4th Nov , they released their 7th single LOVE FIGHTER ~Koi no (Love) Battle~ & then finally last Wed , their 4th album FIGHTERZ dropped .
THEME OF FIGHTERZ is the 1st track to kick things off & this's their 1st album to have an instrumental piece for an opening , something that wasn't found in their previous albums at all .
Composed by guitarist SHINPEI , he described THEME OF FIGHTERZ in that this's the first time BREAKERZ has composed an orchestra sound , an instrumental work .
THEME OF FIGHTERZ begins with a melody which bears resemblances a battle scene of warriors & it utilises many instruments like a violin , a guitar & a hum .
I have to say THEME OF FIGHTERZ is probably the best opening track I came across this year & it's a pity that it's quite short at 37 seconds but it sets the bar on what you should expect as you run though the album in later course .
With this , THEME OF FIGHTERZ flows extremely well to the 1st album track titled NEXT LEVEL .
NEXT LEVEL presents a totally different side of BREAKERZ that I never seen (heard) before . SHINPEI described it as an attack song & states that "This song is by any chance an unexpected song" which I feel he basically summed up about NEXT LEVEL .
It's no Shakunetsu (Burning) but the moment when I 1st heard the preview of NEXT LEVEL , I know it somehow or another this's going to be something that will totally rock things out literally & my prayers were answered when I finally got to hear the full version of the tune .
NEXT LEVEL is pure love & credits has to go to frontman DAIGO who wrote & compose this ace tune .
The FIGHTERZ MIX of their 7th single LOVE FIGHTER ~Koi no Battle~ is found as track #3 & there's not much significant change as compared to the single version .
In here , you can hear DAIGO's echo voices pepping though the background of LOVE FIGHTER ~Koi no Battle~ .
Still , LOVE FIGHTER ~Koi no Battle~ is something I truly enjoyed as when you have DAIGO writing this & SHINPEI composing it , you know crazy things like this will bound to happen LOL
The entertainment side of BREAKERZ can be felt a lot greatly in this song which has a lot of boxing jargons & perhaps it's no surprises that it's a danceable rock number & to me I feel it's good to put out such a no. once in a while .
LOVE FIGHTER ~Koi no Battle~ is a dance tune but various rock guitar riffs can be felt quite significantly here & it no doubt has a good rhythm coupled with a violent rock guitar sound with a pop feeling thrown in for good measures .
SUPER-HI-TENSION !! is the 2nd album track & if you realised this has quite an Americanised flair to it .
The reason on why so is because when DAIGO came back from Los Angeles , he brought back a souvenir : a cute crab plushie (don't ask) & the demo for this no. .
This's not a typical song the guys will usually do seeing that it's basically a pop/rock song but still I like it as it basically tend to raise my mood pretty nicely & I feel the ending of the song sounded a bit like their 4th single GRAND FINALE to a certain extent .
The only gripe I find about SUPER-HI-TENSION !! is DAIGO's English command which can be a bit grating but this doesn't stop me from enjoying SUPER-HI-TENSION !! at the end of the day .
A trvia fact about this song is that prior to getting a title , Go Go L.A. was initally used as the working title before they eventually settled for SUPER-HI-TENSION !! .
The next 2 songs are tunes that the guys have already released in the form of their 5th single Everlasting Luv / BAMBINO ~Bambino~ which was released on the same day as DAIGO's 31st birthday .
The 2nd A-side was used in the hair wax company men's Palty ad which DAIGO appeared in the ad .
Just like LOVE FIGHTER ~Koi no Battle~ , BAMBINO ~Bambino~ has received an album mix in the form of the FIGHTERZ Version .
Compared to the single version , you can hear the sound of a pair of champagne glasses clinking in the beginning & then a 15 seconds hot sexy trumpet latin piece can be heard moments later before the song starts .
I still can remembered when the guys 1st released BAMBINO ~Bambino~ alongside with Everlasting Luv , I was totally shocked because this's their 1st single no. that they released that's not a straight rock no. & really with SHINPEI onboard who's responsible for composing it , I guess only the unexpected can be well expected ?
Still you can't deny that this's 1 hot latin rock song that's so full of passion ! . Not many people knows this but the last part of the song where DAIGO sang the whole SHAKE SHAKE SHAKE MY SOUL , before that was incorporated , they temporarily used 'Sum~mer par~ty night' which I find it cute .
From the 2nd A-side to the 1st A-side , this brings the guys back to what they basically does best aka a no frills straight up rock no. !
Everlasting Luv served as the 26th opening theme song for the anime Detective Conan .
DAIGO was involved in the Detective Conan movie Detective Conan : The Raven Chaser in which he voiced Mizutani Kousuke .
In the demo of Everlasting Luv , it was actually a beautiful acoustic guitar piece but DAIGO had an idea to let guitarist AKIHIDE's guitar to basically let it rip super big time in here which eventually that idea bears fruit .
Compared to all the singles that they included in FIGHTERZ , Everlasting Luv is the guys's most rock out there no. & this's something that I always never fail to put it on repeat mode every single time .
What's there not to love about this song anyway eh ?
SECRET GIRL is track #7 & this's a really hot hot hot song & it's probably 1 of my fave album tracks in FIGHTERZ .
This was apparently first written by AKIHIDE , but DAIGO rewrote it from a girl's point of view & is deemed a super erotic song (don't ask) .
Despite this , both their names are credited together in the writing credits section on the CD sleeves of FIGHTERZ .
Aside from the lyrics , the melody is just super sexy & this's probably the 1st time that they have went for a jazzy influence no. & you have to credit to AKIHIDE for composing such a great infectious tune .
Just like NEXT LEVEL , when I 1st heard the preview of SECRET GIRL , I was like oh my such a fun sexy tune & for me to hear the full version finally , I was no doubt impressed with it .
Bokura (Us) is track #8 & ah this's quite an old school no. which I warmed up to . The beginning of Bokura has an old fashioned harmonica which's pretty cool .
This's basically a song that has a strong message in uniting people & I somehow can feel it after listening to Bokura & the ending of the song that DAIGO goes lalala adds a nice touch for sure .
There's some weird-ad libbing after the 1st chorus concluded which I'm not sure if that's done purposely or not by DAIGO though .
A trivia fact surrounding Bokura is that DAIGO mentioned in an interview that he wrote & composed this song after a drinking session with the other 2 , during the course of which , they started crying . SHINPEI denies remembering that such a thing happened , however .
Hatsukoi (First Love) Trampoline is basically a no nonsense rock song coupled with shades of pop !
This's a cool song that DAIGO sings about youth & the chorus are no doubt catchy & really cheery for that matter which bound to put a smile to your face after you listen to it .
The next 2 album tracks are solely written & composed by AKIHIDE .
Orion is track #10 & I got chills down my spine after I listened to it . I thought last year when he wrote/composed Aitakute (I Want To Meet You) in BIG BANG ! was awesome but I take back my statement after I listened to Orion .
I just like the way this beautiful album ballad goes & DAIGO sounded so emotional driven in this piano & gutiar driven no. is & a slight splash of percussion beats is thrown in for good measures .
From the beginning to the end , you gets to experience how's AKIHIDE's world like which's what Orion represents .
What's remarkable about Orion is that only 12 notes were utilised which's impressive .
To shed a bit more light on Orion , according to SHINPEI , when you listen to it , you feel that you're going to a world where everything is wrong .
You reach out your hand , and you seize the sadness , but more than anything it's about the beautiful and gentle wish you make to the starry sky .
In Orion's case , you reach this starry sky & a coloured star is humming the melody . And you slowly close your eyes , it makes you travel to freedom .
At any time , anywhere , at a moment you like & it's a special seat for only you .
It sounds quite deep but this's how much of a (mad) genius AKIHIDE can be sometimes which I respect that in him .
From Orion , in comes a 2nd AKIHIDE writing/composition in the form of Snow Rose .
Man just like Orion , Snow Rose is really beautiful & in here he utilises a violin in the backdrop & coupled that with fierce guitar riffs , the final product gives you this stunning mid tempo no. .
Like a blizzard , the drum beats and bass riffs make this song stood out a lot more .
DEAR LIAR is track #12 & in here AKIHIDE has a hand in composing it while DAIGO provided the lyrics for the song .
I find DEAR LIAR to be a really stylish song & it just screams out cool all over the place .
It's a pretty standard rock fare but the guys make this work in their favour big time & the somewhat distorted guitar riffs going on in DEAR LIAR adds a great edge to the song .
GRAND FINALE is BREAKERZ's 4th single & it was used as the ending theme song for the TBS program "J-SPORTS SUPER SOCCER PLUS" .
The song deals with the theme of graduation .
The introduction represents the BREAKERZ's members : the TEAM BREAKERZ (name of their fanclub) .
I remembered reading a fan concert report that DAIGO broke down onstage when he belted this no. out during the encore of their BREAKERZ LIVE TOUR 2009 GRAND FINALE ~Seishun Days~ so it's quite obvious that this song has a lot of significant meaning to them .
Hikari (Light) is the guys's 6th single & it served as the 34th ending theme no. for the anime Detective Conan .
This's the last single you can find in FIGHTERZ & also the final one that has received an album mix in the form of the FIGHTERZ Version .
The difference between the single & album versions is that the FIGHTERZ Version has an extended beautiful orchestra piece & also the ending is different .
The single version has a fade out ending while the album take of Hikari doesn't have that & you can hear the guys's cheers & etc in the FIGHTERZ Version of Hikari .
Just like GRAND FINALE , the only single ballad you can find in FIGHTERZ means a lot to the group .
When the song was completed , the TEAM BREAKERZ & the guys were enveloped by a hikari (light) .
Hikari never fails to captivate me . Immediately when I 1st heard it way back in July , I was really blown away & considering that they don't have that many ballads in this album & let alone the ones that they released as singles , it's saying something I guess .
Also you can't help but feel the sincerity coming from DAIGO who wrote & composed it & this song was written/composed by DAIGO during the time when the guys were about to perform for the very 1st time in Nippon Budokan which was a dream come true for him .
Found as a bonus track for all 3 editions of FIGHTERZ , it's the B.R.Z Version of Feel so good .
I have a feeling the original take of the song might surface in their next single or something but anyway , this's the perfect song to close things off .
Such an understated acoustic & somewhat orchestra driven no. with powerful messages that DAIGO has written in here .
Feel so good (B.R.Z Version) sounded a bit like Hikari to a certain extent but other than that , it's 1 of those songs that you have a moment or 2 after you listen to it .
Wow what I can say ? after last year's album offering that's of BIG BANG ! , the guys came back out in full force with their latest album FIGHTERZ .
Compared to BIG BANG ! which was a straight up no nonsense rock no. , FIGHTERZ takes on a much more experimental route & that's quite evident in a lot of the singles & album tracks you can find in the album .
FIGHTERZ presents a much bolder & out there music effort done by the guys which's something I welcome as when you experiment , you're leaving your music comfort zone & by doing so , you get yourself prevented from getting stuck in a music rut .
I have been a fan of the guys for almost close to 1 1/2 years now & naturally I have seen the guys's mature & progress as each single & album goes by & this's no exception for FIGHTERZ which I had a great time listening to from the start to the beginning .
The bias part in me will have to say that FIGHTERZ is probably THE album of 2009 .
From the album concept , the packaging to the songs to the production of FIGHTERZ , they have nailed every single aspect downpat .
With that , I'm really proud of the guys & they have come a long way big time . I support the guys from (almost) the beginning til the very end & I look forward to what great things they have in store in 2010 !