CD Review :: Aoyama Thelma - PINK TEARS EP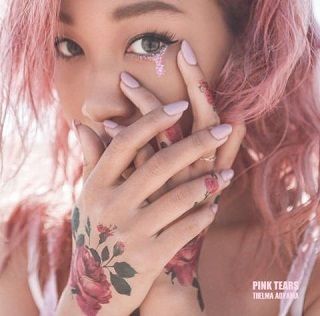 1) One Day Feat Miliyah Kato & AI
2) Trouble Love
3) PINK TEARS
4) Summertime !!
5) SMILE FOR ME Feat MAPPY
6) Anata no Soba ni Feat HY's Nakasone Izumi
7) stay (Acoustic Live Ver.) (Bonus Track)
PINK TEARS EP is Aoyama Thelma's 2nd mini album & it was released last month on 27th April .
Aoyama's latest mini album release serves as the sequel to last Sept's GRAY SMOKE EP & no singles are included in PINK TEARS EP .
In addition , PINK TEARS EP was released on the same day as 2 compilation albums , SMOKE & TEARS + LOVE! ~SPECIAL~ .
SMOKE & TEARS complied 12 songs from both GRAY SMOKE & PINK TEARS while LOVE! ~SPECIAL~ includes popular songs from Aoyama's LOVE! series as well as collaboration songs and love songs she's released since LOVE!2 -THELMA BEST COLLABORATIONS- .
To realise her vision , Aoyama collaborates with female artists to portray the various "tears" of women this time round in PINK TEARS EP .
Kicking things off in Aoyama's new mini album is One Day which features Miliyah Kato & AI .
One Day was 1st released digitally on 23rd March & the 3 ladies 1st collaborated in 2014 in I'll be there with you , which was included in Miliyah's 10th anniversary album MUSE .
The 3 singers are very close both personally & professionally . One Day has the theme "tears of regret" & on this song , Aoyama commented , "Even if you cry tears of regret , it's the best feeling when you look beside you & find your friends . These 2 [Miliyah & AI] are the ones I wanted to sing these words with ."
Trouble Love is the 2nd song & this's quite a nice mid tempo song which flows quite well to the next track which shares the same title as the release .
PINK TEARS (the song) features lyrics collaboration together with columnist LiLy . I enjoy this as it's something I can relax to while listening to it .
The next song is titled Summertime !! & the music was produced by DJ KAORI .
The last Summer inspired song that Aoyama released was her 2010 / 10th single Summer Love !! so hearing Summertime !! brings back great memories of everything Summer related .
SMILE FOR ME is track #5 and this song features a piano performance collaboration with fashionista MAPPY .
To me , SMILE FOR ME is a stand out track in PINK TEARS EP as it's such a catchy cheery no. . Also end of the day this is simplicity at its best , it's just Aoyama being back by a piano melody & she sounded having a great time while belting out this track .
Anata no Soba ni is the last 2nd song in PINK TEARS EP & for this track , it features HY's Nakasone Izumi .
Described as a ballad that talks about the love between a mother and child , Aoyama wanted to "portray a woman's happiest moment" in Anata no Soba ni & "write a song with someone who has gotten married & experienced childbirth" .
A video was made for Anata no Soba ni & model/actress Kinoshita Yukina is featured in the video . Kinoshita previously starred in the video for Aoyama's 2011 / 12th single Zutto. . This time round , the video also stars Kinoshita's daughter . It's a heartwarming video that features scenes of Kinoshita cooking a bento & having a picnic underneath cherry blossom trees .
The final track to conclude PINK TEARS is an acoustic live version of stay which was originally found as track #1 in Aoyama's previous mini album GRAY SMOKE .
Unlike the original take , stay (Acoustic Live Ver.) does not feature Shota Shimizu's vocals .
stay is 1 of my favourite tracks in GRAY SMOKE EP . The acoustic take of the song is lovely . As such , it's a fitting conclusion to PINK TEARS EP .
After presenting songs that have a male perspective in GRAY SMOKE , Aoyama Thelma now presents the female perspective in her 2nd mini album PINK TEARS with the tracks expressing the different experiences & emotions behind a woman's tears .
GRAY SMOKE EP was an interesting release & it makes sense for Aoyama to do a follow up with another release that has a different perspective but the end result is pretty good .
PINK TEARS EP overall has a more cheery positive vibe unlike GRAY SMOKE EP where it was considerably sombre/moodier . Let alone , the music styles present in Aoyama's latest release is a bit more diverse as well .
I enjoy listening to PINK TEARS EP & it's perhaps no surprises the collaborations are the ones that stood out in the release .
It suddenly dawns to me that 2017 is Aoyama's 10th anniversary in the business & it will be great if she has something special plan for next year . Even though Aoyama is not able to attain mainstream success like what she was able to do so in the past , for her to continue to release material despite all odds , it's heartening to know so .
I look forward to more interesting well thought releases from Aoyama in time to come .