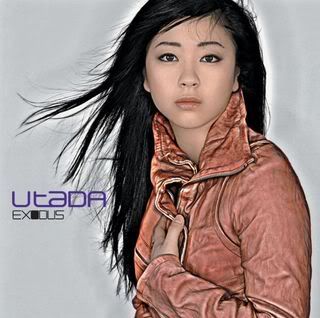 UK Cover :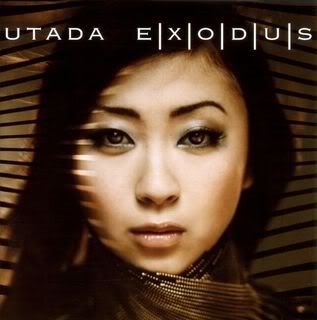 Tracklist :

1) Opening
2) Devil Inside
3) Exodus '04
4) The Workout
5) Easy Breezy
6) Tippy Toe
7) Hotel Lobby
8) Animato
9) Crossover Interlude
10) Kremlin Dusk
11) You Make Me Want To Be A Man
12) Wonder 'Bout
13) Let Me Give You My Love
14) About Me
I bought J pop artiste Utada Hikaru's US Eng debut album Exodus last year . Took a while to give the whole album a listen or 2 & I came to conclude that she sounds good doing English songs & in fact all 14 tracks are really nice .
She does J pop songs as well & she has an edge over Ayumi Hamasaki in that she can speak both Japanese & English fluently as she's born to Japanese parents in US .
Anyway , Exodus is nice on whole & somemore she got Timbaland to produce & cowrite 2 tracks on there which's Exodus '04 & Let Me Give You My Love . Other than that , she wrote , produced all the tracks on the album .
Was a pity that Exodus bombed in US when it was released in 2004 due to lack of promotion that was being done there but it was still able to debut at no1 in the Oricon chart in Japan but I heard that she's gonna re-release EXODUS once again .
If there's 1 thing I should pick on Utada is that her image's very plain jane & she should probably jazz things up & pick a style tip or 2 from Ayumi . Besides I'm sure that will make her husband happy . F.Y.I her husband is 15 years her senior & he directed quite a lot of her music videos & Utada got married when she was only 19 & that time her husband was 34 so yeah...
Anyway the tracks are all in the same R&B/Techno/Oriental mix mashed mode that doesn't really stray much from her J pop sound like that's not a bad thing to me but from what I listen , can tell that Utada's a very talented musician/singer/songwriter.
Some outstanding tracks that I really like are Devil Inside , Exodus '04 , Easy Breezy , About Me , Kremlin Dusk , Hotel Lobby .
Be warned though , if you want to pick this album up , some of the lyrics on the songs are sexually suggestive . In fact when I 1st listen to the songs , the lyrics that Utada wrote , did shocked me such as Tippy Toe , Wonder 'Bout , The Workout .
But still good effort from her , am considering to pick up her latest ULTRA BLUE CD as of now .