CD Review :: NEVER LAND - Beautiful Days EP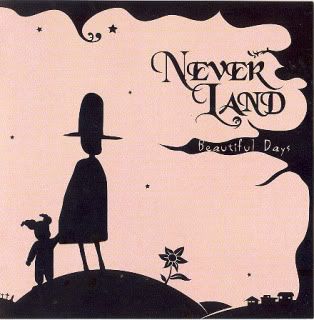 Tracklist :

1) Pianist
2) Tengoku e no Tegami (Letter To Heaven)
3) Ama no Gawa no Shita de (Under The Milky Way)
4) Aoi Tori (Blue Bird)
5) Itoshiki Hibi (Our Beloved Sun)
6) Akai Ito (Red Thread) ~Album Mix~
7) Rain Drops

Beautiful Days is a mini album released by a now defunt rock band trio by the name of NEVER LAND .
This mini album was released on 3rd Aug 2005 & despite the fact that they made numerous demos CDs which were sold during their live concerts that time , this's the only proper release you're still able to get hold of online .
No singles are included in Beautiful Days & only Tengoku e no Tegami (Letter To Heaven) received a music video of its own .
NEVER LAND consisted of BREAKERZ's guitarist AKIHIDE (who went by his full name Akihide Satou in this release) on vocals/guitar , hitoshi on bass & Makoto Motoki on drums .
Prior to NEVER LAND , previous bands that AKIHIDE joined & were involved in included nostalgia , LULL & FAIRY FORE .
The trio disbanded some 3 years ago after being together for little more than 3 years & in NEVER LAND , AKIHIDE was the lead singer/guitarist & was responsible for writing/composing everything in the group & the album cover art & the music video for Tengoku e no Tegami which consisted of a lot of drawings were drew/designed by him .
I guess being a really big fan of BREAKERZ , naturally I was curious about NEVER LAND since this project was quite dear to AKIHIDE to a certain extent as he had a lot of personal input towards NEVER LAND , as what I mentioned above & I never heard him sing at all since now that he's in charge of doing backup vocals for BREAKERZ alongside with writing , composing , playing guitar with the other guitarist SHINPEI .
Anyway , Beautiful Days kicked things off with a really pretty song titled Pianist . It's a really nice mid tempo piano & guitar driven song .
What I like about Pianist is the thrown in of banjo influences for good measures after AKIHIDE belted out the 2nd chorus of the song which's really lovely .
Tengoku e no Tegami (Letter To Heaven) is the 1st NEVER LAND song that I heard & I guess this's probably can be considered as the best track in Beautiful Days seeing that it's the only song that received a music video .
It was my 1st contact on how AKIHIDE sounded like when he sings as well & it's catchy & I personally think his singing voice's pretty good .
Ama no Gawa no Shita de (Under The Milky Way) is 1 of the more slower guitar driven songs . It's also 1 of those songs that you can feel a lot of emotions that's coming from this no. .
Aoi Tori (Blue Bird) is the next song & in here you can hear the backing vocals of the other 2 members a lot more as compared to other songs in Beautiful Days .
I guess because of this , I kind of like Aoi Tori to a certain extent .
Itoshiki Hibi (Our Beloved Sun) is 1 of the more slightly hard rock tunes in Beautiful Days . It's actually very mellow in nature but somehow or another , the song was able to break out of this mould & establish itself as a rather mean & aggressive no.
The album mix of Akai Ito (Red Thread) is another nice song to listen to & I actually like the harmonisation of AKIHIDE's vocals with the melody of the song .
I feel that there's something captivating about the album mix of Akai Ito .
The final track Rain Drops closes off Beautiful Days pretty well . It's a soft mellow song but just like for Itoshiki Hibi's case , it morphs into a mean electric guitar no. as time goes by which I really like .
Even though there're no singles included in NEVER LAND's only release , I personally feel that Beautiful Days is an emotional , raw & indie driven mini album .
I always have admired AKIHIDE for being so talented in every single aspect from writing , composing , playing guitar & now , singing , drawing & design .
Also after listening to Beautiful Days , I notice how much significant growth AKIHIDE has shown in his writing/composing skills & he definitely has come a long way from his past indie days til now being in BREAKERZ .
I really hope he can get behind a microphone someday in the future as I frankly think his singing voice's pretty good . I'm not sure if that's ever going to happen but I can only hope this will materialise in the near future & if so , that will be something great to look out for .