CD Review :: BENI - Lovebox

CD Only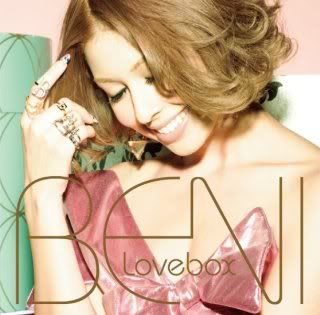 CD + DVD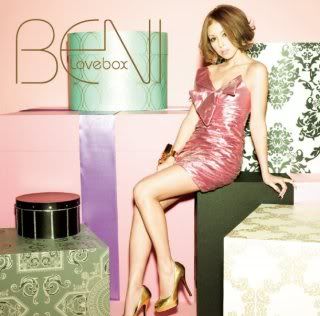 1) Lovebox Intro
2) Yura Yura (Slowly Shaking)
3) Sign
4) Hitomi Tojite (Close Your Eyes)
5) Gimme Gimme♥
6) Girl's Night Feat JAMOSA
7) a million jewels
8) Kimi Ja Nakya (It Has To Be You)
9) bye bye
10) MOVE
11) break the rules
12) he is mine
13) My Friend
14) Message
15) Zutto Futari de (Always The Two Of Us) unplugged version (Bonus track)


Lovebox is BENI's 2nd (5th overall) album . It was released on 2nd June & this comes less than 9 months + since the release of her previous album Bitter & Sweet .
3 singles are included in Lovebox . The album debuted at #1 with 1st week sales of 22,528 , making this her very 1st release to debut at #1 on the Oricon charts .
In Lovebox , BENI expresses various forms of love on her new album & you can find songs which centres on love in different states , from happy to sad & etc .
After a nice 1:09 mins Lovebox Intro , BENI dived straight into Yura Yura (Slow Shaking) which's the 1st A-side of her 8th single Yura Yura / Gimme Gimme♥ .
Yura Yura / Gimme Gimme♥ is also her 1st double A-side single release too & even up to now , I'm still am not bored with Yura Yura . Some people have pointed out that it's the Kiss Kiss Kiss of Lovebox which I'm not sure why as I feel both songs do not sound the same .
Regardless of which , Yura Yura is a bit different from what BENI usually does .
Sign is BENI's 6th single & it was used as in the ads of Recochoku . The song samples Matsutoya Yumi's Haru , Koi (Spring Love) which's supposedly to be a classic song of Matsutoya .
While Kiss Kiss Kiss is the 1st song I heard of BENI , it's only from Sign onwards that I began to follow her music journey .
Perhaps it was because Sign was released during the time when it was Winter in Japan ie. on 20th Jan this year , you can hear somewhat Winter vibes that Sign gives which's really lovely & the piano touches are nice as well .
Hitomi Tojite (Close Your Eyes) is the 1st album track & for a spilt second , I thought is BENI going to cover Ken Hirai's most famous tune but then I realised oops for Ken's case , it's Hitomi wo Tojite lol .
No matter , Hitomi Tojite is quite a standout track in Lovebox . It's a lot more Pop driven then most of what BENI's known for & it's a good mid tempo song that I like .
Gimme Gimme♥ is the 2nd A-side of BENI's 8th single Yura Yura / Gimme Gimme♥ . Unlike the 1st A-side which does not have any promotion tie in , Gimme Gimme♥ was used in the ads of KAO Violet Body Deli .
Just like Yura Yura , I frankly have no problems with Gimme Gimme♥ as it's catchy . Both A-sides tend to sound simliar to a certain extent but as time goes by , you definitely can tell there's quite a considerable differene with both songs .
Girl's Night is the 2nd album track & it's also the only song that features a collaboration . Rapper Dozhi-T was present in Bitter & Sweet and now in Lovebox , it's JAMOSA that steps in to sing with BENI .
Honestly , Girl's Night as a song is fun & quite heavily synth driven . The only problem I have was JAMOSA's vocals . Prior to this , I had no exposure as to how JAMOSA sounds like & in Girl's Night , her voice kind of clashes with BENI & was a bit difficult/gratty for me to handle .
a million jewels is another mid tempo R&B/pop track . There's frankly nothing special to shout about this song . I think it's slotted in the album for the sake of doing so .
Kimi Ja Nakya (It Has To Be You) is the 1st album ballad & I really like this song on 1st listen . You're able to hear just how emotional driven BENI's . It still has a Pop flair but the fingers snapping beats you can hear in Kimi Ja Nakya just makes the song stands out in more ways than other .
bye bye is BENI's 7th single & it was used as the ending theme for the program HEY ! HEY ! HEY ! . Also , bye bye was released on the same day as her 1st live album/concert DVD Bitter & Sweet Release Tour FINAL .
I still remember when I reviewed bye bye , I was really impressed with how refreshingly Oriental sounding it's & the song still sounds great even up to now .
MOVE follows after bye bye & this's quite a nice R&B mid-tempo song . I'm not sure why but I somehow find MOVE's melody quite similiar to Fergie's Clumsy . Also , I realised that MOVE has somewhat of a more Americanised flair as compared to other songs in Lovebox .
I don't know if that's a good or bad thing but I leave it as it's .
break the rules is the next album track & ooh lala , this's really hot ! I definitely can see break the rules being blasted loud & proud in a club & I'm quite sure BENI was trying to create that clubbing atmosphere when she was recording break the rules .
If so , then she definitely has succeeded nicely with what she wanted to achieve with break the rules .
he is mine is track #12 in Lovebox . Honestly , I find the song quite un-memorable & boring on 1st listen . It's 1 of the more mellow/calmer sounding beats in the album .
Other than that , I don't know what other fitting words to describe he is mine . Maybe dreamy ?
My Friend follows soon after he is mine . Unlike other songs in Lovebox which're quite R&B/Pop , this's probably the only song that's quite acoustic guitar pop driven .
So hearing My Friend is quite a breath of fresh air I have to add .
Message is the 2nd last album track in Lovebox & just like My Friend , it's another song that's unique in Lovebox .
Unlike he is mine , Message has something good to offer as it's a nice mid tempo no. that's slightly synth & a lot more piano driven . I thought I might get bored with Message but thankfully that's not the case .
Zutto Futari de (Always The Two Of Us) is BENI's 4th single & in here , it has been given an unplugged version & is available as a bonus track in Lovebox .
I was really surprised when I heard the unplugged version of Zutto Futari de . Compared to the original , this's basically a really raw & stripped down version of Zutto Futari de .
You can feel just how much emotions BENI poured into the unplugged version of the song & this proves to me that BENI is able to tackle both mid tempo songs & ballads quite well & it's definitely nice to wrap things up in Lovebox with the unplugged version of Zutto Futari de .
Unlike Bitter & Sweet , BENI wasn't really able to evade the 2nd album syndrome with Lovebox , musically . Quite a lot of the album tracks sounded basically the same to me , like melted chocolate .
Also , some of the songs are really samey & took me quite a long time to remember how they sound like . I was actually expecting songs that probably might be another nice & slow , STAY & let alone Beautiful World which some of these tracks were stellar/great from Bitter & Sweet but I wasn't able to find anything of that same/on par calibre in Lovebox .
Considering that Lovebox was released barely less than 9 months after Bitter & Sweet , some parts of the album I feel are really rushed & if you notice , BENI did not include any B-sides in Lovebox .
I think if she would have included Gon' luv u & Stylish , things might have been better as I find the B-sides from her singles really solid & when you have too little singles & too many album tracks , sometimes in order to make the album tracks sound on par if not better than the singles which're already good by right , things might backfire which unfortunately , that's what Lovebox suffered in this aspect .
No matter , I still have not lose faith in BENI & I actually should be happy for her seeing that Lovebox's her very 1st release to debut at #1 on the Oricon charts so it's good for her as I know she has come a long way since her early days in the industry when she was in avex trax .
Her 9th single Heaven's Door will be released on 11th Aug & hopefully BENI will be able to offer something different to shake things up a bit & frankly , I don't mind if she's able to step out of her music comfort zone & delivers something unusual to the plate .
That will be something awesome for me to look out for .