CD Review :: Jesse McCartney - Right Where You Want Me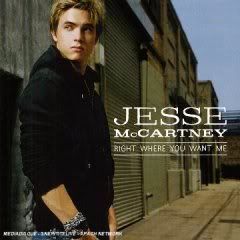 Back Cover :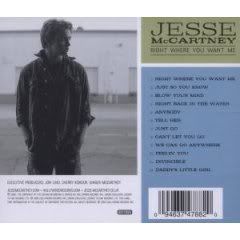 Tracklist :

1) Right Where You Want Me
2) Just So You Know
3) Blow Your Mind
4) Right Back in the Water
5) Anybody
6) Tell Her
7) Just Go
8) Can't Let You Go
9) We Can Go Anywhere
10) Feelin' You
11) Invincible
12) Daddy's Little Girl

I bought Jesse McCartney's 2nd solo sophomore CD Right Where You Want Me a while back & I have to say after giving the CD a listen , I absolutely adore it & definitely thinks that it's waay much better & more edgier & rocking than his 1st solo debut , the platinum selling Beautiful Soul in which the title track was the 1st track that caught the attention of this blonde handsome dude who's currently dating actress Katie Cassidy & I tell you she's 1 hot blonde chick !
Many might think that Jesse or JMac as he's more affectionately known is a newcomer to the music scene but not really , he used to be in 2 boybands namely Sugar Beats & Dreamstreet in that Dreamstreet used to open for Backstreet Boys during the late 90's.They even had a platinum record back then.
It's kinda a pity that JMac's only well known for his debut single Beautiful Soul as the subsequent singles that he released that's She's No You , Because You Live didn't made much of an impact to listeners .
& also he released quite a no. of singles from his Beautiful Soul CD . Aside from the 3 singles that I mentioned eariler , he also released What's Your Name , Get Your Shine On & Why Don't You Kiss Her in which the last 2 songs can be found in the Disney Channel Original Movie Kim Possible : So The Drama. I love Why Don't You Kiss Her , it's such a sad song.
& I remembered when that song came up during the movie , the scene was damn emo & I feel so sorry for Ron Stoppable as in it , his feelings for Kim started to take up a notch after he saw Kim hooking up with a handsome hot guy Erik who's actually a robot in disguise sent by Dr Drakken to toy with her feelings & destory her spirit as her weakness's boys.
& seeing that both Ron & Kim have been best friends since kindergarden but now it's different but eventually both of them ended up together as boyfriend & girlfriend which's really cool.
2 years ago , JMac spotted a very boyish kinda image . Kinda understood cos he was only 17 . But now at the grand 'ol age of 19 with a more mature look with splashes of bad boy vibe to go along with , he's back with album no 2 !
The 1st single's the title track aka the very catchy sounding Right Where You Want Me . When I 1st heard it on his MySpace , I was shocked cos it definitely doesn't sound like JMac cos the tune's very pop/rock as most of the songs in his Beautiful Soul CD are quite bubblegum pop & not to mention that time his voice was still squeaky & haven't really broke yet haha.
But wow , when I heard Right Where You Want Me , I think to myself this's really good & it's very catchy & does stuck in my head in a really good way & I love the video too ! I was going omg when I saw it cos I was thinking is that JMac ? he has grown up big time haha
& most recently I read in a review of Hot magazine in that they said Right Where You Want Me sounded like a Justin Timberlake song . HUH since when ? & harlow , JMac & JT sounds completely different from each other . It's like comparing cheese & chalk & they only give JMac's CD a measly 2.5/5 -_- . That's cruel , obviously whoever reviewed it is not a fan , period.
+ I have all the songs from his Beautiful Soul CD so I can definitely tell how good/bad his follow up sounds like.
ANYHOO , aside from Right Where You Want Me , other outstanding tracks include ballads such as the upcoming 2nd single , the emo ballad & my personal/the fans/JMac's fave Just So You Know , Right Back In The Water , Tell Me . I LOVE Tell Me ! Goodness , if any guy out there were to sing Tell Me , I would melt like iterally cos the lyrics are so sweet ! *if you see my girl tell her I miss her smile , tell her I will counting the minutes gonna see her in a little while . I know when she holds on to me , she's the 1 thing that I could never without .... & tell her I love her * a big AWWW
There're up-tempo numbers too in the form of Blow Your Mind , Can't Let You Go , Anybody , We Can Go Anywhere . The lyrics of Just Go sounds like a dig at his previous girlfriend/s , in a mild version that's . Invicible's fanastic as well , love the backing melodies of it & the lyrics are wonderful & inspiring .
The only track that didn't stick in my mind when I 1st heard it was Feelin' You & the weird thing's that that's the only track that JMac didn't have a hand in cowriting . Oh well but I'm sure the more I listen to it , probably I will start to like it.
Overall , it's a great mature sounding record from JMac. Gone are the bubblegum poppy sounds of Beautiful Soul . In place is a more harder , edgier & pop/rock sound + a more manly voice . So if you're looking for tracks in the Beautiful Soul vein , you will be sorely disappointed.
On the other hand , he definitely doesn't suffer the 2nd album syndrome & hopefully things will start to change for JMac & that people don't just know him for only Beautiful Soul but with many more hits to come !