CD Review :: Tegomass - Tegomass no Mahou

CD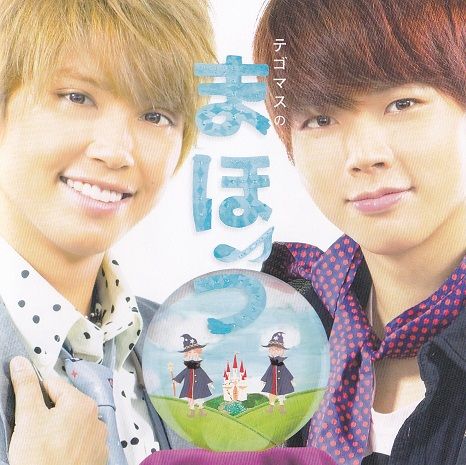 CD + DVD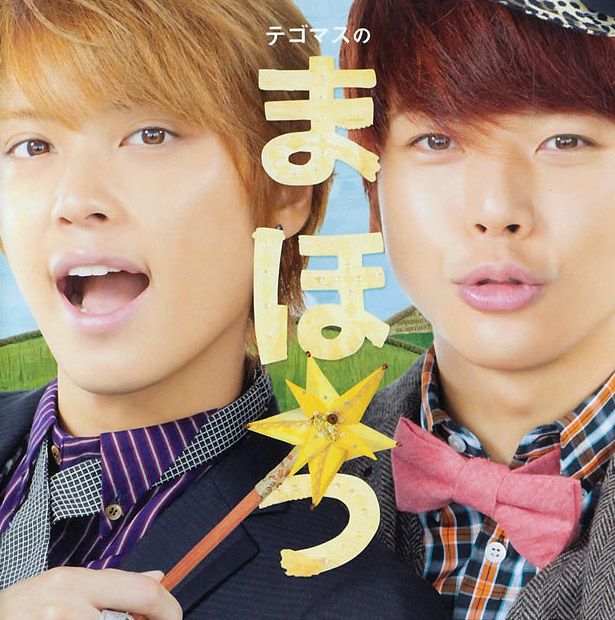 1) Mahou no (Magic) Melody
2) Hanabi (Fireworks)
3) Yuuyake to Koi to Jitensha (Sunset , Love & Bicycle)
4) Yuki Daruma (Snowman)
5) Wasuremono (Forgetten Things)
6) Tanabata Matsuri (Star Festival)
7) Mr.Freedom
8) Over Drive
9) Ryoukiteki (Bizzare) Honey
10) Yume Tabibito (Dream Traveller)
11) Aoi Bench (Blue Bench)
12) La La Sakura (CD Only Track)
13) Tadaima , Okaeri (Welcome Back I'm Home) (CD Only Track)
14) Ai no Naka de (In The Center Of Love) (CD Only Track)

Tegomass no Mahou is Tegomass's 2nd album & it was last week released on 19th Oct .
The duo's debut album Tegomass no Uta was released 2 years ago on 15th July & in their latest album offering , Tegomass no Mahou consists of 2 singles with 1 album track that gets a music video .
Mahou no (Magic) Melody is the 1st song that kick things off in Tegomass no Mahou & this's the album track in question that gets a music video .
I can understand why Mahou no Melody deserves to as the concept of the video goes very well hand in hand with the song .
Going with the flow of the album title , Mahou no Melody presents a very fun light hearted cheery side of Tegomass which definitely sets the bar on what to expect in the 1st 1/4 of the album .
The next album track Hanabi (Fireworks) is another catchy memorable track & it has a mixture of piano beats & even a little bit of slight Jazz thrown in for good measures .
Hanabi is 1 of those songs that will bring a smile to a person's face which's a good thing .
Likewise , the same thing goes for the free spirited Yuuyake to Koi to Jitensha (Sunset , Love & Bicycle) except in this case , Yuuyake to Koi to Jitensha takes on a more pop & piano route unlike Hanabi .
Yuki Daruma (Snowman) is an interesting song & with a song title such as Yuki Daruma , I was kind of expecting something probably Winter inspired & it's actually quite true to a certain extent .
This is quite an unusual song because I wasn't sure if I could classify this as a Winter song but I suppose I can , given that this mid tempo song is actually 1 of my fave album tracks in Tegomass no Mahou .
After a couple of uptempo songs , Tegomass has slow things down a bit with Wasuremono (Forgetten Things) .
Wasuremono started with a really pretty piano melody & then it branch out into something that's quite Jazz driven & there's even a big of Bossanova here thrown in for good measures .
Definitely a top notch tune that I enjoy listening to .
Tanabata Matsuri (Star Festival) is Tegomass's 4th single . This is their 2nd single after the duo's debut single Miso Soup which was simultaneously sold at Japan & Sweden's music stores .
Honestly Tanabata Matsuri is a very cute song but it's not something that I will listen to on a regular basis , since there're other good songs that I can cherry pick & enjoy from Tegomass's discography .
Things begin to pick up a bit of a speed in the form of Mr.Freedom .
Mr.Freedom is a bit hard to describe but it has quite a lot of trumpet beats which's combined with Tegomass's signature pop sounds .
It's quite an odd combination but somehow or another it works for Tegomass pretty well .
Over Drive is probably 1 of the more crazy over the top songs in the album as I couldn't help but have vibes of Tegomass no Ai's Cheetah , Gorilla , Orangutan when I 1st heard Over Drive .
Unlike Cheetah , Gorilla , Orangutan which was much more upbeat , somehow or another , the craziness factor is quite toned down in Over Drive but in terms of gritty guitar beats , this can be felt a lot more in Over Drive .
With an odd title such as Ryoukiteki (Bizzare) Honey , I wasn't sure what to expect for this song but surprisingly if not even more stranger , Ryoukiteki Honey has that very strong Carribean vibes that it gives off when I 1st heard it .
I don't know if it's a good or bad thing but I kind of enjoy Ryoukiteki Honey though .
Yume Tabibito (Dream Traveller) is 1 of the shorter tracks in Tegomass no Mahou but this has to be 1 of my faves as this's really simplicity at its best .
In short , Yume Tabibito has the duo belting out this simple heartfelt no. in an almost acapella style . Both of Tegoshi & Masuda's vocals are strong & they compliment each other very well .
It's evident in Yume Tabibito where they make use of their vocals & let it do most of the work . They didn't need anything to complicate things further , which makes Yume Tabibito a really enjoyable track worth checking out .
Aoi Bench (Blue Bench) is Tegomass's 5th single & this's the last single if not the recent single release prior to the release of Tegomass no Mahou .
This song is a cover of the now defunct folk-rock duo Sasuke's hit song Aoi Bench . Tegomass gave a fresh take on the refreshing folk-rock tune , which was heard nightly on television as the February theme song of ranking show Onegai ! Ranking .
The last 3 tracks are songs that're only found in the CD only pressing of the album .
La La Sakura & Tadaima , Okaeri (I'm Home , Welcome Home) were included as the B-side tracks in the Swedish version of Tanabata Matsuri .
Because of this , I find both songs very familiar as I do know how they sound like . I'm actually glad the duo decided to include them in the album because for fans that were not able to purchase the Swedish edition of Tanabata Matsuri , at least now , they will not lose out in this aspect .
Ai no Naka de (In The Center Of Love) is the final no. in Tegomass no Mahou & for this , the lyrics were written by Tegomass & this song was performed during their 2nd tour
I think it's a great way to conclude the album with Ai no Naka de . The live version of the song is pretty something but for them to make a studio version of this really enduring mid tempo ballad , I have no further complaints about it .
Considering the fact that this's the only song in the album that has personal input from both members , I should give Tegomass credit on when it's due .
After experiencing their music & their love , it's time for fans to experience Tegomass's magic with their latest album Tegomass no Mahou .
I don't think it's fair to compare which album of Tegomass is better as in general I really like the type of music Tegomass does but all I can say's that they have shown a great deal of maturity from their early days of their debut single Miso Soup until now .
For Tegomass no Mahou , it's a very enjoyable album from start til the end . I don't really have any complaints about their new album , especially since both of them have really good vocals so in terms of vocals & executing the right styles on what works & what doesn't , they nailed it downpat well here .
Definitely an album worth checking out before 2011 concludes .