CD Review :: Mika Nakashima - STAR

Cover For Both CD & CD + DVD's Editions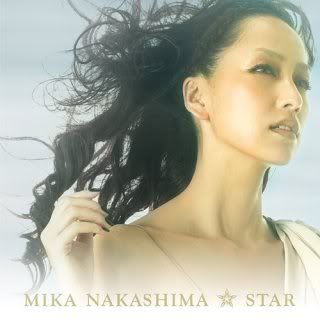 1) ALWAYS
2) Ichiban Kirei na Watashi wo (Me Who's The Most Beautiful)
3) BABY BABY BABY
4) Over Load
5) GAME
6) SMILEY  
7) CANDY GIRL
8) LONELY STAR
9) No Answer
10) SPIRAL
11) Memory Feat DAISHI DANCE
12) 16 
13) Nagareboshi (Shooting Star)
14) SONG FOR A WISH


STAR is Mika Nakashima's 6th album . It was released on 27th Oct & Mika's last album release was 2008's VOICE .
5 singles & 5 B-sides are included in STAR . As such , you only get 3 new album tracks at the end of the day .
The 1st 2 songs in STAR are singles which Mika released prior to the release of her latest album .
ALWAYS is the 1st track in the album & it's also Mika's 31st single . ALWAYS was used as the theme song for the drama Sayonara Itsuka .
I don't know why Mika chooses to kick start STAR with ALWAYS because out of the singles which were included in STAR , ALWAYS is probably my least fave as even up to now , it's quite a dreary if not un-inspiring ballad for me to handle .
Ichiban Kirei na Watashi wo (Me Who's The Most Beautiful) is Mika's 32nd single & it was used as the insert song for the drama Unubore Deka .
This's also the last if not latest single release being included in STAR too .
Ichiban Kirei na Watashi wo is still a fantastic A-side single . Even up to now , this's a song that never fails to captivate me . Unlike ALWAYS , Ichiban Kirei na Watashi wo strikes me as a tune which's a really under-stated good ballad of Mika .
Also , it helps that lyrically , Ichiban Kirei na Watashi wo is so inspiring & meaningful .
BABY BABY BABY is the 1st B-side of ALWAYS & it was used as in the ads of LOTTE's Ghana Milk Chocolate .
I remembered way back when ALWAYS was released , I wrote that I adore both B-sides in the single as I feel they're superb if not more superior than the A-side & my opinion on this has not changed in any single bit .
It was great to listen to BABY BABY BABY after a while of absence as this's 1 B-side that I really like & I didn't mind Mika included it in STAR .
Over Load is Mika's 28th single & it was used in the ads of Lipton Limone .
Just like BABY BABY BABY , Over Load is another song which was nice to hear after I haven't heard it for a while . I still think this's 1 prominent single that Mika released in recent times as well .
GAME was originally found in Mika's compilation album NO MORE RULES. in which all the songs in NO MORE RULES. were all used in the ads of Kanebo Kate which Mika was their spokeswoman for the company for close to 7 years .
At that time when NO MORE RULES. was released , GAME was the only new song included in the compilation .
Well I initally thought that GAME would stay as so in NO MORE RULES. but apparently that's not the case when I found out it's being included in STAR . Regardless of which , GAME is still a kick ass no. which's a bit different from what Mika's known for .
SMILEY is the B-side no. of Mika's 29th single CANDY GIRL & both the A-side & B-side of the single have been slotted back to back with each other , with SMILEY taking position 1st hand .
I still like CANDY GIRL for it being real sassy & fun but wish I can say the same thing for SMILEY . I did tried to like SMILEY but I guess the laughter going on in the backdrop completely creeped me out in trying to do so .
LONELY STAR is STAR's 1st new album track & it has been described as an electro sounding tune .
I really like LONELY STAR on 1st listen because it's something that Mika usually doesn't do & she nails it well in this hot catchy track .
Also , I noticed that LONELY STAR gets even more prominent as each listen goes by which's great .
The next 3 songs in STAR are B-sides which were found in Mika's singles .
No Answer is the B-side of Mika's 28th single Over Load & it plays a nice contrast to the A-side in the sense that No Answer is a more stripped down version of Over Load .
Likewise , it applies for SPIRAL which's the 2nd B-side of Mika's 30th single ALWAYS . SPIRAL was used in the ads of KANEBO KATE & like what I said before , I adore both B-sides found in ALWAYS & it's still the same thing even up to now .
Memory is the B-side of Mika's 30th single Nagareboshi (Shooting Star) & just like SPIRAL , Memory was also used in the ads of KANEBO KATE .
For this track , it features DAISHI DANCE whom also remixed Mika's 25th single SAKURA ~Hanagasumi~ (Rose) a while back ago .
I like DAISHI DANCE's works & it goes the same thing for Memory in which the song's completely sung in English by Mika .
It's no doubt a tough task seeing that English's not Mika's 1st language but I was able to understand & grasp whole of what she's singing in Memory , which's not necessary a bad thing .
16 is STAR's 2nd new album track & it's such an under-stated ballad . It's simplistic at its best with Mika's vocals doing most of the work . The song's accompanied by a lovely acoustic guitar which I really like .
Nagareboshi is Mika's 30th single & it was used in the ads of House Mate . It's also the last single included in STAR as well .
I remembered when Nagareboshi was released , people were saying that it basically sounds like a poor cousin of Orion , in terms of the way both ballads sound like & that goes for song association titles too .
I don't have any issues with Nagareboshi as it's something that I don't mind to listen to but it wouldn't be considered as a fave prominent Mika ballad to me .
SONG FOR A WISH is the final track in STAR & it was used as the theme song for a Japanese drama SP Morino LOVE LETTER II ~Kandou ! Kuramoto Sou ga Okuru ... Chikyuu to Inochi no Kagayaki SP~ which was aired this year on Jan 9th on the TBS channel .
Mika was featured in the drama as a cast member .
Saving the best for last is this really 1 heck of a power ballad SONG FOR A WISH . You can feel just how emotional driven Mika sounds like in here & also exceptionally powerful her vocals are .
I was no doubt blown away on what SONG FOR A WISH had to offer & I think it's a perfect way to wrap up STAR with this solid no. .
Overall , STAR is a really enjoyable album by Mika Nakashima . Most of the songs on the album are already top notch in their own right .
Mika fans will scoff & say that STAR is a rip off in the sense that most if not all of the B-sides in the 5 singles being included in the album are already found here (except for the remixes of the A-sides) which leaves barely any form of new material for her to include .
Then again , the fact that I don't buy her singles , I don't have any issues with it & thankfully despite the very minimal new tracks included in STAR , they're really good & enjoyable to listen & I feel the album flows well from the start to the end .
STAR is well a star in its own right & with Mika Nakashima fast approaching the 10th anniversary of her debut , this definitely will not be the end of many more great things for this talented lady .